ADÈLE BLAIS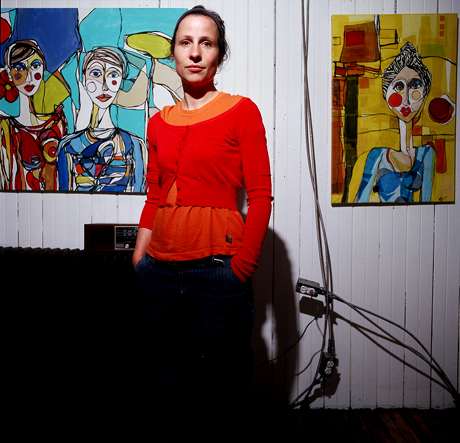 Adèle Blais painting is her quest,  a venue for personal growth She uses it to express her daily life, her relationships.
"When I paint, the canvas becomes the backdrop of my play. Like a sponge, I've absorbed the actors' stories, the events in my life and I render them in my way."
Her unique style, described by one New York critic as "neo-pop-happy", mixes superimposed washes of vibrant acrylic colors with textured collages, small pieces of text and black contour lines, giving her paintings their distinctive signature. The result is reminiscent of an assembled puzzle where the black lines are the vestiges of a separation that is still possible. Where her subjects are not bared of clothing and skin, they are dressed in flamboyant and theatrical clothing.
"The characters in my paintings are reconstructions, an assembly of impressions, the evocations of emotions, of memories; they are the materialization of the inspirations coming from unknown places. My creative process is to put in juxtaposition the interior and the exterior, 2D and 3D. It's to be present and work from a neutral space between opposite poles from which everything emerges. It's a dichromatic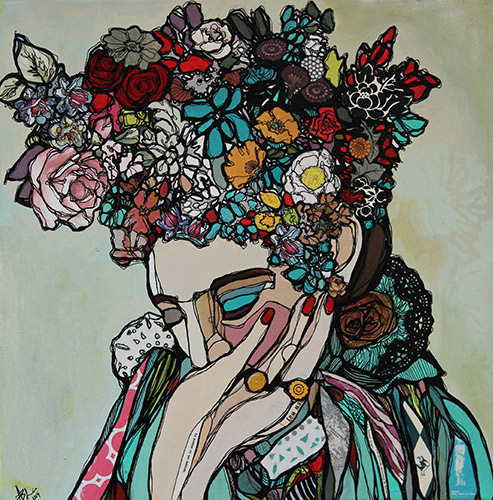 representation of the hidden and the outwardly expressed emotion; it's marrying the world of appearances that is expressed in costumes, frills, and colors, and a dimension that I can't name but that I feel. I want to bare the souls of my subjects, go to the quick, attempt to interpret what, according to me, is going on deeper than the clothing, deeper than the skin. In fact, I'm trying to show what's in their gut!"
This is the artistic signature of the artist who more often than not, she says, vacillate between everything and
its opposite, between her secret gardens and the appeal of the public place.