AGITA KEIRI
The Italian Renaissance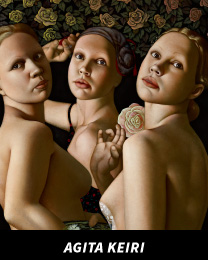 "Art is like an essay which tries to create a space around its observers in which they might hear what the soul of the artist wishes to whisper to their hearts. I don't know my audience, their life stories, their hopes and struggles, but I do know that I would like for my paintings to give them a call for a moment to stop, to be silent, to contemplate and to pray, to laugh or to cry, but in any case to share feelings. Humanness and uniqueness are what unites me with the audience. For me, true art leads to moments that glide past the mind towards deeper and more meaningful places.
I challenge myself to present one's sacred world through a human being's physical appearance. The heroes and heroines of my paintings are neither ideal, nor strangers, but objects of exploration. The main goal is not to draw a viewer's interest only to the visual images, but to what is behind it.
There are two main types of paintings. The first depicts the sense of eternity that breaks into a hero's heart when he feels alone. The second shows humans who sell themselves into the bondage for a dream of happiness—they are the kings of theatre. Everything happens to them—love, mysticism, jealousy, betrayal—and may bring fame, but precious little for the heart. Writer Dale Carnegie would call them "the people who play the games." I portray them in the series of paintings inspired by Venetian carnival masks. The masquerade is bizarre and full of contrasts—a blend of operetta, circus, clownery and tragedy.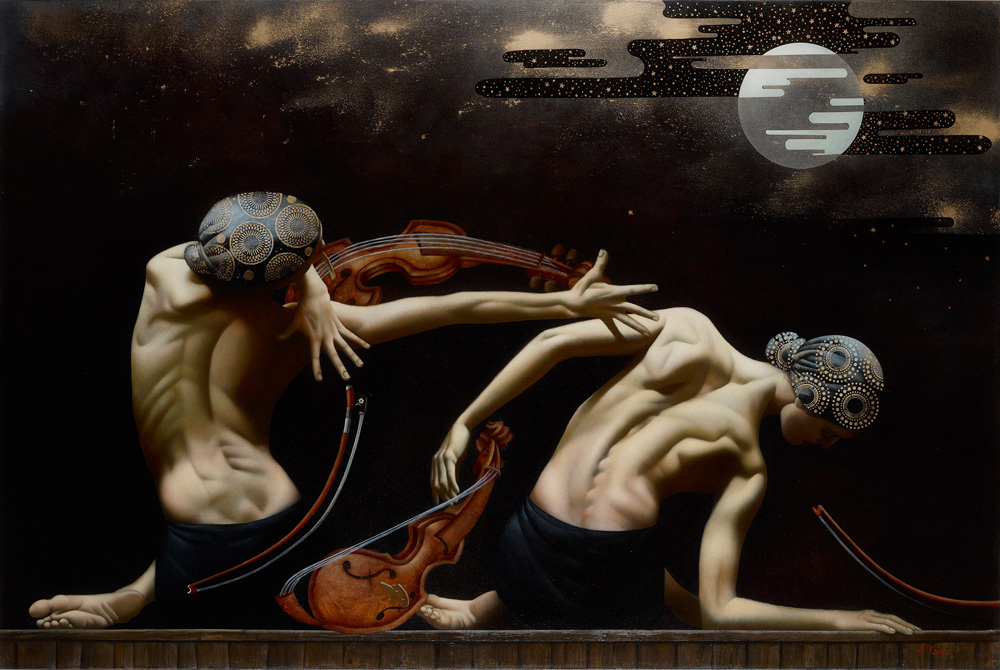 I was born and grew up in Riga, Latvia, but since 2012 have been living in Edinburgh, Scotland. In parallel to a general art education in secondary art school, I have studied painting, drawing, composition and art history since I was 12 years old.
During these years, and later in the University of Art, I developed technical skills and mastery of composition. Those years were a time of self-reflection during which I experimented with different media and artistic styles, including spending hours in the library studying reproductions of works by the world's greatest artists (as books were the only way to see such works in Latvia at that time). My favorites were and remain Italian Renaissance painters and Flemish and Dutch painters of the 14th and 15th centuries. In 2003, I completed a master's degree in figurative painting and drawing. I have discovered that my artistic heart is truly stirred by the subtleness of human expression. I have tried to follow it to explore the subjects that move me, and I have found realism to be the best medium to express my art. As an artist, I express myself with the interplay of colors, the lines, rhythm of form, and space.
I most frequently paint bodies and faces of the female kind. A woman's image is associated with beauty, eroticism, emotion, intuition, gentleness and the soul. Unlike male power and directness, a woman is like a delicate mystery. For example, the classical goddess Venus has been a long-lasting popular symbol of idealized love in the Western art. It's a wild symbol which represents love and sexuality in various expressions.
I idealize people, being raised from the everyday routine. I enjoy painting people, because with their temporal, passion, as actors and observers, they bring movement and the human sense of "time" to the vast and still universe. In the painting process I not only portray their bodies, but also explore their inner worlds as I imagine them. My favorite media is oil colors, because I like how painting using those colors flows and the way I can make different consistencies from them. I like strong and concrete drawing. Lines give borders and clarity to the form of the figure. I think monochrome works best – my first sketch is always in black and white. But right now I am working with colors, and then I feel most comfortable working with cooler, softer colors.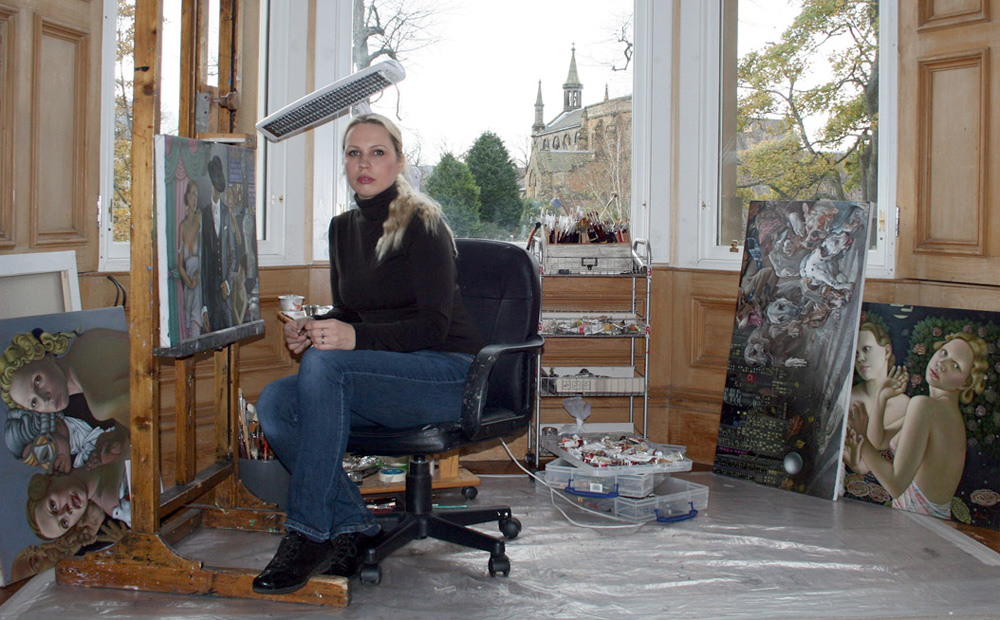 It is more difficult for me to bridle and harmonize bright, loud colors – those I mostly use like accents. I think this comes from growing up in the North where nature is cold, and silvery- grey for most of the year. I rarely know how a painting will turn out until I complete it. It is more like solving a riddle with a set process: Sketching the dominant rhythm of the composition Painting, including resolving unexpected technical and compositional issues. The finishing details and embellishments, the last step, the detail work, is very important in my work because many times the intuitive choice of particular details give the work its most profound meaning. At the same time,
I almost never feel that a work is "complete" – choosing the right place to stop remains the most difficult part of the painting process for me. A painting is a mirror of the world – spiritually, aesthetic and morality –
a mirror of time in which the artist lives. As I continue to find myself in the creation of these works, I am gratified when others can also see the beauty and meaning in them. I cannot imagine what I would do if I weren't an artist. I have been 'poisoned' by the process of creation. It is a personal and secretive process."
AGITA KEIRI
Website: http://www.keiriart.lv/index.html
email: a.keiri@gmail.com