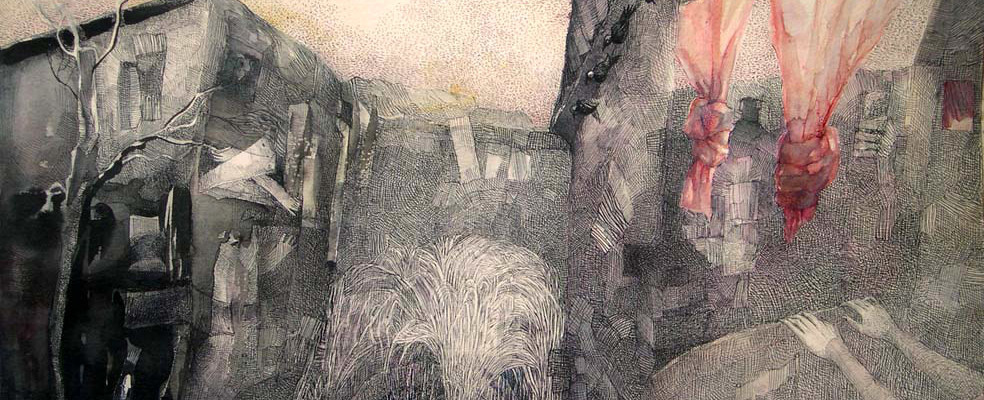 An Interview With Lisa Zbrsky
Meet the artist Lisa Zbrsky 34, lives in Rishon Lezion. Engaged in painting and illustration.
What kind of techniques do you use?
I often use watercolor and Rapidograph. I sometimes also incorporate Acrylic and collage.
When did you start experimenting with art?
I've been drawing ever since I can remember.
Did you study art formally?
I began my studies at the age of 15 in a small group , where I mainly Register. Then, I learned Proclamation of Art, majoring in photography and illustration.
Do you make a living out of your art?
Creation is not only my profession , but real life . Sometimes I manage to make a living , I sometimes have to work in temporary jobs . I also teach painting classes for adults and kids.
Please share a feeling you have when you create Or what motivates you to make art ?
When I create I feel like I really exist . Real presence .
What are your sources of inspiration For example, some artists that
Influence you?
I draw a lot of inspiration from people , human situations , literature, poetry and philosophy .
In my youth, I was influenced by Egon Schiele very , its expressive .
Are there areas in which the driving focus ? Try to define your style .
Hard to define the style . Maybe there's a surreal element in my work , but they do not Morelistim. If surrealism is " over reality " , so my paintings are imaginary .
Imagination imitates reality , emphasizes certain things to black humor .
Is presenting an exhibition ?
I participated in several group exhibitions , and presented several solo exhibitions . Here are just a few:
In 2011 Einav center in Tel Aviv, I presented an exhibition called " horizon " .
2012 Gallery Artura , presented an exhibition called " yearning " .
Two months ago , the gallery " White " Kibbutz Hazor south.
Also, will exhibit in The Tel Aviv Artists' house this June.
What is art to you?
I believe good art is art with honesty. Beyond that , I can define what good art , that painting is mute. It flows through the eyes.
Spit it out your dream about your artistic development . Where would you like to say ten years?
I just do not know. We'll see though.
Personal word ending or a favorite quote you.
One of the quotes that I really love is the words of the philosopher Heidegger on art , which he saw as the royal road to truth : "Art is not a representation of the thing depicted in it, but appearance really ."
Thanks Lisa for your participation , creation and continued success :-)