'BANG BANG'
By Asaf Rolef Ben-Shahar, PhD
Many years ago, a 64-year-old man came to see me for psychotherapy. He was a senior manager in a big firm, successful and handsome, powerful and eloquent.
"We were invited into a poetry workshop," he said, "and I couldn't get out of it. And I wrote this poem, and since then I cannot find rest."
Richard opened his bag and took out a piece of paper. It read:
Seventeen; life is promising.
Looking in the mirror, what a handsome young man;
So full of dreams.
Somebody calls my name and I turn my head to look back.
Upon return, I see myself again, at sixty four.
Where has my life gone?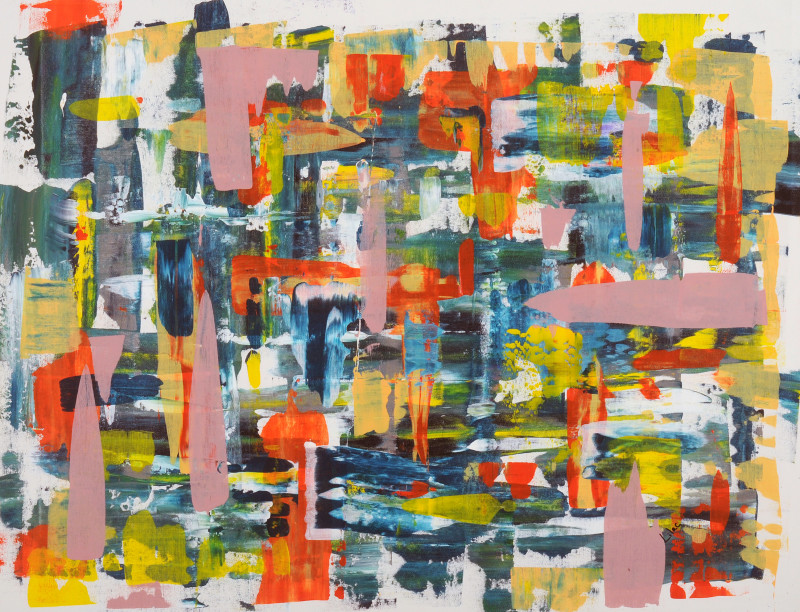 Tron, by Lilac Abramsky-Arazi, Acrylic on canvas, 70×90, 2014
Elaborating on his poem, Richard portrayed a life full of safe choices in relationships. Whenever faced with conflicts between personal risks and fire and those of the familiar and safe, Richard opted for safety. His family life has been predictable and safe. He chose well, and often veered away from women who ignited his aliveness, keeping himself steadily successful; and steadily absent to himself.
The tension between safety and desire, the known and the unknowable, accompanies many of us throughout our lives. In my clinical work, this is one of the key issues people bring in, conflicted, yearning, frightened. Sure, there are extremes: On the other hand, the rigidified idealization of safety, paramount to our culture. Heteronormative values, consumerist culture, conservative politics, these all come to mark the importance of an unchanged world, of stagnation as a way of living. This is what brought Richard to therapy. On the one hand, and just as rigid, we see the extreme romanticized desire – where passion becomes a commodity through hedonism, adrenaline craze, unhinged eroticism.
But between the two extremes, desire and love best survive under tension. How can we tolerate sufficient tension to keep us on our toes, to notice the other as exciting and as magical, and at the same time allow for sufficient safety, enabling rest, trust, knowledge in our belonging and unthreatened togetherness?
Rather than providing ready-made protocols for tolerating humanity, the tension between passion and love commands respect of the human condition. It had better remain pulling.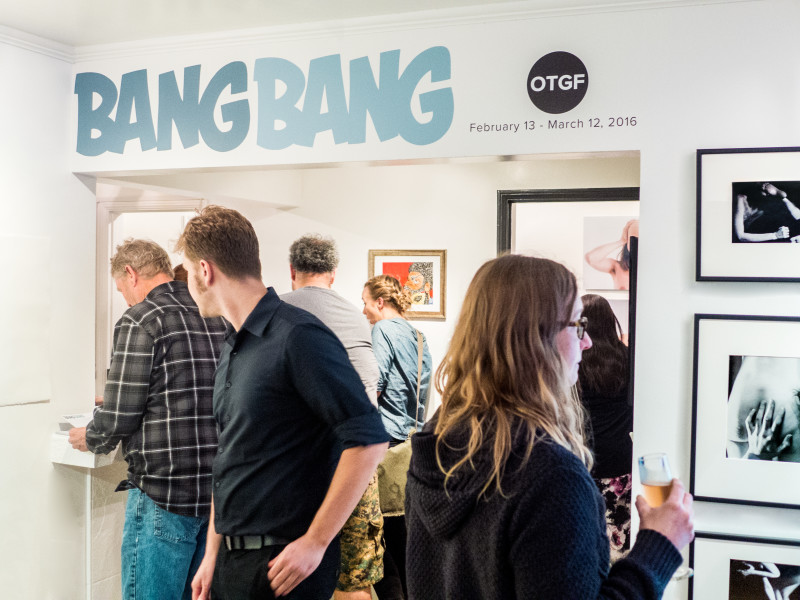 Bang Bang, a new group exhibition opened last week in a Los-Angeles gallery, On the Ground Floor. The show was born out of a trip to Italy, which felt for Malika "like one big kiss." Meticulously curated by Malika Ali, eight artists (both American and international) brought their perspectives on this elaborate dance between the light and shadow aspects of love and desire.
Ali writes: "A drippy, sticky, redolent group of new works that collectively relay our human dance with desire… this show tiptoes into the bedroom, the bathroom, the back seat, and the back pew to take a closer look at intimate life and features recent works by eight emerging artists who venture onto the merciless terrain of a salacious kind of devotion".
Like any real relationship, complexity finds its way into the show, sometimes through humor, at others through pain.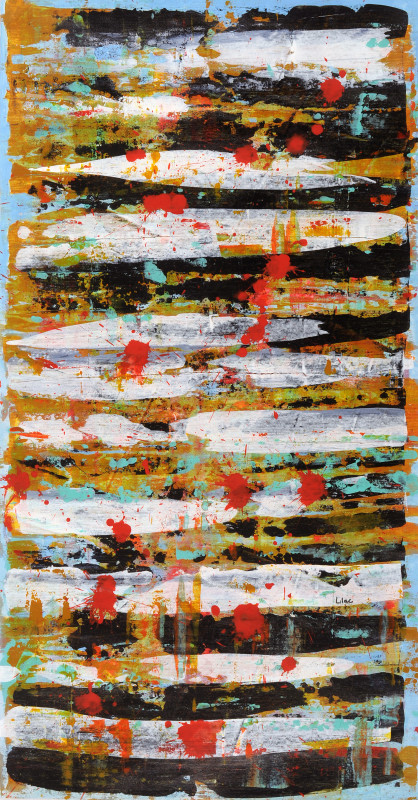 Crossing, by Lilac-Abramsky-Arazi,
Acrylic on canvas, 115×62, 2015
Lilac Abramsky-Arazi is an Israeli painter, whose background is in neuropsychology and dance, she openly admits her attraction to imperfection within her work. Of her four paintings, two are of particular interest for this piece – Tron and Crossing.
"I love the poetry in Lilac's work," says Malika Ali, "it invites people to spend time looking – to take time and dig a little deeper, it involves both the intellect and the emotions."
Lilac's painting might seem very pleasant at first sight. Colourful, inviting, aesthetic. But then I notice my breathing becoming unease. Tron (acrylic on canvas, 70×90, 2014) calls me in and then withdraws, holding a contrast between clean and defined lines and smeared, unfinished edges, which leave me uncertain. Am I wanted here? Is it safe to approach? I found myself sucked into a labyrinth of emotional turbulence, looking for something to hold onto for stability. Later, moving back, I couldn't understand what was the fuss about. A harmless abstract painting. Why was I so shaken by you? Time and again I found the irresistible pull inside, only to find doubt when coming out. There is something almost human about Tron's imperfection, which rattles my control.
The contrast between passion and tenderness becomes even more explicit with Crossing (acrylic on canvas, 115×62, 2015). Look at it once, and here's is a very bleeding painting, full of hurt, threats and fear – perhaps like a heart-churning quarrel of lovers, unable to unlock their desire for one another, yet deeply engaged in mutual destruction. Look it again, and there is something comforting in the unlikely combination of colours and patterns, textures and movement, as the imperfection allows space for humanity, for rest. Take your eyes away and meet the painting once more and others layers are exposed, resembling Simon Hantaï's folding method, unexpectedly lurking, insisting on their complexity. Crossing made me think of Gill Scott Heron – The revolution will not be televised. And again, without pretence, Abramsky-Arazi allows the audience a choice. Do you want to see the depths or would you rather remain with the first, second or third layer? This choice seems lacking of judgment, yet, interestingly, the deeper I explored and the more complexity I allowed for, the easier my breathing became.
What Abramsky-Arazi does on the personal level, German artist Annique Delphine achieves with the socio-political. Her works deconstruct social norms about desire and objectification, sensuality and romanticism, consensual beauty and disgust. Curator Ali notes that "as there were a few people who had dealt with breast cancer, and many with self-image issues, Annique's work dealt with both the pain and joy of sensuality."
Disgustingly sweet is Summertime sadness. A silicon plastic breast embedded in dripping pink ice-cream. Does it arouse anything? Can I retain the erotic quality of a disembodied breast? Superficially, Delphine collapses the tension, there is no desire here, no real eroticism. Yet I found myself looking again, examining the nipple, feeling disgusted by my attraction to this work, wanting to develop an intellectual position towards it, as to avoid the uncomfortable feelings.
And again, in Self-portrait in bed we can see the ridiculed collapse of the part-object. Who can desire a breast? How irrelevant is the disembodied sensual tension when a breast-headed woman is waiting under the sheets, almost Nan Goldin style, for a lover or a baby to sexualise, to objectify, to commercialise her. the contours of the body are, nonetheless very real, hence the erotic tension is still kept as the breast-head is intentionally unrealistic, but moreover a real woman, and a real breast is seen much more gently. What are we more attracted to? What do we desire?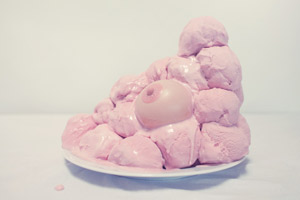 Summertime Sadness, by Annique Delphine, Photography (C-Type Print), 60×40, 2015. Image courtesy of the artist Annique Delphine.
For me, Delphine challenges narcissistic desire which remains disconnected from the person, ridiculed and isolated and, like Abramsky-Arazi, still points towards hope, to the possibility of finding more reality and connection, if only tension is maintained.
Bang Bang is a small exhibition which invites us to ask some big questions. It seeks to touch us in the moment before turning our heads back, alerting us to remain present to our choices and possibilities, committed to a life that can hold tensions without collapsing them into certainties.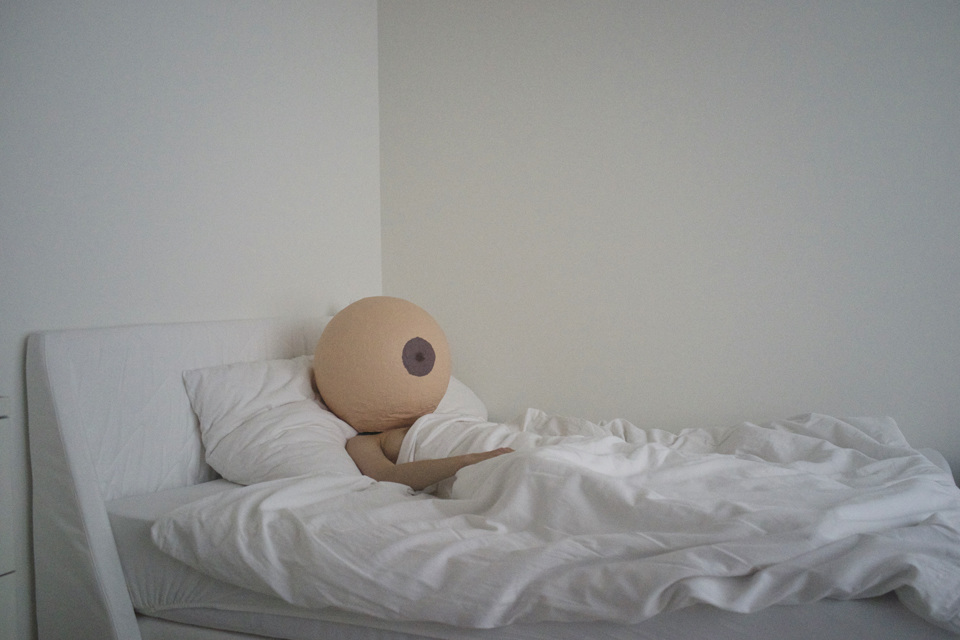 Self-Portrait in Bed, by Annique Delphine, Photography (C-Type Print), 60×40, 2015. Image courtesy of the artist Annique Delphine.