BRIAN SOSTROM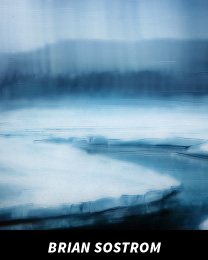 "Nature and the beauty of emptiness have heavily inspired Brian Sostrom's paintings. The atmospheric images are not intended to communicate a story, but rather to create an intriguing visual poem. His recent art pieces are acrylic paint on Plexiglas.
The slick surface of the plastic sheeting makes an excellent surface for subtle brushwork and mark-making. The flip side of the Plexiglas is covered with layers of transparent textures that harmonize and compliment the painted image. Glass beads and iridescent paint are often incorporated into his work and alter the appearance of the surface as the lighting and angle of view shift."
"As a child I grew up in small rural towns in the Pacific Northwest. My father was an engineer for the National Forest Service and we frequently relocated for his work. All of my finest memories revolve around the tranquility of nature and the peace and solitude that I only found there. My father has always painted, at least since I've been around. I would watch him painting on his homemade easel, wishing I could do the same. When I was 9 years old, my parents purchased a hobby set of acrylic paints for me and I was never far from them. When I went to college at Washington State University, I was experimenting with all types of mediums and began learning about computer generated art and design.
Digital art is an interesting pursuit and has kept me afloat financially but my passion is still painting. Acrylics have lured me back with their ever-expanding catalog of new mediums and materials. In the last few years I have experimented with Plexiglas and acrylic paint. This has once again been a dramatic change for me. I paint with translucent acrylics on Plexiglas and build textures and reflective surfaces on the back of the Plexiglas. I am combining traditional techniques with unusual materials in a way that encapsulates a lot of digital ideas, layers and depth but in a very physical way. I have solo shows at regional colleges and art galleries in Oregon, Washington, Idaho and Alaska. The challenge for me now is balancing my time between the computer and the brush."
RESUME:
▪ 1992 Graduated from Washington State University with a BFA in Graphic Design and Painting
▪ 1992-1993 Waterfront Press, Ballard Washington.
I spent this year creating illustrations and working on advertisement layouts in their three publications.
▪ 1993-1994 Manley and Associates
Created digital art for many video game projects. Began learning 3d modeling and rendering programs.
▪ 1994-1996 Boss Game Studios
Lead Artist on a number of game titles for multiple gaming platforms
▪ 1996-2009 Snowblind Studios
Cofounder and Artistic Director
▪ 2005 Snoqualmie Wine Lables
I illustrated 8 wine labels for Snoqualmie Wines. They ran until 2014
▪ 2009-2011
Freelance illustration and full time painter
▪ 2011-current Ember Entertainment
Art Director and Artist
ART SHOWS:
▪ Solo Show, BPA, Bainbridge Island, WA, February 28th-April 1st 2018
▪ Solo Show, Lower Columbia College, Longview, WA, February 14th-March 8th, 2018
▪ "Darkening Light", solo show, Community Gallery Twisp Washington, September 30th-November 11th 2017
▪ Solo Show, Baker City May 2017
▪ "The Beauty of Nothing", solo show, Center for Arts & Histroy/Lewis-Clark State, January 13th-March 18th, 2017, Lewiston, Idaho
▪ "Nature: James M. Lilly, Susan Rochester & Brian Sostrom", Maude Kerns Art Center, July 22-August 26th, 2016, Eugene, OR
▪ "Shadows of the West", Solo Show, Blue Mountain Community College, March 31st-April 28th 2016, Pendleton, OR
▪ Call of the Clouds, Group Exhibit, artEast, January 15-March15, 2016, Issaquah, WA
▪ "Miniature Exhibit", Group Exhibit, Confluence Gallery, Nov. 21st 2015- Jan. 9th, 2016, Twisp, WA
▪ "Empty Spaces: studies in texture and transparency", Solo Exhibit, Main Street Gallery, October 2015, Ketchikan, AK
▪ "10 x 10 x 10 Tieton, Group Exhibit, Mighty Tieton, August 8th – October11th, 2015, Tieton, WA
▪ "Shifting Baselines: The New Normal", Group Exhibit, Confluence Gallery 2015, Twisp, Wa
▪ "Cartography", Group Exhibit, Ryan James Gallery 2015, Kirkland, Wa
▪ "The Big Sleep", Group Exhibit, Confluence Gallery, 2014, Twisp, WA
▪ "Postcards from the Edge", Group Exhibit, Imogen Gallery, 2012, Astoria, OR.
▪ "Passionately Pink", Group Exhibit, C Art Gallery, 2010, Seattle, WA
▪ "Stormy Weather Show", Group Exhibit, Cannon Beach Arts Association, 2010, Cannon Beach, OR.
BRIAN SOSTROM
Website: https://briansostrom.com/
email: blspainter@gmail.com