CATRIONA CAMERON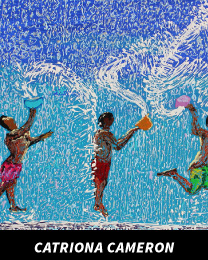 Catriona Cameron, British artist, resident in Switzerland.
"My abstract style of painting contains three key elements
– Bright colors
– A certain 3D effect
– A quirky, creative attitude.
My paintings fall into a variety of themes – abstract, comical, animal, people, landscape, floral and a series of Alcohol Art – my interpretation of drinks seen under the microscope.
I started painting in November 2012
as a relaxing hobby and gifting my art to friends. Since 2014 I have offered not only the original artwork for sale, but also created derived art products such as handbags, scarves, prints, puzzles, figurines etc.
I have had exhibitions within Switzerland, Denmark and Italy and I have sold paintings to America, UK, and Australia as well as Switzerland.
My entire portfolio is available to be seen on the following website and please contact me for more information on the derived products."
ABOUT THE ARTWORKS:
HAPPINESS
Inspired by Agoes Antara's photograph, Together We Are Happy, this was very relaxing to paint and I really enjoyed myself creating it.
LEO SUNSHINE FIRE
A fun abstract created with my favorite choice of colors and complete with a little lion figure in the center.
I MET A WOLF
An adult wolf doesn't have blue eyes, but in my painting it does. I Met A Wolf, was inspired by a brief conversation with a Met policeman who had amazing blue eyes. The painting's color choices continued with the "Boys in Blue" uniform reference and the title linked to the UK's Metropolitan police force, commonly referred to as the Met.
CATRIONA CAMERON
Website: http://www.colourfulcatcreations.com/
email: catrionacameron1969@yahoo.co.uk