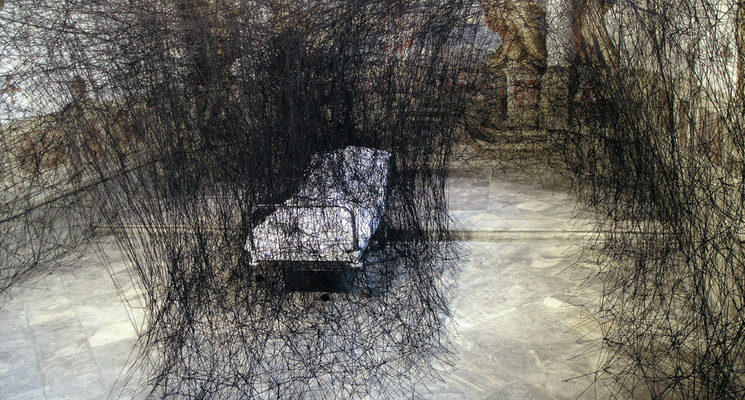 CHIHARU SHIOTA AT THE BIENNALE OF SYDNEY 2016
Chiharu Shiota has created a new site specific installation for the Biennale of Sydney – Australia's largest contemporary visual arts festival. Opening on the 18 March, the Biennale is held on Cockatoo Island, a UNESCO world heritage site in Sydney Harbour. Shiota has drawn on the island's history for the new work. Conscious Sleep is an intricate three-dimensional web of threads forming a dense space within which empty beds are ensnared. Housed in a building that held prisoners in the 19th century, the title refers to the restless sleep of the overcrowded inmates, whilst the beds evoke ideas as complex as the tangled web that holds them – memory, history and the struggle for life and death.
A selection of Shiota's works, including A Long
Day (2015), can also be seen at Kunstsammlung Nordrhein-Westphalen, K21, in Düsseldorf and the installation "In the Beginnning was…" is on view at Fundació Sorigué in Lleida, Spain until the end of June.
The Biennale of Sydney opens on 18 March and runs until 5 June 2016