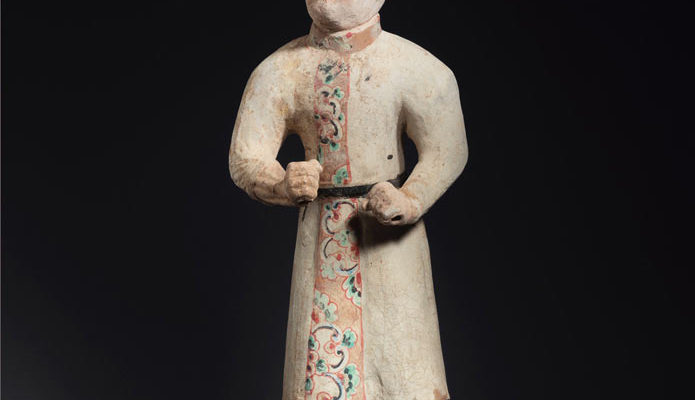 Chinese Art Market Correction
by Miguel Bermudez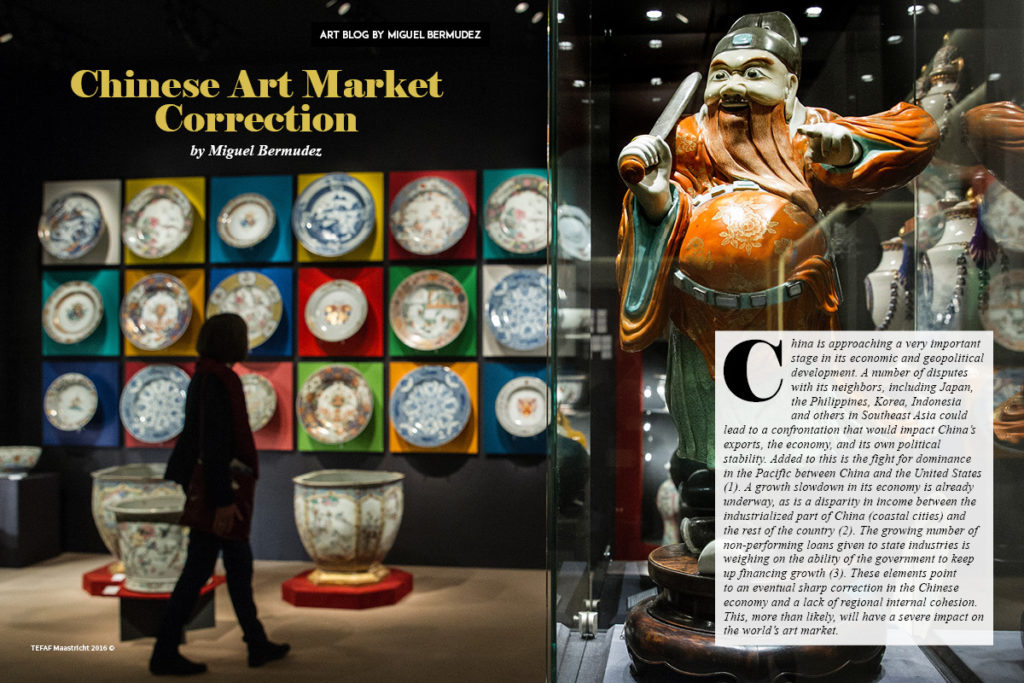 China is approaching a very important stage in its economic and geopolitical development. A number of disputes with its neighbors, including Japan, the Philippines, Korea, Indonesia and others in Southeast Asia could lead to a confrontation that would impact China's exports, the economy, and its own political stability. Added to this is the fight for dominance in the Pacific between China and the United States (1). A growth slowdown in its economy is already underway, as is a disparity in income between the industrialized part of China (coastal cities) and the rest of the country (2). The growing number of non-performing loans given to state industries is weighing on the ability of the government to keep up financing growth (3). These elements point to an eventual sharp correction in the Chinese economy and a lack of regional internal cohesion. This, more than likely, will have a severe impact on the world's art market.
According to UBS' Art Market Report of 2016, China's share of the world's art market is 20%, with sales in the region of $11.5 billion. It experienced a decline of 2% in the period 2015-2016. Consumption of art is heavily skewed to the very top of the society, something that is shared with most other countries. However, per the IMF (International Monetary Fund), China has a per capita GDP of $8,261. When compared to the US with $57,294 GDP per capita, we see a very serious imbalance that could create an unstable situation going forward (4). By examining each of the market sectors and the share of the Chinese market overall, we can see the amount of potential damage that a sharp contraction would have on the world's art market.
China maintains 33% of the world's Post-War and Contemporary Sectors by value, with Wu Guanzhong as the top selling artist worldwide in this category. In 2016, Chinese Modern artists represented 35% of sales with Zhang Daqian as the top selling artist in this category, worldwide. Chinese artists represent 24% of the Impressionist and Post-Impressionist classifications by value, with Qi Baishi as the leading Chinese artist. The country accounted for 45% of the Old Master Paintings classification, with artists Wu Zhen and Wang Duo occupying the third and fourth places respectively worldwide as top selling artists. (5).
As we can see from these figures, any movement in the Chinese Art Market will have a quick and a profound effect on the world art market. It should also be noted that if the Chinese art market becomes less stable, this will have an impact on the overall Asian art market, particularly Japan and Korea, since they important components of the world's GDP and art consumption.
Should there be a downturn, most of the immediate effect will be felt by the Chinese auction market, which is comprised of 438 auction houses accounting for 68% of sales in 2016. The top five auction houses represented 60% of the share of the market in mainland China. These firms, Poly Auction, Beijing Council, China Guardian, Sotheby's Hong Kong and Christie's Hong Kong (5), would experience the greatest impact of the slowdown. Many of the small and medium size auction firms would completely disappear.
Chinese painting and calligraphy, accounting for 48% of the sales, and its largest segment would show the sharpest price and volume declines followed by ceramics and decorative and other wares which represent 40% of the market. Oil paintings and contemporary arts with 12% of the value would see similar declines.
Sourcing high-quality works (in the fine arts and antiques category) remains the biggest challenge for dealers and auction houses as demand far outstrips supply.
Many dealers have now been actively sourcing works in overseas auctions to sell in China (5). China has also encouraged the repatriation of Chinese fine art and antiques by lowering the import tax to 3% from a figure that was as high as 12% in 2012 (5).
A correction in China would translate to an immediate blow to the fine arts and antiques market in the west. Many French auction houses are including increasing numbers of Chinese antique sculptures, ceramics, and paintings to their regular sales. This activity has helped sustain and grow this sector of the market, which otherwise has been on a decline for a long time (6). Fine art and antiques dealers and auction houses operating in Europe and the United States would see this lucrative and growing element of their operations evaporate overnight. A correction's impact on the financial viability of the five largest Chinese auction houses would be exacerbated by the fact that the non-payment rate at auction stands at 41% (5). A contraction would limit the auction houses cash flow that could force them into bankruptcy.
Should Chinese contemporary, modern and fine art suffer major price corrections, this would also impact western contemporary and modern art. If Asian collectors stop participating in the world's auctions for a significant amount of time, prices would fall and collectors more than likely will temporarily retreat from the market.
A single example of this can be found in the major acquisition of a Jean-Michel Basquiat masterpiece by Japan's billionaire Yusaku Maezawa paying $110.5 million at Sotheby's New York in May of 2017.
The speculative and purely financial objective of some of these participants in the art market will cause some to face similar surprises that are felt during stock market corrections. Nevertheless, a correction could have a positive effect by a constraining art speculation. This could refocus art as something inspiring and transcending and not simply a purely financial tool.
Meb3
The Next 100 Years. A Forecast for the 21st Century. George Friedman. 2010.
Congressional Research service. China's Economic Rise: History, Trends, Challenges, and Implications for the United States. Wayne M. Morrison. 2015
Proceedings of the National Academy of Sciences. 111. Kanbur, Ravi; Zhang, Xiaobo. February 2005
The IMF World Economic Outlook (Database)
The Art Market 2017. An Art Basel & UBS Report. Dr. Clare MacAndrew. 2017
TEFAF Art Market Report 2017. The European Fine Art Foundation. Prof. Dr. Rachel A.J. Pownall
Note: Statistics used were extracted from the mentioned sources, the opinions and interpretations are the author's own.