Eva Struble
Disorientating Illusion Of Space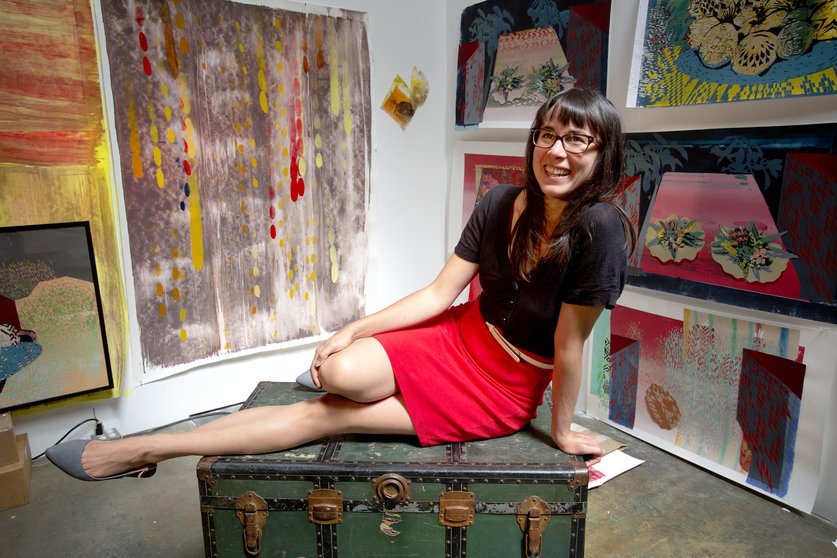 Eva Struble was born in Elsmere, Kentucky. She received her MFA in painting from Yale University in 2006 and her BA in Visual Arts in 2003 from Brown University. Her exhibit of painted prints, Emblema, was recently shown at the UVA's School of Architecture in 2015, and her project, Produce, was displayed in a solo exhibition at the Museum of Contemporary Art San Diego in 2014. Both projects dealt with agriculture, labor and immigration and in North County, San Diego. Landsmen, a solo exhibition of paintings which showed in New York in 2011 at Lombard-Freid Projects and explored architecture of the Brooklyn Navy Yard as well as former military sites in the Marin Headlands. Her work has been shown at the Cleveland MOCA, at Angles Gallery in Santa Monica, and the Vincent Price Art Museum in Los Angeles among others. Ms. Struble has completed residencies at the Vermont Studio Center, the Headlands Center for the Arts in Marin County, and the Andratx Cultural center in Mallorca. Her work has received praise in Art In America, The Village Voice and other publications. She currently lives in San Diego, CA.
Eva Struble's monumental paintings draw from the traditions of landscape,architecture, and abstraction. Taking inspiration from sources as diverse as a ntique Arabic miniatures and contemporary Asian construction, Struble's motifs balance the odyssey of nature with the carefully ordered precision of design. Rendered with acidic hues and an exaggerated consideration of space and placement, Stuble's landscapes resolve as affected dioramas, envisioning otherworldly tableaux through their compositional pastiche.
Struble approaches the act of painting itself as a physical manifestation, allowing the eclectic application of her materials to create a disorientating illusion of space: an erased void of a mountain conveys an aberrant weight, the perspective of architecture gives way to its flattened decorative patterning, skies are rendered with day-glo pop sheen, and earth swills as layers of mellifluous splotches. The physical impossibilities implied through Struble's painterly manipulation are made believable through her inclusion of intricate detail, as blades of grass, grains of sand, and weathered dabs of rock are set within her scenes with
a theatrical preciousness.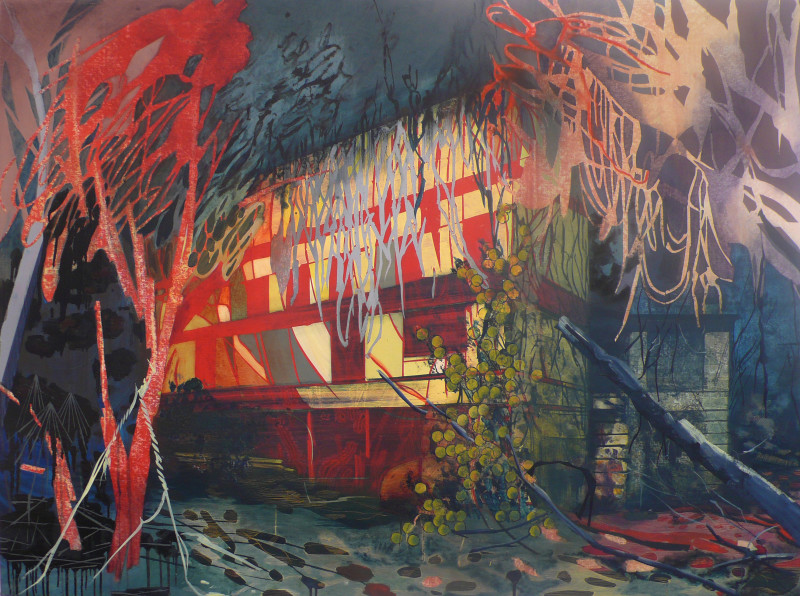 Eva Struble ©
Series: Landsmen.
Admiral's Row II, Acrylic and Oil on canvas, 45″x61″ 2011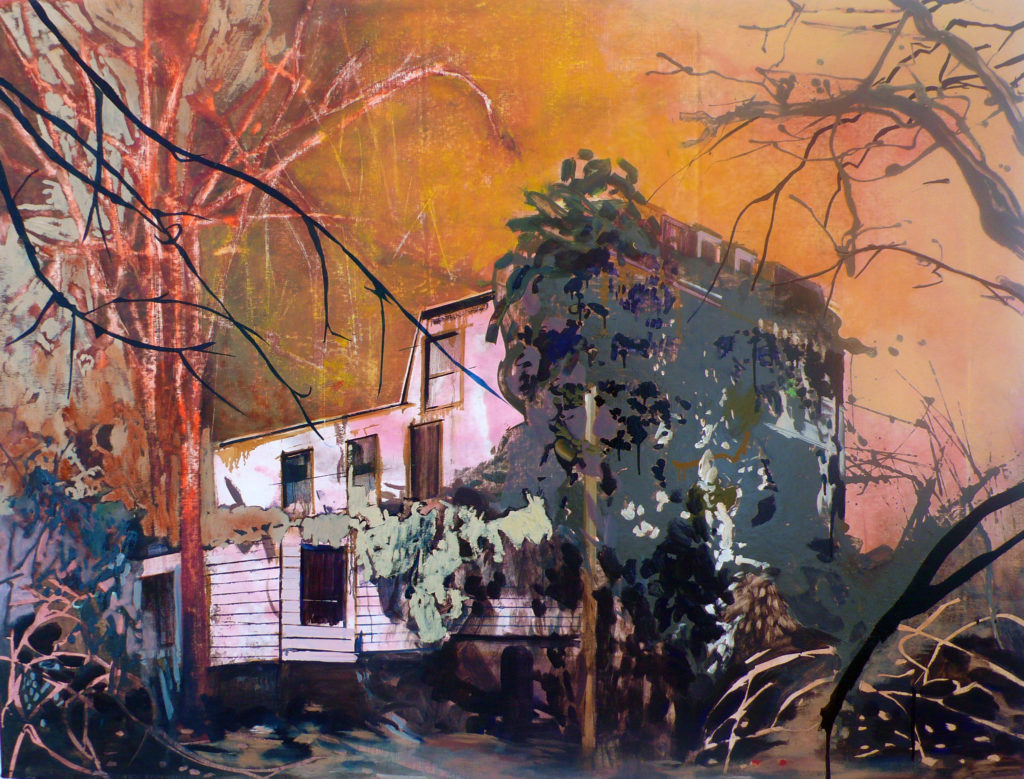 Eva Struble ©
Series:Landsmen
Admiral's Row I, Acrylic and Oil on canvas 46″x61.5″ 2011