FLORENCE BIENNALE 2017:
LIFETIME ACHIEVEMENT AWARDS
TO ARATA ISOZAKI AND EL ANATSUI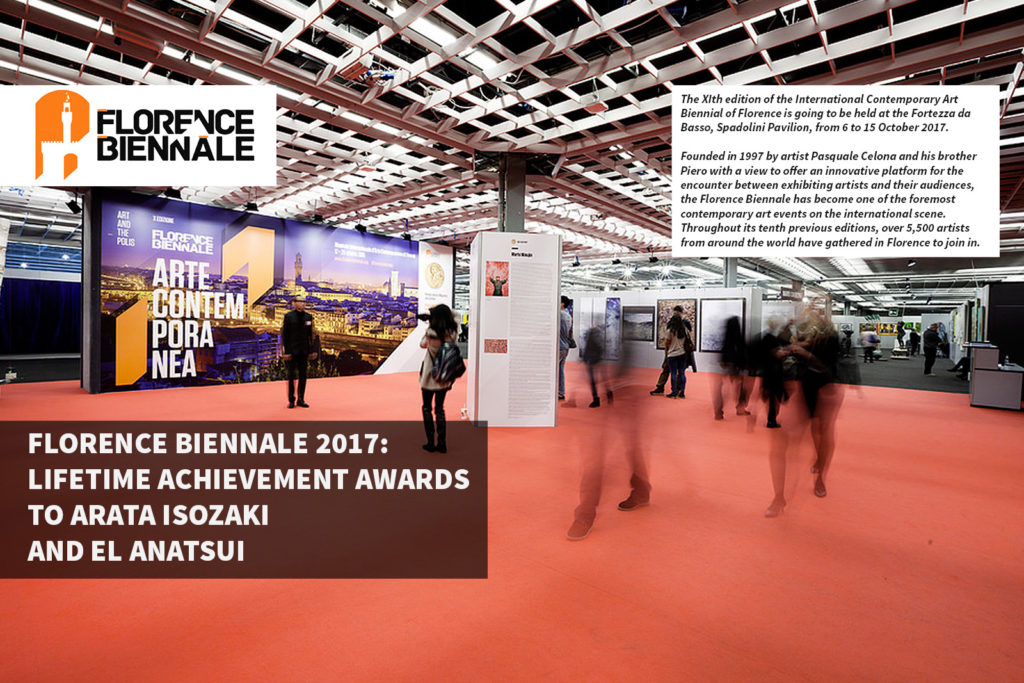 The XIth edition of the International Contemporary Art Biennial of Florence is going to be held at the Fortezza da Basso, Spadolini Pavilion, from 6 to 15 October 2017.
Founded in 1997 by artist Pasquale Celona and his brother Piero with a view to offer an innovative platform for the encounter between exhibiting artists and their audiences, the Florence Biennale has become one of the foremost contemporary art events on the international scene. Throughout its tenth previous editions, over 5,500 artists from around the world have gathered in Florence to join in.
The Lorenzo il Magnifico Lifetime Achievement Awards 2017
Within the framework of the XIth Florence Biennale, celebrating twenty years of activity, the Lorenzo il Magnifico Lifetime Achievement Awards will be bestowed on Architect Arata Isozaki from Japan, and Internationally acclaimed artist El Anatsui from Ghana.
On Thursday 12 October 2017, Arata Isozaki is going to receive in person the Lorenzo il Magnifico award, conferred in recognition of his lifetime career as an architect and cultural actor. By designing avant-garde structures that bring in the heritage from Japanese life principles and, not least, perfectly suit the needs of the visual and performing arts, he has offered outstanding examples of work allowing humanity to thrive in harmony with nature.
El Anatsui, who has earned many prizes and honorary titles with his works, which are in prestigious public collections in four continents, is going to be in Florence on Friday 13 October 2017 to receive in person the Lorenzo il Magnifico Award, conferred in recognition of his outstanding contribution to art over a forty-year career. By interweaving media, memory, and meaning, he has represented the essence of Africa while casting light on the relation between Humanity and Nature so as to inspire a global audience. Trains of Thought, Pot of Wisdom, Strips of Earth's Skin and many other complex assemblages, which have a distinctive visual impact, give breath of life to the artist's enticing vision of the world. Indeed, through creative experimentation with metals, textiles, plastic and discarded resources, he has masterly shown that 'the poverty of the materials used in art in no way precludes the telling of rich and wonderful stories'.
Finally, (as already announced with press release no.1), the Lorenzo il Magnifico Lifetime Achievement Award in memoriam will be bestowed upon Italian artist Sauro Cavallini (1927-2016) during a celebration to be attended by his heirs.
It should be reminded that the Lorenzo il Magnifico Lifetime Achievement Award has been bestowed, within the framework of each edition of the Florence Biennale, upon outstanding personalities and organisations for their artistic merit and/or contributions to culture. Awardees include, amongst others, a Marina Abramovi, Anish Kapoor, Christo and Jeanne-Claude, and Marta Minujín.