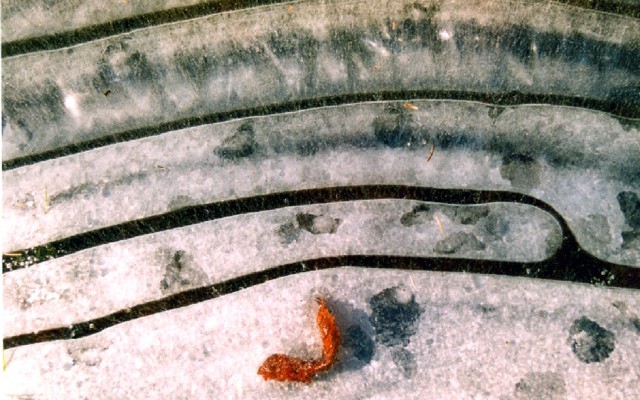 "Looking back for a future Contemporary Art"
By Denis Taylor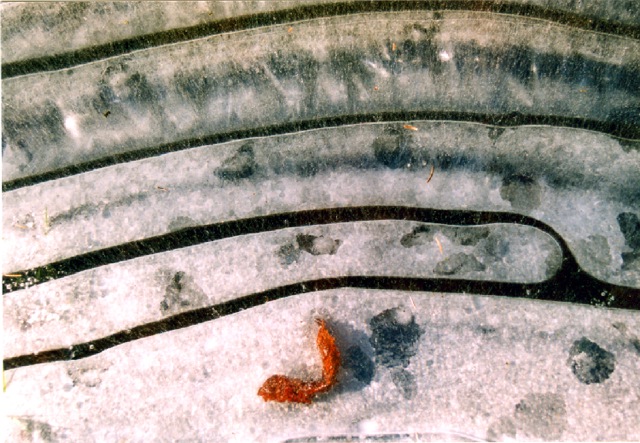 '15 Minutes To Midnight (Frozen In Ice)' Marianne Arnberg Taylor  ©2012
It's that time again where, if like me, you tend to look back on the year and wonder if the new one ahead will bring changes for the good of all. At the very least we all welcome the start of a New Year because it represents 'Hope'.
My personal New Year wish is that all humanity will awake to realize that violence begats violence. And reciprocal violence has not enabled a world where we all live in peace on this planet we call Earth.
Art, can it change the world?
As an artist I find it agonizingly painful to accept the idea that Art has done little to help change anything palpable in the world. At the very least it can offer beauty and a diversion from reality, now and again. I guess for me, Art had always represented a 'one on one personal experience'. A sort of conversation between oneself, a private moment where the balanced-mind gets to have a heart to heart talk with the egotistical-brain. And that's why Art is subjective, i.e. "one person's food is another persons poison."
This train of thought made me ponder on the Art World. How much it has changed over the years. Had Art of the 20th century become so engrossed in its self that it moved from a meditative to the more nihilistic approach in its creation.
With my pondering came a question.
How will Visual Art of the future look and what form will it take?
I began to ask myself if Art had actually moved in a forward direction at all?
My search for an answer was to take me to have a look-back on a previous century.
If only to gain a glimpse of what shape contemporary art may look like in the future. Why look back?, I hear you say. Well, as one renown Art historian [the late] Norbert Lynton put it in his enlightening book: The Story Modern Art
"…to gain a truer and a more useful image of the relationship of new [future] and old art, of their, interdependence and coexistence."
That seemed like a good path to follow.
I decided to start from the very beginning.
Whilst this 'Art look-back' voyage could be a little long winded for one article, I set out to undertake it anyhow, just to see how far I could run with it.
Looking back for a future Contemporary Art.
Let's begin our voyage with the Paris World Fair. (Exposition Universelle.15th April to 12th November 1900)
It was one hundred and fifteen years ago since the event. I will try to set the scene for you. Paris (France) is the cultural center of the world. The fair was to show all the world how much humanity had progressed. It is designed with specially constructed pavilions to hold and display all the most advanced machinery, technology, architecture (including the iconic Eiffel Tower) and Modern Art ever assembled in one place. Visual Art played a major role. It spanned over 200 days and will welcome almost 50 million visitors from all over the developed world [of 1900].
Interesting comparative details of the 1900 Paris fair to 2015 include:
A fully operational moving pavement was installed (we now call that escalator or walk accelerators, as in airports, etc).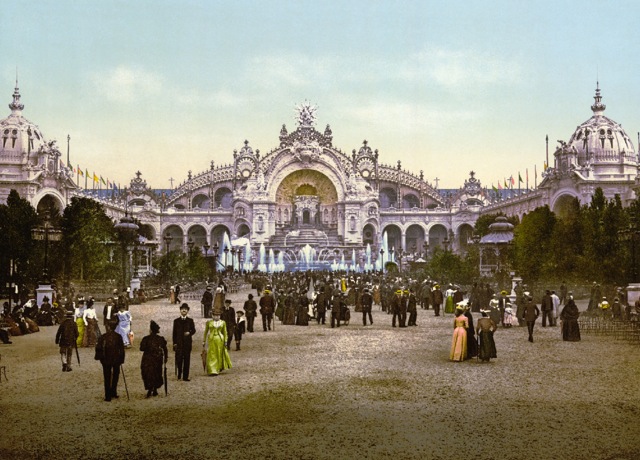 Visitors took photographs of themselves against exhibits with the new 'handheld' camera, seen as a phenomenon (we now call that 'doing a selfie').
Cineography on the streets recording the crowds (we now call that 'making a vid').
Aerial photography taken from hot air balloons (we now use camera fitted remote control micro-drones). Buildings made entirely from glass and iron frames (we now call them office blocks or condo's). That's not that much different to 2015 is it? Apart from auto-posting to the web of course, (although the mass media of the day continually printed stories and
Photographs throughout the 200 days). Importantly, it was the first time that picture postcards (of Art) were made available for the immediate posting home…