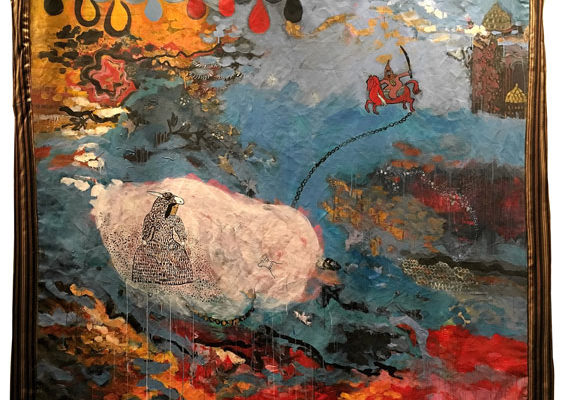 MARIELLE PLAISIR
Marielle Plaisir was born in Le Havre, Seine-Maritime, France.
She spent her childhood and part of adolescence in Normandie (France), before setting in
Guadeloupe (French-Caribbean Island). From monumental works, to itinerating in-situ exhibitions, along with books and illustrations for the youth and drawings for animation, Marielle's works demonstrates a strong urge to produce poetical pieces. Marielle is painter, illustrator, in-situ sculptor and papercut artist. Her essence is theatrical. She finds inspiration in a range of sources, from the Quattrocento Italian and the French period of Nobless, to European and Caribbean literature.
Since 2000, Marielle Plaisir has exhibited in numerous group shows, and solos exhibition throughout the world. She has participated in various International Biennials of Contemporary Art. As a French-Caribbean artist, she works blending life and fiction in personal narratives and historical narratives from the Caribbean, touching on universal themes like power, domination, life and death. Plaisir works in a variety of media, including drawings, paintings, videos, performances, monumental installations, and finds Italian Quattrocento, Latin and Caribbean literature inspiring. She uses her daily practice to examine the many aspects of the individual in the society. Plaisir also uses textiles, fibers and fabrics that are socially meaningful. Through her journal-like exercises, drawings, she find moments of humor and beauty and discovers evidence of humanity in our increasingly digital world.
Since 2015, she has developed an original concept of wide tapestries blending gold pigments, acrylics, paintings and using fibers, luxurious and fine fabrics, to achieve the wide padded frame. Weaving reveals the poetic dreamy side of her creative process. The dreamlike quality of these hybrid paintings and tapestries embody the poetic and chimerical side of the creative process.
When painting tapestries, she often thinks of Penelope from Greek mythology, who weaved then unraveled her own tapestries as a means of fending off her many (and obnoxious suitors) while
she waited for her husband, Ulysses, to return from war. Like Penelope waiting for Ulysses, Plaisir is waiting for a better world. By painting dreamy and enchanted worlds, it's her way of helping to bring those worlds into reality.
Plaisir is a multimedia artist who combines painting, drawing and performance to present highly intense visual experiences. The common thread throughout her work is a critique
of prejudice, according to which political power supposedly is "a natural fact."
Her textiles, fibers and fabrics are socially meaningful, just as the cutting is functionally significant. Both dimensions of pomp and dress are determined all at once by the status of the individual who wears it, as well as by one's occupation in society.