MENASHE KADISHMAN
(August 21, 1932 – May 8, 2015)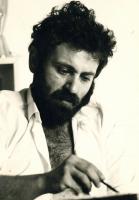 Menashe Kadishman was one of Israe's most celebrated artists, whose works enjoyed an excellent international reputation. Exhibitions in his homeland, in the United States, in many European countries and recently also in Japan, China and Thailand have been showing his opus time and again and convincingly ever since the sixties. Participation in several editions of theVenice Biennale and the Kassel Documenta demonstrate the innovative strength he applied to combining art with nature. His works were owned by many museums all over the world and by several private collectors.
Kadishman was born in Tel Aviv in 1932. His father died when he was 15, and he left school to help provide for the family. In 1950 he served with the IDF Nahal infantry brigade, and as part of his service herded sheep at Kibbutz Ma'ayan Baruch and Kibbutz Yizrael.
Herding was Kadishman's first encounter with what was to become the most central motif of his art – sheep.
After his military service, Kadishman studied sculpting with Moshe Sternschuss and Rudi Lehmann at Ein Hod. In 1959 he went to London and attended Saint Martin's School of Art.
Kadishman spent 12 years in London, where he also married and where his children were born.
His early work was characterized by a modernistic style. In the 1960s he was close to artists such as Andy Warhol, Robert Rauschenberg and Christo, and enjoyed a flourishing international career.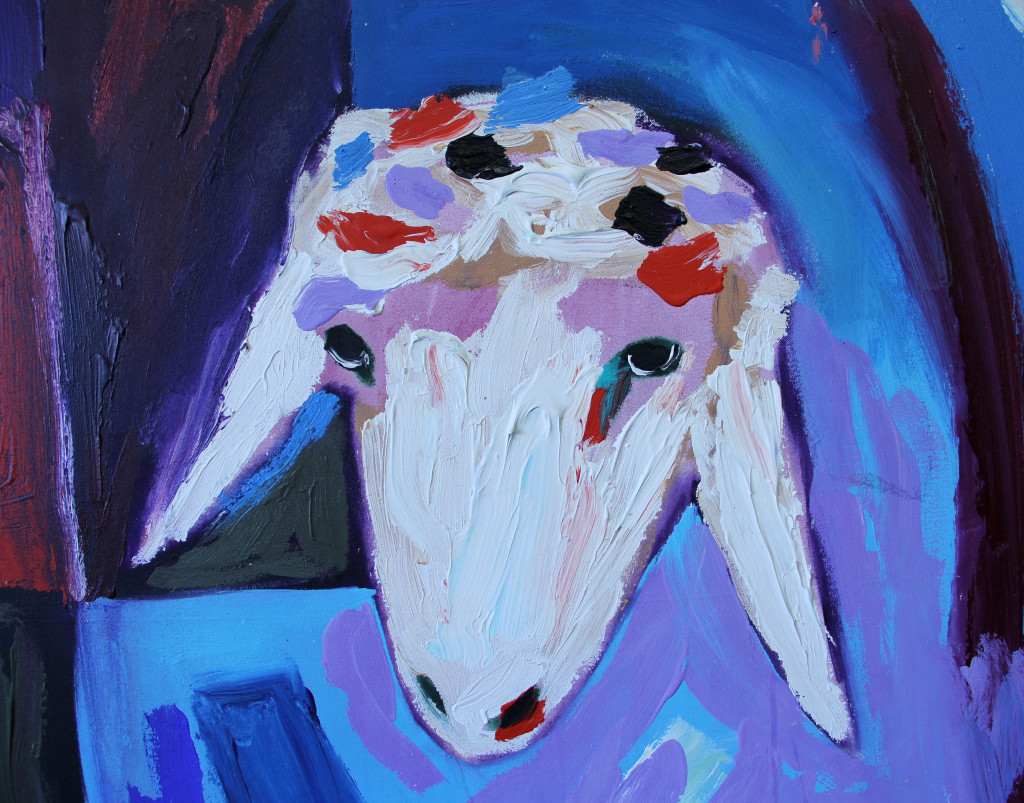 Menashe Kadishman / Biography
From 1947 to 1950, Kadishman studied with the Israeli sculptor Moshe Sternschuss at the Avni Institute of Art and Design in Tel Aviv, and in 1954 with the Israeli sculptor Rudi Lehmann in Jerusalem.
In 1959, he moved to London, where he attended Saint Martin's School of Art and the Slade School of Art. During 1959 and 1960 he also studied with Anthony Caro and Reg Butler. He remained here until 1972; he had his first one-man show there in 1965 at the Grosvenor Gallery.
His sculptures of the 1960s were Minimalist in style, and so designed as to appear to defy gravity. This was achieved either through careful balance and construction, as in Suspense (1966), or by using glass and metal so that the metal appeared unsupported, as in Segments (1968). The glass allowed the environment to be part of the work. Kadishman lived and created in his house in the city center of Tel Aviv. Kadishman was divorced, has 2 children. His son, Ben, is also a painter and his daughter, Maya Kadishman is an actress and married to the artists, Eran Shakine.
On May 8, 2015 Kadishman died after he was hospitalized at Sheba Medical Center in Tel Hashomer.
In his youth, between 1950 and 1953, Kadishman worked as a shepherd on Kibbutz Ma'ayan Baruch. This experience with nature, sheep and shepherding had a significant impact on his later artistic work and career. The first major appearance of sheep in his work was in the 1978 Venice Biennale, where Kadishman presented a flock of colored live sheep as living art. In 1995, he began painting portraits of sheep by the hundreds, and even thousands, each one different from the next. These instantly-recognizable sheep portraits soon became his artistic "trademark".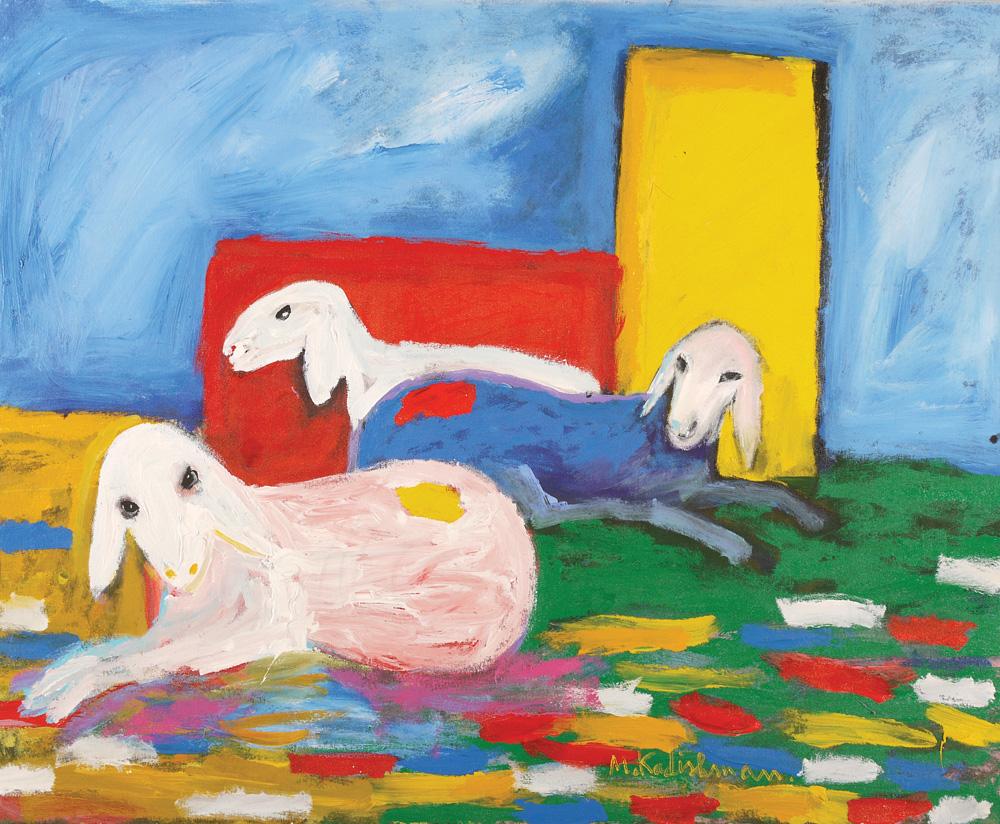 Education
1947-50 Sculpture, with Moshe Sternschuss, Avni Institute of Art and Design
1954 Sculpture, with Rudi Lehman
1959-60 Art, Saint Martin's School of Art, London
1961 Art, Slade School, London
Prizes and Awards
1960 America-Israel Cultural Foundation Scholarship
1961 Sainsbury Scholarship, London
1967 First Prize For Sculpture, 5th Paris Biennale
1978 Sandberg Prize, The Israeli Museum, Jerusalem
1981 The Eugene Kolb Prize For Israeli Graphic Art, the Tel Aviv Museum
Prize of the Jury, Norwegian International Print Biennale, Fredrikstad
1984 The Mendel Pundik Fund Prize For Israeli Art
1990 The Meir Dizengoff Prize for painting and Sculpture, the Tel-aviv Museum
1995 The Israel Prize for Plastic Arts
2002 Honorary Fellowship Award, Tel Aviv Museum of Art
Selected Museum Collections
Artbarn – Collection Jerome and Ellen Stern, Westhampton Beach, USA.
Art Gallery of Ontario, Toronto, Canada.
Centro d'Arte Contemporaneo, Prato, Italy.
City of Breda, the Netherlands.
City of Dordrecht, the Netherlands.
City of Kirchheim, Germany. City of Montevideo, Uruguay.
City of Salzgitter, Germany.
City of Seoul, Korea. City of Tel Aviv, Israel.
City of Toronto, Canada.
Columbia Museum of Art.
De Beyerd Centre for Contemporary Art, Breda, The Netherland.
Ein Harod Museum, Yizre'el Valley, Israel.
Faret Tachikawa Art Project, Tokyo, Japan.
Fattoria di Celle Spazi d'Arte – Gori Collection, Pistoia, Italy.
Galeria Im Prediger Schwaebisch Gmuend, Germany.
Hara Museum of Contemporary Art, Tokyo, Japan.
Hebrew University, Jerusalem, Israel.
Heichal Hatarbut, Tel Aviv, Israel.
High Museum of Art, Atlanta, USA.
Hirshhorn Museum, Washington, USA.
Israel Museum, Jerusalem, Israel. Jewish Museum, Berlin. Jewish Museum, New York, USA. Kamakura Art Museum. Leigh University, Allentown, USA. Lehigh University Art Galleries, Bethlehem Pennsylvania, USA. Louisiana Museum, Humlebaek, Denmark. Ludwig Museum, Germany. Mc Crory Corp., New York. Modern Art Museum, München. Montgomery Museum of Fine Arts, Alabama, USA. Museo de Bellas Artes, Montevideo, Uruguay. Museum Haus Lange, Krefeld, Germany. Museum of Fine Arts, Houston. Museum of Modern Art, Kamakura, Japan. Museum of Modern Art, New York, USA. Museum of Modern Art, Munich, Germany. Museum of Modern Art, Skopje, Yugoslavia. Musej na Grad Skopje, Skopje. National Art Gallery of China, Beijing. National Art Gallery, Bangkok, Thailand. Open Air Sculpture Park, Kirchheim, Germany. Rose Museum, Brandeis University, Boston. Shiba medical Centre, Tel Hashomer, Israel. Singapore Art Museum, Singapore. Stedelijk Museum, Amsterdam, The Netherland. Storm King Centre, New York, USA. Tate Gallery, London, England. Tel Aviv Museum of Art, Israel.The Bass Museum, Miami, USA. The Hirshhorn Museum and Sculpture Garden, Washington D.C., USA. The Metropolitan Museum of Art, New York, USA. The Philadelphia Museum of Art, Philadelphia, USA. Uffizi Gallery, Florence, Italy. University of Houston, Houston. Vleeshal – Frans Halsmuseum, Haarlem, Holland. Weizmann Institute of Science, Rehovot, Israel. Wilhelm-Lehmbruck Museum der Stadt, Duisburg, Germany. Yad Vashem, Jerusalem, Israel.
Selected Private Collections
Herta & Paul Amir, Los Angeles; Lizi & Zeev Aram, London, England; Muriel & Phil Berman, Allentown, USA; Irma & Norman Braman, Miami, USA ; Gabi & Ami Brown, Tel Aviv ; Nicki & Peter De Swan, Amsterdam, Holland; Dominican Monastery coll., Braunschweig Germany ; Pina & Giuliano Gori, Villa Celle, Pistoia, Italy; Rachel & Dov Gottesman; Joseph Hackmey, Tel Aviv; Ziva & Yoram Lazar, Nairobi, Kenya; Rita & Simon Levit, Tulsa, USA; Hans Mayer, Dusseldorf; Romey & Adam Nan, Tel Aviv, Israel; Patsy & Ray Nasher, Dallas, USA; Sue Rowan Pittman, Bushnami Sculpture Garden, Burton, Texas, USA; Teddy Reitman, London, England; Sharon & Fred Stein, New York, USA; Ellen & Jerome Stern, New York, USA; Vera, Silvia, and Arturo Schwarz, Italy