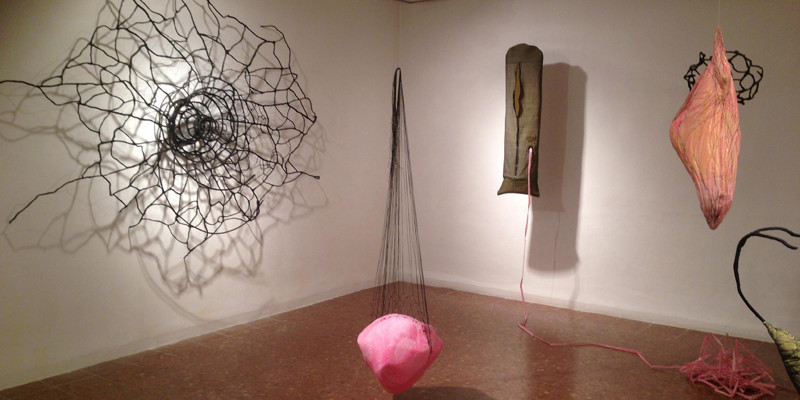 MUD COVERED EYES
TAL SHOSHAN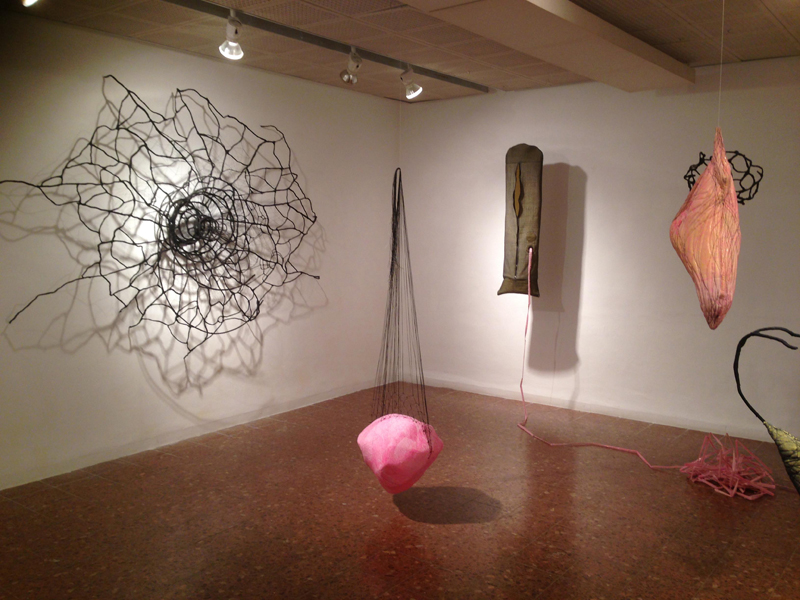 Tal Shoshan's solo exhibition Mud Covered Eyes will open on Thursday 1st October 2015 at 8:00 pm in the Chelouche Gallery, Tel Aviv. At the exhibition Shoashan will present an installation comprised of synthetically textured tactile objects, resembling living organic creatures hanging from the ceiling down to the ground.
The objects at the exhibition were handmade by the artist in an on-going process. Hybrid creations were crafted from textile sheets of different plastic material that was fused and laminated by Shoshan in a unique technique, along with everyday readymade objects. They were all swallowed into the artist's tormented world and conjoined to form a somber swampy world. The fear and beauty projected from this savage nature realm and Shoshan's inner world are merged together, and in the process distorting these creatures to the point of no recognition.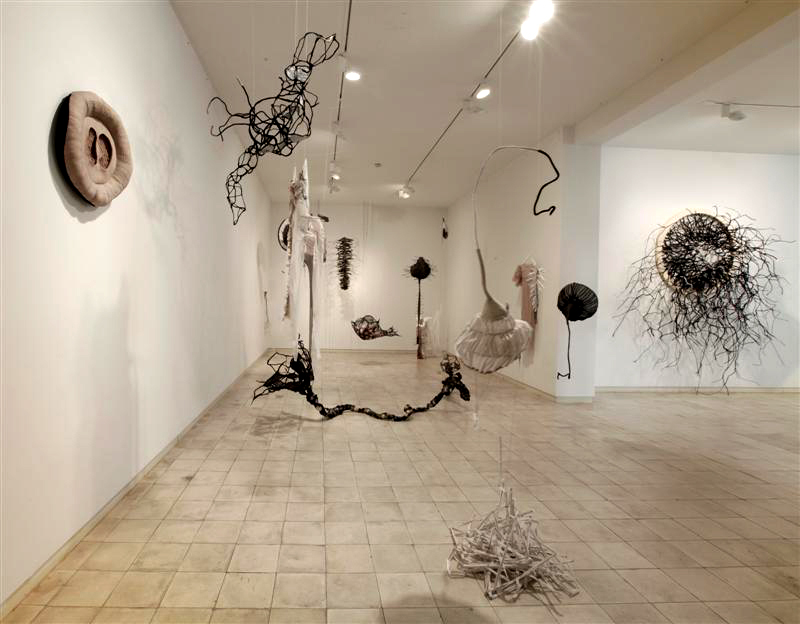 The author Esty G. Haim wrote after her visit to Shoshan's studio:
"Inside these blazing hot spaces, hanging, as animal carcasses in a butchery, are Tal's recent works… the objects which some were hanging off the ceiling and some laid of the floor, impacted me. A violent physicality, antithetical to the soft femininity of her former works, is awakened from what used to be game balls, now their insides are open and bleeding. Gleaming fabric carcasses of an alligator and a big fish, a giant bird that appeared from an horrendous dream, a green round object appearing to be soft but at its center is a gaping teething hole, as a prehistoric monstrous animal threatening to consume the viewer… the humanized-anthropomorphized objects are in a state of metamorphosis and corruption. Their vigor or virgin freshness has long gone, and it seems that even their partial decomposing state is in constant decline. The creatures, which also resemble organic vegetation, are quick to transform; as they rot they are sprouting new body parts resembling crawling insects".
Tal Shoshan (born 1969), M.A. graduate from Wimbledon School of Art, London (1997), B.A. graduate from Betzalael Academe of Arts and Design, Department of Jewellery & Fashion (1994). Between the years 2007-2015 she was head of Fashion and Accessories at Kibbutzim College of Education's Design department. Shoshan is the recipient of the Oscar Handler prize (2013) and participated in numerous solo and group exhibitions, amongst which are: "Hair Knots" at Lohamei HaGeta'ot Gallery (2014); "Dreaming of Journeys" at Chelouche Gallery for Contemporary Art, Tel Aviv (2010) (The video from the exhibition was showed internationally as part of ART EXPO); "Phnom Penh the city of Penh" (2007) at Cinematheque Tel Aviv, Haifa and Rosh Pinna, as well as the Panorama of Independent Film & Video Makers, Greece; "Empty Spaces" (2005) at Herzliya Museum; "Public Space" (2003), Helena Rubinstein Pavilion for Contemporary Art, Tel Aviv and "Mother Tongue" (2002) at Ein Harod Museum.
Read the full article on Israeli Art Market Issue #17