PAUL MICHAEL MONTELONGO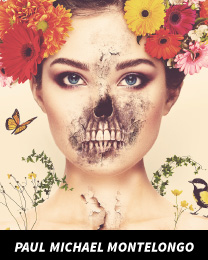 Paul Michael Montelongo, a digital artist living in Santa Clarita, CA was born in 1979. Having an appreciation for art at an early age, from pre-school through high school you could always find him drawing and creating. People would always say he was going to be an Artist when he grew up, with his Mother being an artist herself along with his Grandfather, passing on this great talent to him. Starting with a pencil, then moving to a pen and then to charcoal to create each of his earlier art pieces, it was not until college that he was introduced to the concept of digital media. The first computer art class he took was Painter, taught by Dale Harvey at Rio Hondo in Whittier, CA. He was fortunate enough to have Mr Harvey not only push him in each of his assignments and projects, but also allowing him to stay in-between classes to work and learn more on his own.
Not having a computer at home, Paul took advantage of this opportunity spending time there even on days when he had no classes. The next course that would take him even deeper into Digital media and change his direction to digital art, was Photoshop 5.0. Chris Acune Hasen was the Photoshop instructor, and Paul soaked up everything that was taught to him. He had found his calling with digital art, and Photoshop was his main tool.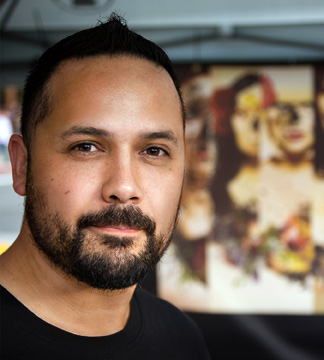 Paul did not jump into becoming a digital artist right away; during college, he went on to use his Photoshop skills as a graphic designer. He soon spent the coming years growing his talent as a freelance graphic designer, providing work for clients from startup to medium size businesses with branding, logo development and marketing designs. Even with a nice career as a graphic designer for 16 years, he knew this was not where his passion was.
In February 2016, now married with 3 kids, Paul decided to take hold of that passion and create for himself. Encouraged and motivated by his wife Melissa, he created his first 6 piece series, "Heart". His first creative piece titled "Red Heart", which was the birth of the design style he would eventually adopt throughout the theme of the series and even within the next two. As a digital artist, he is thankful for the opportunity to finally create with the imagination and talent God had blessed him with. Urks Design is the final stamp of claiming this art career as his own, taking on a nickname given to him growing up. Paul now brands himself as a digital artist, using the same skills he had used for so many years as a graphic designer.
PAUL MICHAEL MONTELONGO
Website: http://www.urksdesign.com/
email: contact@urksdesign.com