SHIMON REZNIK
SCULPTOR T H E   P A T H   W I T H I N
"My childhood years," recalls sculptor Shimon Reznik, "resembled a life within a cloud of smoke. My life centered around the words of the song ס'ברענט, אונדזער שטעטל ברענט (it is burning, the town is burning). The fire has long ended, but the smoke continues to rise from the ashes."
Recently, after years of singing in a choir, Reznik and his friends embarked on a journey to Poland led by conductor and composer Yaacov Hollander who, as an adolescent, survived the Holocaust in Poland. After returning to Israel, Reznik began to create sculptors based on what he has seen and experienced. The result was a flow of sculptures made from recycled metal, conveying the words "I will remember the way, I will remember home…". One can imagine hearing the branding of the numbers, as well as the sound of the hollow space left after the fire. These voices reside alongside voices of Jews with unknown faces, and from nothingness arises being – the Sabra stands before me ory, shedding his thorns, delicate and perceptive.
Noami Morgenstern, Exhibition Curator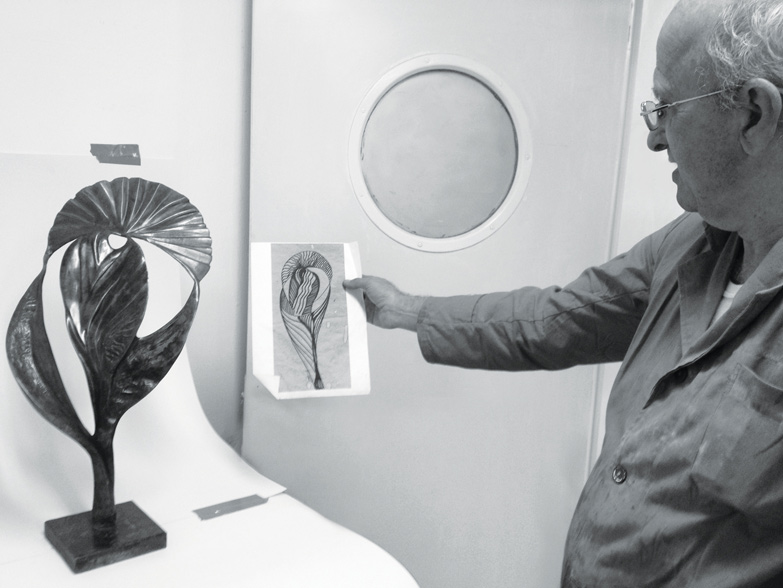 Shimon Reznik is an Israeli sculptor constantly inspired by the change, contradiction and reconciliation that form the circles of life.
Arriving in Israel from the Ukraine at age 10, the Middle Eastern sun and colorful harbor lights awakened, perhaps for the first time, the true artist within. As a soldier, encouters with the vast desert landscape of Sinai inspired Reznik to begin sculpting.
Working with street gangs and hearing-impaired children as a social worker in the 1970's and 1980's caused Reznik to embrace expresion as a key element in his artistic vision, while also nourishing his ability to connect with his surroundings without words.
Life's experiences – nature, war and memory – have led Reznik on a spiritual path that incorporates internal energy flow and the art of sculpting.
Shimon Reznik is a graduate of the Ramat Hasharon Art College, and his sculptures have been displayed in galleries and exhibitions all over the world, garnering recognition and praise. Reznik's current work merges iron, bronze and brass contours with clay and glue, creating sculptures that, in the artist's words, "grasp without grasping".
In 2009, after a visit to concentration camps in Poland, Reznik created a series of iron sculptures based on the Holocaust, that seem to express the words: "Remember the path, remember home…" In the words of Taal Stoobik Gallery: "Shimon Reznik's sculptures and methods reflect the ideals of Tao and the Internal Path. Each sculpture begins with a random sketch. Reznik allows the pencil to lead him, withholding thoughts and critique. After days, months and even years, Reznik returns to his sketches and begins sculpting. Bent iron, bronze or brass threads form the sculpture's formative base, after which comes clay and glue, and the sculpture's final shape is created".