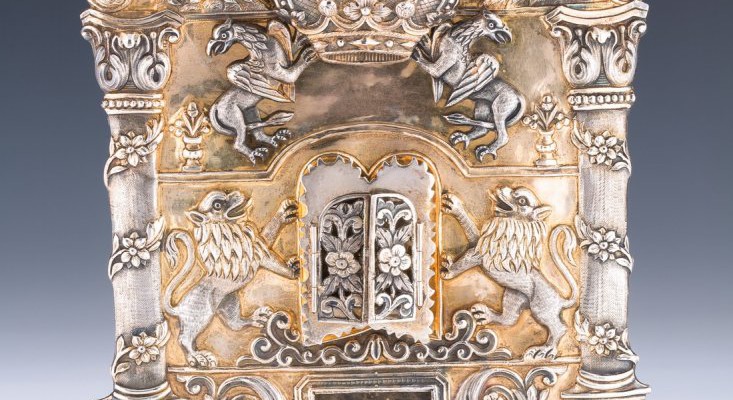 Special Interview With Antique Judaica Expert Jonathan Greenstein, The Founder Of
J Greenstein & Company, Inc, Known as the only auction house in the United States, solely devoted to the sale of antique Jewish ritual objects.
Hello Jonathan, Thank you for participating in this article.
Please tell us about the Auction House,
J Greenstein and Company, Inc., is the only auction house in the United States, solely devoted to the sale of antique Jewish ritual objects. We do not sell any other categories of fine art. After volunteering to make a Judaica auction for Chabad, I got my license and opened up the company in 2002. In 2009 my associate Abe Kugielsky, a second generation Judaica dealer, joined me to create a powerhouse of Jewish Art. We have conducted between 2 and 6 auctions a year since 2002.
Please introduce yourself and tell us about your background.
I was thrown out of Yeshiva in 9th grade, so I went to the local public high school. Being finished at 1pm, I found a job in an antique store in an especially Jewish area of Brooklyn. Most teenagers my age were chasing girls, playing sports or early versions of video games while I was running around to garage sales, flea markets and antique shows in search of Judaica. Being that I went to public school and finished at 1pm, I took a job in an antique store in Brooklyn in an area that was heavily populated by first generation Jewish immigrants and their second generation children. Silver was worth a lot of money at the time and people in the area would bring in their Judaic for melt value. The owner of the store was not Jewish, but understood that these pieces had special value outside of silver and allowed me to purchase them at cost price.
At age 14 I owned dozens of Kiddush cups and as the years progressed they filled boxes. Eventually I started trading and selling some of the pieces and concentrating on higher level pieces. As the years progressed, I became obsessed with silver Judaica, waking up at 5:30 in the morning on Sunday to be the first person at the Chelsea flea market so I can grab the freshest finds from the estate dealers that had cleaned out New York estates earlier in the week.
The 80's were an interesting time in New York City as the children of the first wave of Eastern European immigrants were starting to pass away as well as the first generation immigrants that came here just before WWI. Sometimes the children of these people would have interest in their parents and grandparents Judaica, however, many would not. This is generally the way many pieces have come on the market. They would either wind up in estate sales or at auction. By the early part of the millennium, I felt it was time to take my interest in Judaica to the next level and establish an auction house that only dealt with antique Jewish ritual objects. It's such a micro-niche in the art and antique world, it was being ignored. I had hope to change that.
What is your specialized area of expertise?
Authentication and inscription verification. Other dealers and auction houses rely on me for making sure something is correct and kosher.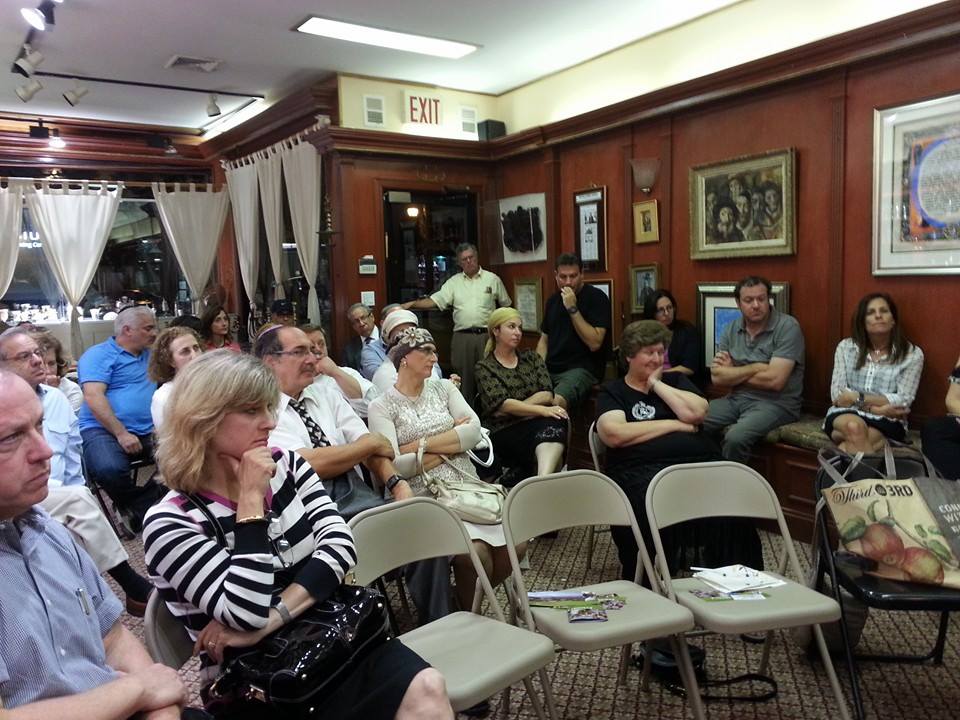 What does your auction house specialize in?
18th and 19th century Judaic silver.
As an Art Dealer, What do you need to be a good Art dealer?
A good eye, a good heart and the ability to feel guilt.
What are your strategies to attract more Judaica buyers worldwide?
I am invited to various congregations and museums here in the States, and I speak publicly about it. To collect an object, one has to have a visceral pull to it, that's not easily created.
Can you describe the atmosphere of an auction sale?
Exciting, but less exciting than 10 years ago. Now most of the bidders are at work or home on their
computer signed into the sale.
Can you choose one Judaica Item that you most appreciate and like?
Nope. Not possible each one is special and tells a unique story about its previous owner.
How do you select most of your consignments? Are you reaching out to clients? Or are they coming to you? Baruch Hashem, at this point in our existence, they find us.
What is the highest selling lot you've ever had? Almost $150,000
What makes antique, quality Judaica a wise option for the Jewish investor? You can decorate your home with Judaica while connecting spiritually while watching your investment increase in value.
Where do you see your auction house going in the next few years? Um,,,we're staying in Cedarhurst where we have been since 2011
Have you noticed a trend in the origin of buyers and sellers? Nope.
Compared to Contemporary Art, Judaica collectors are mostly in the "Quiet Market". What more can you tell us about that? Contemporary art has much more of a reach. The Judaica market is really limited to about 700 buyers.
Will you see the Judaica collecting becoming common among young collectors in the future? I sure hope so, but who knows.
Has the Internet dramatically changed the dynamic of your business? Yes. We used to have a room filled with 50 – 70 people in a sale. Now we get 20 and everyone else is on the computer at home
What are your favorite museums/galleries? In Israel and abroad. There are three that really impress me. The Israel Museum, The Jewish Museum in NYC and The Beth Tzedec Museum in Toronto.
If you could have dinner with any 4 artists, who would it be? Lazarus Posen, Ludwig Wolpert, Ilya Schor and Anton Reidel.
What message would you like to convey to our readers? Eat fish live longer and buy Judaica, it's been an awesome investment.
Read the full article on Israeli Art Market Issue #17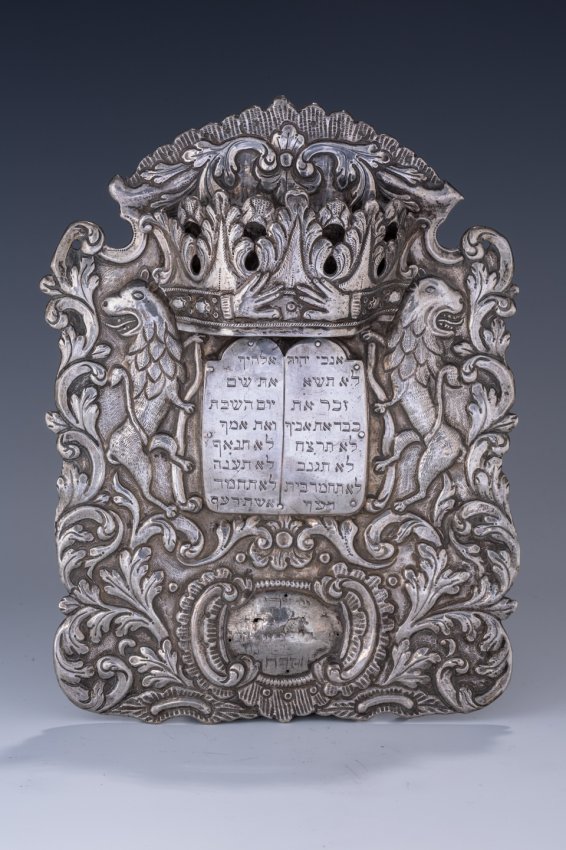 A RARE AND IMPORTANT TORAH SHIELD BY SHMUEL SKARLAT. Warsaw, 1883. Hand chased with two lions, a stag, a leopard, two winged griffons and scrolling foliage. With applied crown topped by
a double headed eagle. Marked. 12.8″ tall. Sold $68,750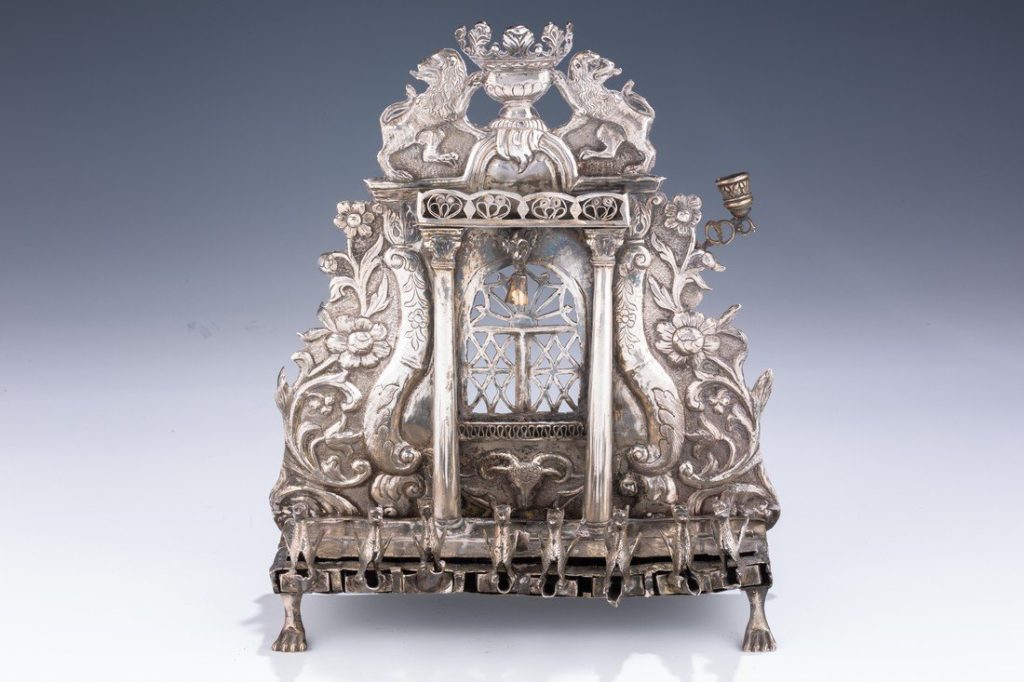 A RARE AND IMPORTANT CHANUKAH LAMP. Ukraine, 18th century. On rectangular base with eight sliding drawers, each crafted in the form of a winged griffon. The back plate chased with floral design, a ram's head and two lions flanking an urn. This lamp is featured in Jay Weinstein's A COLLECTOR'S GUIDE TO JUDAICA', where he allocates a full page to it's picture. Formerly in the collection of Richard Janger of Illinois. 9.2″ tall.
Sold $100,000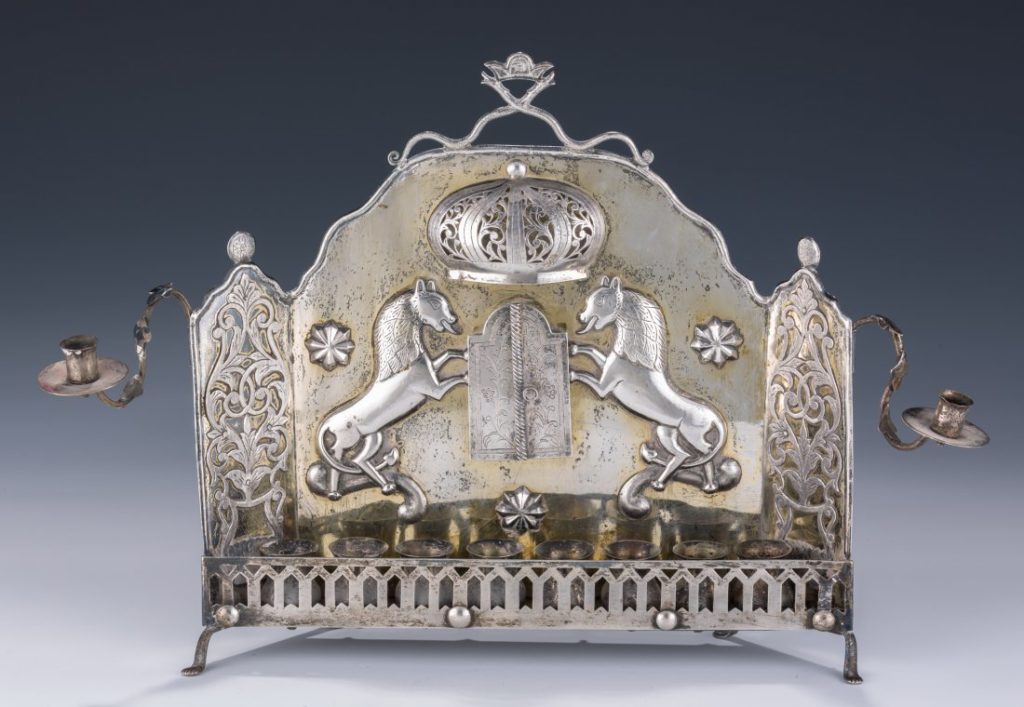 A RARE AND IMPORTANT CHANUKAH LAMP Poland or Ukraine, c. 1840. On four animalistic feet. The back plate decorated with two mythological lions flanking an ark, a crown and two snakes. The identical model can be found in "THE COLLECTOR'S ROOM", the catalog of the Michael Steinhardt collection by Cissy Grossman. 10.3″ wide. Sold $42,500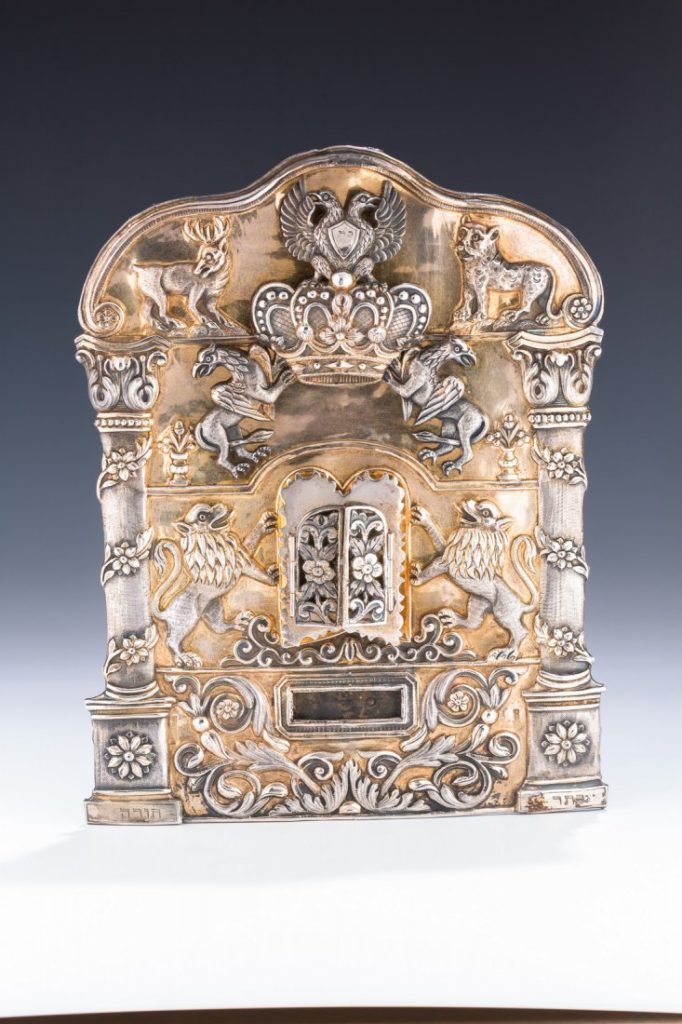 A RARE AND IMPORTANT TORAH SHIELD BY SHMUEL SKARLAT. Warsaw, 1883. Hand chased with two lions, a stag, a leopard, two winged griffons and scrolling foliage. With applied crown topped by
a double headed eagle. Marked. 12.8″ tall. Sold $68,750