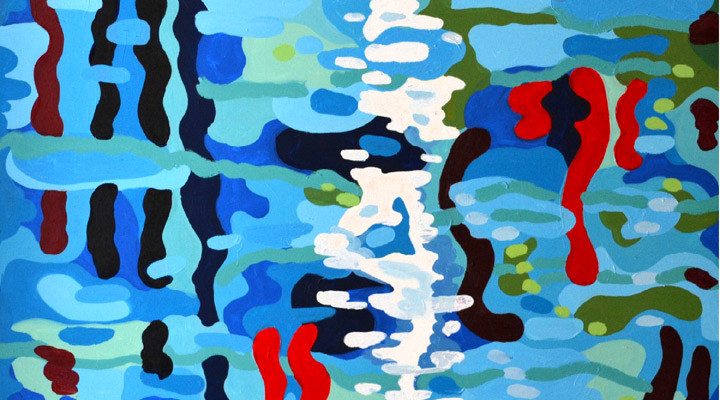 Special Interview With
DENIS TAYLOR
'Reflections'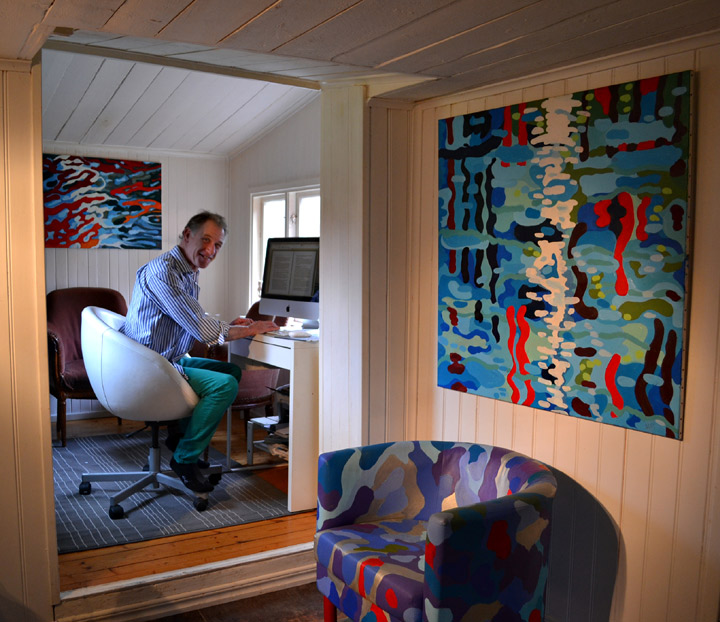 An English painter born in Manchester, UK in 1951, Denis has spent many years researching modern and fine art in the UK, Greece and Sweden. He first exhibited in the UK in 1989 and in Greece from 1990 to 1994 with Swedish based exhibitions from 1995 to present day. He now works much of the year from his permanent studios in Sweden.
He also writes about art and artists, which he says opens windows to his own and others painting with an altered perspective towards Art in general. Denis has written poems, short fictional stories and Art essays since 1989. He is currently writing a fiction book entitled- " "Reflections via a Loophole" – He is an International Arts Magazine regular contributor.
Hello Denis, Thank you for the Interview, Please tell our readers about your background in art?
It all began at birth. I was enrolled at a specialist Art School at the age of eleven years old. The school took in 'gifted' kids from all walks of life, social classes, religions etc. The focus of the lessons was always centreded around Art, in all its flavors. The School saw Art as a cornerstone for a more inclusive view of society, one with a tolerant attitude or broader vision on the diversity of the human, delivered by via a creative dogma. So, my background in Art is sort of encapsulated in my very existence. I've never been anything other than an artist. 'Exploramus' was the Manchester High School of Art motto – and it's one I still follow as the guiding force for my Art today.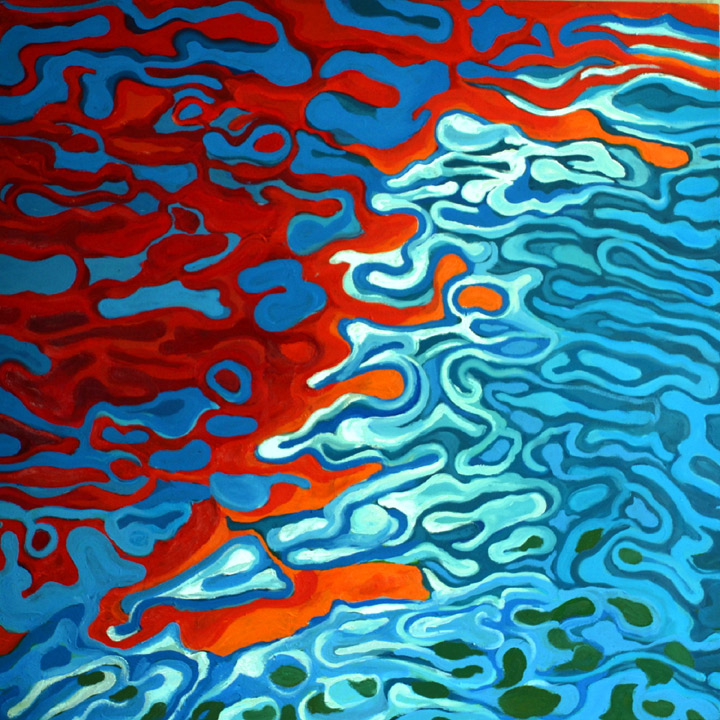 Reflections #10. Created 2010-2014. 1000mm x 1000mm, Oil on canvas.
Artists collection.
Tell us about your "reflection"series, Where did the idea of creating reflections came from?
I guess the 'refections' series began to take shape in 1995 with 'stepping stones'. [Painting]. Water is a wonderful visual stimulant for the imagination, to paint it showing the inerrant transient quality is a challenge for any painter. I guess I have been painting 'water' since 1987, when I think about it..
Although the 'reflections' series, as such, galvanized in 2005 when I spent 3 years living in isolation and working next to an old waterway [Canal] in Manchester UK.
The work became a two edged sword, so to speak. On one edge was the actual visual reflection, and on the other was the thoughts and emotions of my life and experiences that I was reflecting upon at that time. So, to paint reflections weren't a conscious concept as such, it was more of an itch I had to scratch, then it developed into something else.
It seems that there are several lines & styles in this series, some paintings have more details, as the (Diptych) two old mills, and some are more Abstract, Tell us about it, was it to show some planned development in examining subjects?
For me this [the development of paintings] is the most interesting part of working in a series of work, rather than with isolated one of of the subjects. At first I just wanted to capture the buildings in the water, like a reflection of the past. A sort of mirror of the industrial revolution. As I worked on successive pieces I found that I wanted to simplify the images and create a more constructive sort of abstract painting, but keeping it real and fluid feeling. The new buildings that were being erected along the canal [to replace the old] reminded me of a Mondrian painting. And the canal reflected that contemporary architectural mood change.
I had changed too during those years, and my outlook for the future became more essential than the nostalgic mood from the previous year. I think both the 'nostalgic' and the 'futuristic' feel of this series carry equal importance and weight as works of Art. I'm now at a stage of finalizing the series with three quite large works that I wish to imbue both with the solidness of nostalgia and with a stimulating and artistic vision, hopefully.
What is your creative process like?
Gradual absorption of something of importance, before some explosive action of paint, seems to be my way. I think I'm more like a sponge with an inexhaustible state when receiving altered perspectives or views of life. So, I select the most interesting thoughts in my brain, examine them, rethink them and finally select all of them as a reasonable truth. Then I paint and paint and paint again, until I have the whole array of the various truths merging into one or sets of visuals. I don't think there is one single answer to anything,
As I understood, you exhibited at the Portland Canal Museum, Tell us about this experience.
It was an open public celebration for 'Canal-Boat' day in Manchester UK.
The Museum had asked the Arts Council to find an Artist who could produce a live demonstration of a painting of the Canal in one day. I knew the Museum well, as it wasn't far from where I was born, so I agreed to do the 'demo' out of nostalgia. It dawned on me later that I had never experienced being watched when painting, so it was with trepidation that I set about the task. I tend to paint with headphones anyway, so I have worn them on the day and got stuck into the painting. Never once looking anywhere else but at the work for about 4 hours. I signed the work, took my headphones off, stood back to look at the work, before turning round to see a large crowd of people staring at me. No one said a word to me, until a little boy (who was pushed forward, by his mother, probably), came up to me and said
"That's a great drawing mister." And that was my one and only well received a comment or asked for reward. Somehow, that single experience will be one of my lasting memories and the source of a huge and broad smile, every time I think of it.
What can you tell us about the special technique you use? Is it based on a photograph you enlarge?
No, I don't copy images. I honestly don't see the point of making any art like that.
I do love photography ever since my art college days in 1962. But much of my work comes from memories of reality, reassembled into a studied thought process. I do still make sketches of course. Most times I just load a brush and make a fast image, as a sort of reminder to look at a thread or concept for sometime in the future. I suppose, you could say my technique is arranged to be non-specific, so as to not interfere with the creative process rather than to follow a rigid set of self imposed rules that are in themselves restrictive. I tend to work on several canvases at a time.
In this kind of style, you could choose acrylic medium instead of oil colors.
Do you feel more comfortable with oil as your medium?
Not comfortable per sé. It's a choice I make based on how the medium behaves with what I want to paint. I can, and indeed have, used many mediums both conventional and non-conventional. From Aquarelle to House Paint to Wood Dyes. And, if I feel the work needs another medium I kinda automatically switch to whichever I feel is right. But Oil is a favorite because of its flexibility. Thin, thick, solid or fluid it can be applied in so many different ways. It's stretchable and smudge-able although it's a pretty long winded affair to master it. That makes Oil Medium a challenge in itself. Especially when trying to gain a totally flat color areas (with acrylic it is slightly easier to get that finish)- But oil has a vibrancy of life to it (or luster if you will) that Acrylic simply does not achieve, at least not for me.
What do you believe is a key element in creating a good composition? For me, it's a belief in what your mind projects and not relying on one's eyes only. The reality may well be just a hologram, for all we know. Seeing is a personal experience as is the composition.
What are the major influences in your work? If there is any.
From my earliest days (at school) I looked to my classmates. Because it was an art school by definition, we were all artists. And even at the tender age of eleven years old. I admired many of them and their art. Painters, Sculptures, Actors, Ceramicists et al. The whole School was full of Artists (600 in total) for the 1st year to the Seniors. Many of the teachers were visual Artists (in their own right). So without doubt, it was the junior Art School that was and to some extent still is, the biggest influence [in my life] and my work.
Visit Denis Taylor's Portfolio page and Artworks for sale on Israeli Art Market Online Gallery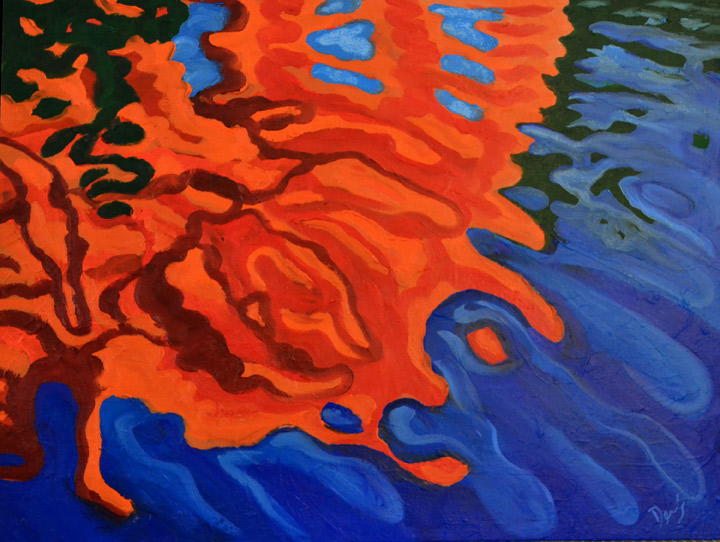 Reflections #8. Created 2009. 600mm x 800mm, Oil on canvas.
Artists collection.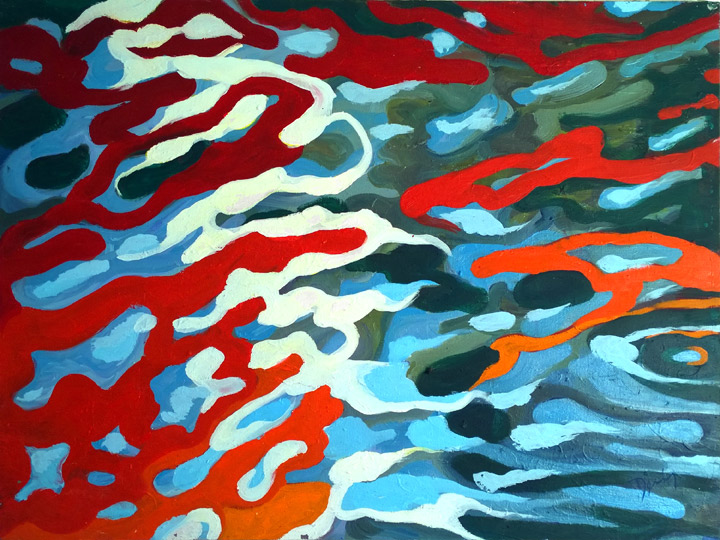 Reflections #9. Created 2009. 600mm x 800mm, Oil on canvas.
Artists collection.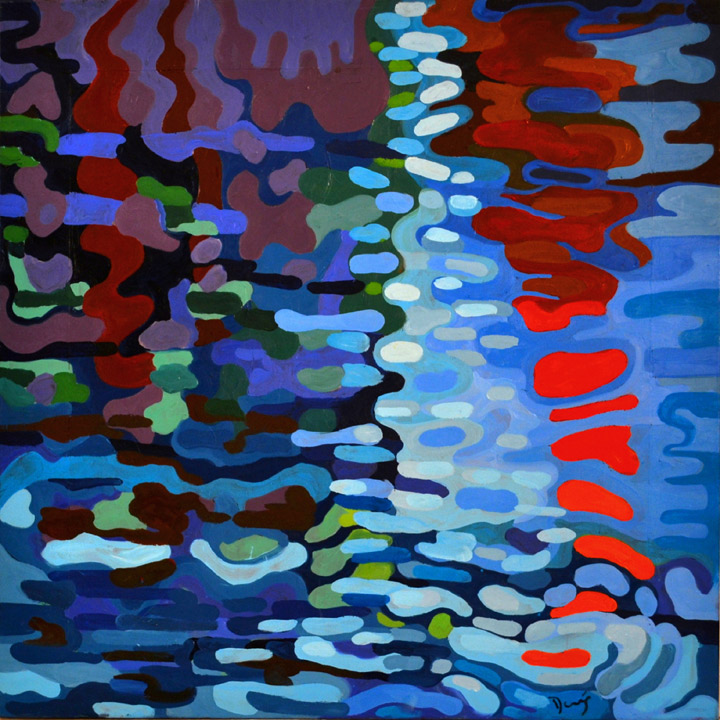 Reflections #11. Created 2010-2014. 1000mm x 1000mm, Oil on canvas. Artists collection.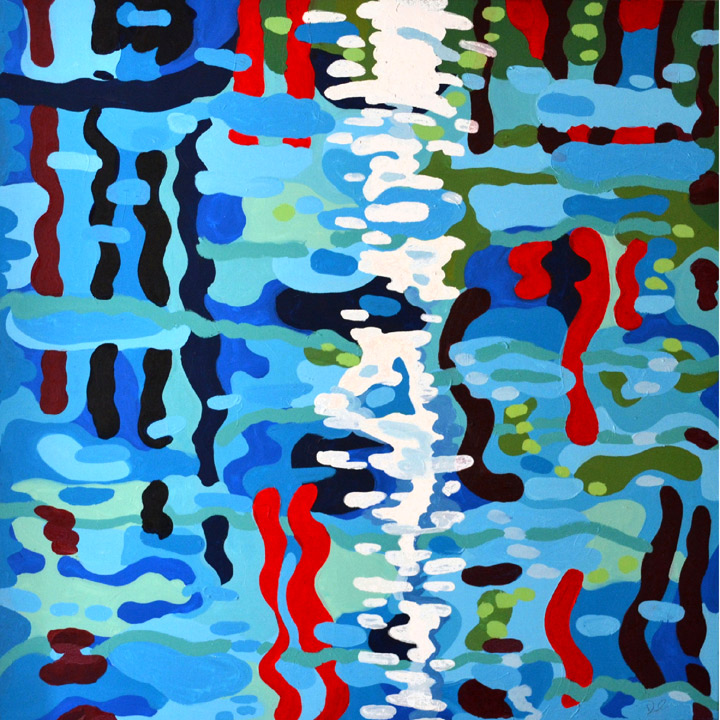 Reflections #10. Created 2010-2014. 1000mm x 1000mm, Oil on canvas.
Artists collection.