Special Interview With
JACOPO CELONA
Executive Director , Florence Biennale
DR. MELANIE ZEFFERINO
Chief Curator, Florence Biennale
by Asaf Rolef Ben-Shahar, PhD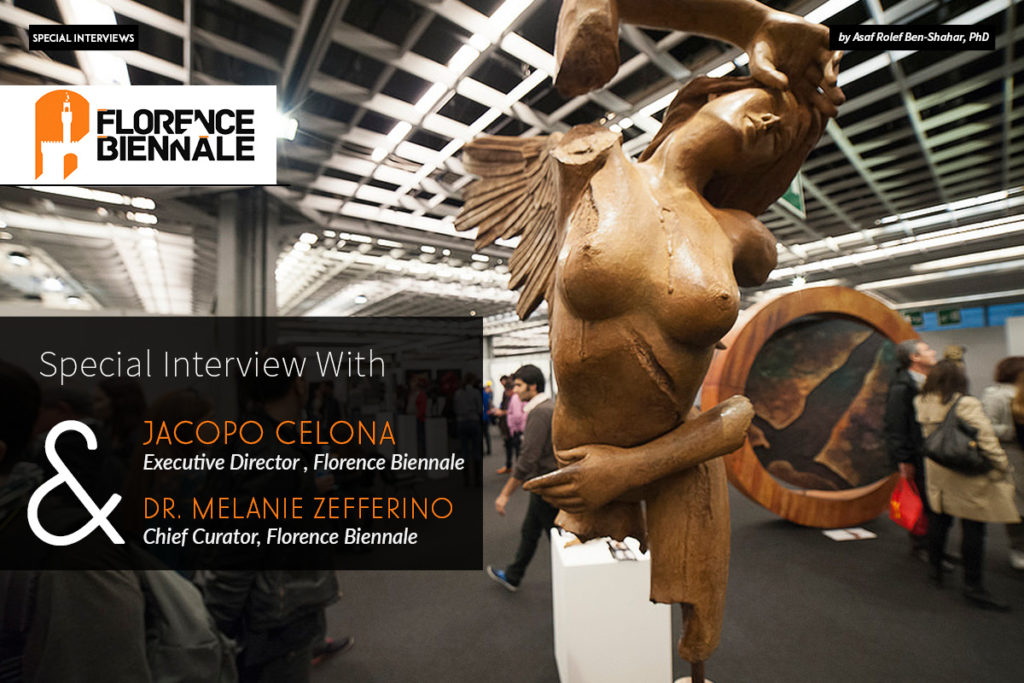 Jacopo Celona is the Florence Biennale's Executive Director and Dr. Melanie Zefferino is the chief curator of the Florence Biennale. Art Market Magazine will dedicate a cover article to the Biennale in this July  issue.Jacopo Celona is the Florence Biennale's Executive Director and Dr. Melanie Zefferino is the chief curator of the Florence Biennale. Art Market Magazine will dedicate a cover article to the Biennale in this July  issue.
The Skype interview begins with some technical difficulties. Dr. Zefferino's video isn't working. Instead of her image, there is an image of a handsome cat.
Asaf: Hello. There is no video yet, I cannot see you. Melanie: Can you see me now? Is it working? Asaf: No. I can only see a cat. Melanie: No, this cat is dead. It's been a Persian cat, and it died young. Finally, it works.
The 11th edition of the Florence Biennale will take place in the Fortezza da Basso. Thousands of visitors are expected every day. 
Asaf: In two months' time there will be a climax of many months of preparation. What is it that you are mostly looking forward to personally?
Jacopo: There will be numerous of performances and installations by artists, a lot of them are closely linked to the theme of this edition: eARTh: Creativity and Sustainability. I like to think that all participating artists in the Florence Biennale deserve to be discovered. In fact, one of the most interesting things is the possibility to speak directly with artists and dialogue directly with those who produce and live art. It's like getting into the artist's studio and breathing his own air. It's a magical thing.
Melanie: I'm looking forward to showing that art is not isolated from everyday life, and from a view of what life on the planet is. Models of life which have dimmed creativity don't work – this is clear from East to West. I believe that creativity is a crucial aspect which differentiates us from other animals. As the director of the Art Museum of Chicago has said – without art we are not different from primates. I believe that the value of creativity and culture must be in the processes of what life is. Art is not an accessory – it is a way of seeing and perceiving reality and an agent for handing down heritage to the next generations; without that there is nothing. I believe that art has a strong social aspect. I come from the theatre, and there is no theatre without an audience; the same goes for visual art. Increasingly these days in which we talk about installation art and happenings – there must be a relationship between the artist and their audience otherwise the work doesn't make sense.
Asaf: Thank you both for this. Jacopo, having begun as a family business, what part does the personal relationships and familial connections play with this enterprise?
Jacopo: The Biennale was born thanks to Piero and Pasquale Celona who began this project in 1997. I am very proud to be able to continue in this direction also thanks to their teachings. Now the family has been expanded to the hundreds of artists who participate in every edition of the Biennale giving their contribution to the evolution of this event. In the future, we want to continue on this road, bringing to life new projects and collaborations.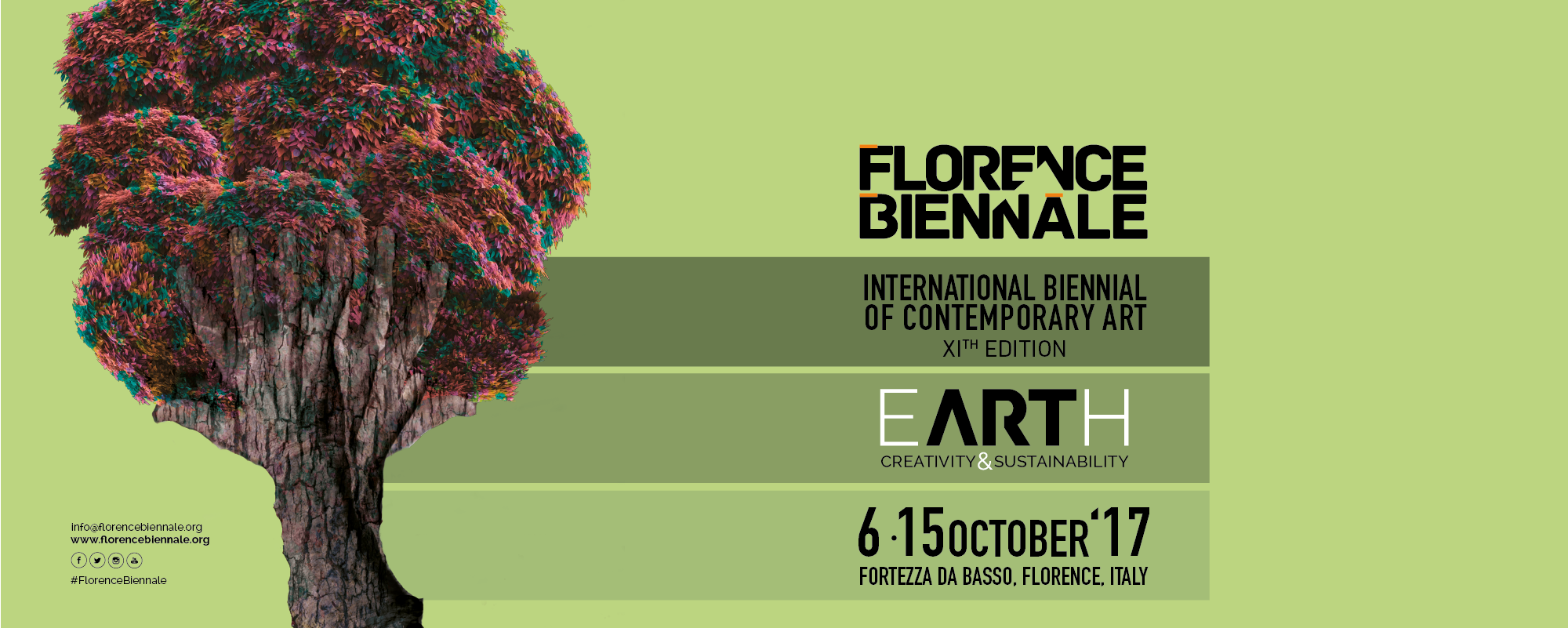 Asaf: What are you expecting and hoping for the current Biennale?
Melanie: I started collaborating with the Florence Biennale in 2013, where I was still working on my PhD. In 2015 the collaboration deepened and I curated the layout as well as some collateral events. This year sees a younger generation taking over – Jacopo represents the younger generation of the family's project. Increasingly, I can see that artists don't focus only on a single medium anymore. You can see artists who work with ceramics and fine sculpture also turning to print. In a way, today's artists explore different mediums to express their feelings and idea of what is creation or beauty, to express thoughts, emotions, and memories. Perhaps not by chance, this issue's recipient of the lifetime achievement award is El Anatsui who mainly works with textiles and artefacts for his installations. This issue is more inclusive of new mediums, and of mixing together and bringing together decorative arts, and different media which are used today for installation and for artistic production, in order to broaden a representation of art production in the contemporary world. This has been a great challenge in curating the Biennale, and I think that artists and the audience would appreciate that.
Jacopo: I can add that we have worked hard and in synergy with the territory and with so many Italian realities that deal with sustainability and creativity. With this view, a series of conferences have been set up, ranging from fashion to food, from museums to green living with special guests that will bring their experience in a dialectical debate with the public. In addition, there will be hundreds of artists representing 70 countries and all the 5 continents. This edition will be one of the largest contemporary art exhibitors of the last years, a unique opportunity for the public to deal with the art of the world.
Asaf: What would be the best way to maximize the experience of the Biennale? 
Melanie: The best thing would be to follow a path. Be open to something you don't expect and might be different from what you have seen this far. And then stay a little longer, and after visiting once go back and explore some more – perhaps speak to artists and maybe have a look at how younger generations respond to art. Children can often immediately and instinctively understand works of contemporary art which are not easily understood by adults, because they are more open-minded than adults.
Asaf: How do you see the main difference between an art exhibition and the Biennale in terms of the curatorial work involved?
Melanie: Well, curatorial work for a Biennale is challenging because you have many artists with different background at different career stages, and you need in a very short time to create an exhibition path which gives maximum visibility to their work. I try to create juxtapositions, to find works that go together nicely. But this is a fair venue, so the dynamics here are very different from the venues where the artist can think ahead about where his work is going to be and make some suggestions and contribute and do some site-specific changes. This year, for example, would be the first where we would have monumental sculptures in the gardens – and the audience may feel the difference.  For me, work must be interpretable by an audience, including students and collectors and scholar. I try to avoid cheap and simple ways of doing so. I like complexity, and I try to bring to the fore the positive aspects in each work; to make the value of each artist stand out. Some would naturally stand out more than others, but an attempt is made to look closely at each single artist because each one of the matters to me.