Special Interview with
Marco Battaglini – Master of fantasy
by Dafna Navarro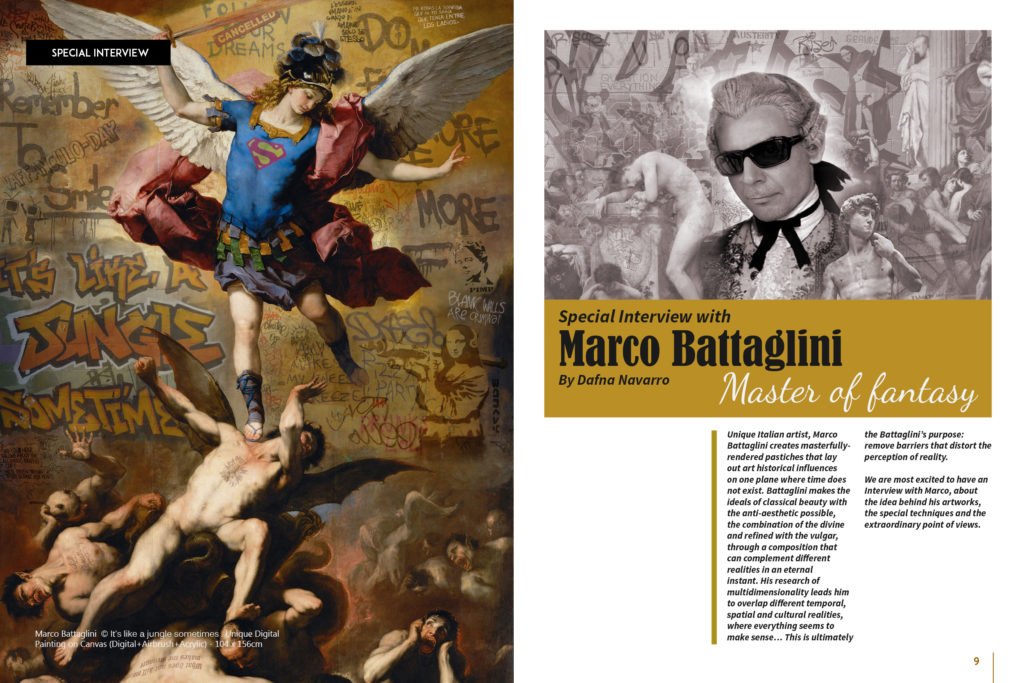 Unique Italian artist, Marco Battaglini creates masterfully-rendered pastiches that lay out art historical influences on one plane where time does not exist. Battaglini makes the ideals of classical beauty with the anti-aesthetic possible, the combination of the divine and refined with the vulgar, through a composition that can complement different realities in an eternal instant. His research of multidimensionality leads him to overlap different temporal, spatial and cultural realities, where everything seems to make sense… This is ultimately the Battaglini's purpose: remove barriers that distort the perception of reality.
We are most excited to have an Interview with Marco, about the idea behind his artworks, the special techniques and the extraordinary point of views.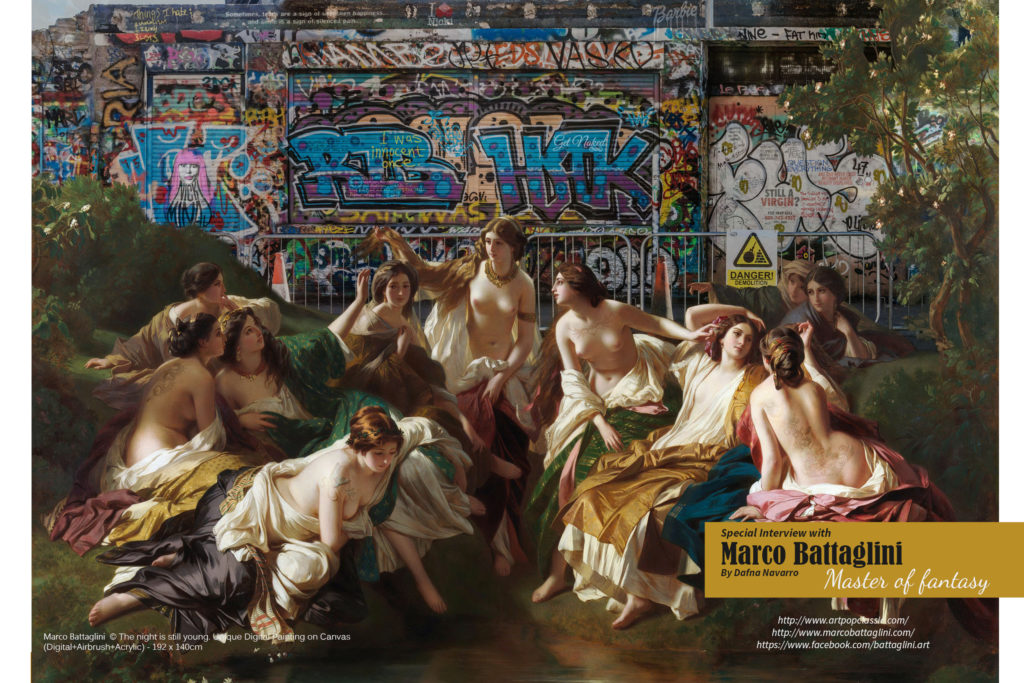 D.N: Hello Marco, Thank you for this interview, Please introduce yourself to our readers?
M.B: Thank you, Dafna! Maybe some thoughts can describe who I am:
I am a great dreamer, I live in a world of fantasy, so keep your reality away from me!
For me life is like a movie. I usually say that everyone is the Director of their own movie. They choose the genre (Drama, Romantic, Action, Adventure, etc.), they choose their own role, they choose the other actors, they choose the screenplay…
They choose everything… For me this perspective is very important…
Because it means that we have to take our destiny in our own hands, and stop letting the circumstances and others the power to make us happy. Write your own story.
I think that we create our own reality and the imagination is a powerful tool to connect with our divine side.
IMAGINATION IS EVERYTHING, is the vehicle to take us where we want to be, and create our reality, and my art wants to be a way to expand the imagination of the viewer, a tool for you to fly beyond the logical structures.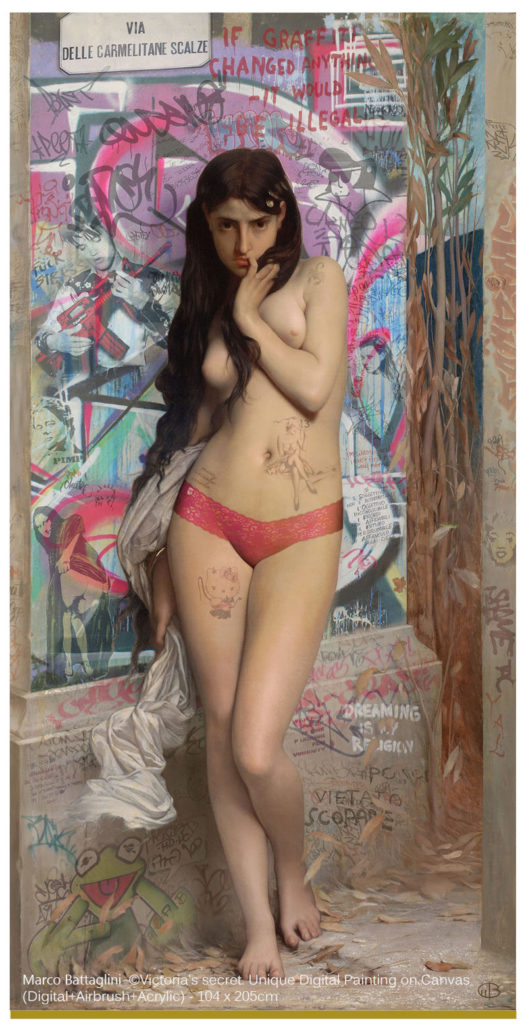 I believe in real love, the love that breaks down the barriers of selfishness, possessiveness, suffering, dependence… I already knew it and I would like to replicate it indefinitely.
I have a multifaceted personality, and I like to express the different aspects with diverse people and situations.
I can not stand monotony, I need new stimuli to feed my thirst to grow artistically.
I have the personality of a survivor, I adapt easily and change excites me.
I enjoy the company of my circle of friends and solitude.
I like to think that each of us has a mission in life…
And it is important to leave a mark… There is a question that I put, as a graffiti, in one of my works: "What will you be remembered for?"
History is made by those who BREAK THE RULES.
D.N: I came familiar with your art more than a year ago, by a gallery in Lisbon, I remember I was very impressed by the high technique of the old masters combined with the beautiful Pop Art. Where did you learn that technique? What's your background in art?
M.B: I am Italian, from Verona and I always loved art.
I am the son and grandson of artists, and all my studies have been in the Arts, first in Verona and then in Venice.
During my artistic training I have received important influence from Renaissance artists, Surrealist, Abstract Expressionism, to reach conceptual movements.
I think that my fascination for the Arts and for different artists, movements, concepts and techniques has facilitated my artistic vision to conceptualize the coexistence of different styles and different ways to communicate in a single composition.
D.N: How did you get to this idea of combining the different styles and to make this Recontext to the Renaissance Painting?
M.B: I've always been a very creative person and I like to challenge the observer.
I fell in love with the idea of mixing the 'heaven' with the 'ghetto', creating a clash of two opposing aesthetic…
…And finally, discover that they can live together harmoniously.
In the end, I think it is to present our realities coexisting beyond our specific context, it is to provoke the imagination… To reconsider judgments… It is to see the beauty in everything.
In my ARTPOPCLASSIC® series, the inspiration for this 'fusion' born from a desire to break the mold, able to fuse different spatial, temporal and cultural realities, showing the relativity of our analytical parameters, aesthetics, preconcepts, etc. causing the viewer to see a bit beyond our framework.
I see my job as an invitation to think that in today's global village, with the 'democratization' of culture, the evolution of knowledge, information immediacy, immersed in the heterogeneity, the Patchwork Culture forces us to confront with a need understanding beyond our geographical boundaries of time.
D.N: What can you tell us about the special technique you use?
M.B: I personally really enjoy mixing techniques, styles and tools, modern and traditional, digital with acrylic and airbrush, creating a unique piece.
We live in a time where some of the most famous artists boast of not participating in the realization of his own work, just create the concept.
I do not think that medium or technique are relevant, provided that the artist creates something that transcends their individuality and adds value to the imagination of other individuals.
D.N: Can you tell us about the special compositions you create in your paintings?
M.B: The contrast is a very important element of my aesthetic language, because it allows me to access certain areas of the observer's brain and opens a gate to provoke thought and encourage imagination… that great engine through which we can access other dimensions and create our reality.
I always work with the classical or neoclassical subjects because I love the contrast with the contemporary urban culture, the contrast between the different aesthetic and communicative concepts.
It seems relevant to me to take the viewers to extol the value of subjectivity and move them beyond the apparent… It is normal to judge a neoclassical work as something 'noble', 'refined', 'elegant' and 'beautiful', and a graffiti on a wall as something 'negligible', 'indecent', 'vulgar' and 'ugly'… I want to be the means to expand the perception of things…
Through confrontation-union of diverse times, places, cultures, languages ​, ways of seeing reality.
The multiplicity of readings, which combines graffiti, symbols linked to Western culture and elements of pop art in a harmonious amalgam, forces us to rethink the values linked to the reality in which we live, shows the influence that the consumer society has on our way of living and thinking, not only consumer of products but also of images, icons and symbolizations as part of our culture.
Nowadays a child recognizes the brand McDonald's before he can talk. We are so immersed in overload external information that we cannot think… People have become so addicted to the 'mental pollution', that are afraid to take a few minutes of silence and connect with themselves.