The Art Of The Jewel
2 Designers: Michele Della Valle & David Webb

Aquamarine and diamond brooch, Michele della Valle.
In the form of a feather, set with brilliant-cut diamonds, accented with cushion-shaped aquamarines, signed della Valle, maker's mark, pouch and fitted case by Michele della Valle.
MICHELE DELLA VALLE. Beautiful Floral Jewels
"It began as a game and must remain as a game."
-Michele della Valle
Michele della Valle, who was born in Rome, began designing costume jewellery at the age of 16. During a trip to Burma in 1976, della Valle purchased his first stone and on the advice of friends, he showed it to Roger Varenne, the legendary stone dealer, who suggested that he take the gem to Christie's. His meeting with Hans Nadelhoffer, who was running the jewelry department at the time, was the motivating factor which contributed to the significant development of della Valle's career as a precious stone dealer and jewelry designer. In 1976, he worked for a year at Fürst Jewelers in Via Veneto, Rome, which was then the representative of Harry Winston. In 1978, della Valle opened his own workshop in Rome's Piazza di Spagna and began travelling regularly to Asia in search of precious stones. This was the beginning of a collaboration with Bulgari on special orders and his recognition as a new designer by a clientele of film stars and opera singers throughout Italy. In 1987, he moved to Geneva and developed a line of jewelry which now bears his name.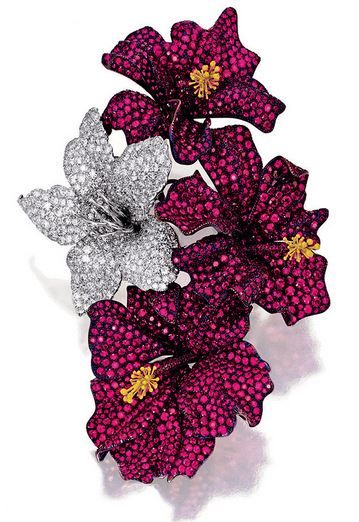 "Rare and precious or unexpected and mysterious, the vibrant grass greens, flaming orange and lilting blues of sea and sky are the colours of jewels for which he has become celebrated."
-Vivienne becker
"It began as a game and must remain as a game." Michele della Valle Michele della Valle is unquestionably one of the leading jewellers at work in the world today. He is famed for his appreciation of rare and unusual gemstones and it is his quest for and discovery of those gems that forms the heart of every piece he makes. "I am continually travelling in pursuit of that rare stone full of charm. I love to travel, I love to find…" Della Valle is celebrated for his great appreciation and application of colour, and it is this above all else that is most admired in his work: "Rare and precious or unexpected and mysterious, the vibrant grass greens, flaming orange and lilting blues of sea and sky are the colours of jewels for which he has become celebrated."Vivienne Becker. It is his use of unusual and unconventional materials that has really marked him out as a very modern and truly original practioner of his craft: "Recently, I used carbon fiber in an unusual way to mimic the feather-like details found around the pistils of anemone flowers" Michelle della Valle in the New York Times.This book is an autobiography told through pictures of della Valle's influences and above all his spectacular jewellery creations. "A story in pictures that spoke of my adventurous travels to exotic countries in search of rare and precious stones. I hope it will succeed in telling you about me, about my work, about my emotions and the myths that inspired me. It is not a boring
autobiography but rather a dream in colours. I have dreamt of extraordinary people and places, I dreamt the cheerfulness, I dreamt the colours and the joy of nature. It is precisely from these dreams my jewels are born."
– Michele della Valle: Jewels and Myths
Publisher: ACC Art Books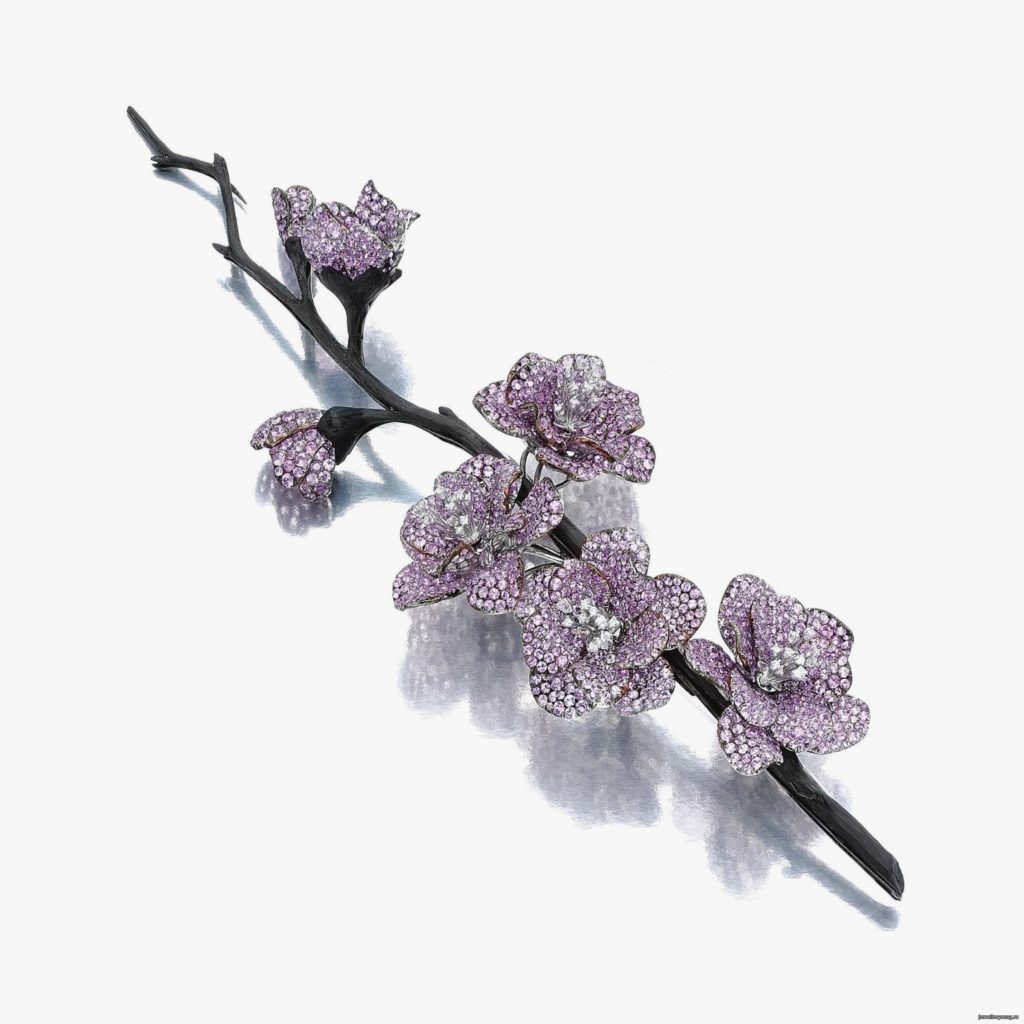 Pink sapphire and diamond brooch,
'Fleurs de Pêcher', Michele della Valle
DAVID WEBB, JEWELER

Jackie Kennedy compared him to Cellini, the Duchess of Windsor said he was today's Fabergé, and the New Yorker described him as "the creative meteor about town." Born in Asheville, North Carolina, David Webb was the go-to jeweler for society swans and Hollywood stars during the cultural revolution of the 1960s and 1970s. His signature animal bracelets and richly colored assortment of jewelry, all set in the warmth of his favorite yellow gold, has dressed stylish women over the decades, including Nan Kempner, Diana Vreeland, Jackie Kennedy, Elizabeth Taylor, Tory Burch, Brooke Astor, Gloria Vanderbilt, Jennifer Garner, Doris Duke, Mrs. Paul Mellon, Evelyn Lauder, Jennifer Lawrence, and Salma Hayek. David Webb's design voice was an amalgam of influences, from the South of his boyhood to his explorations of faraway lands and ancient cultures. He was effortlessly self-styled, a template for the jewelry he created. He's known best for his animal bracelets, always more declarative than cute. He excelled in his use of yellow gold, saying "the more barbaric the better." Color is declarative and bold. Form is essential, the through line that defines his work. David Webb embraced art deco and heraldic forms, and the beauty of enamel jewelry. His most elegant jewelry makes big pearls sexy and turns a spotlight on rock crystal accented with white diamonds. Important diamond jewelry is an unexpected though stunning entry in his work. David Webb opened for business in 1948, in a small walk-up with just a few employees around the corner from New York's Diamond District. By 1950, when he was just twenty-five, he had reached his first fashion summit: the cover of Vogue magazine. Success was already within his grasp. Even in those early days, David Webb was the creative visionary behind every piece of jewelry made in his workshop, which produced bold and beautifully made jewelry under his watchful eye. The thousands of sketches and hand-colored renderings he left behind remain the foundation of the company, and continue to direct the efforts of the David Webb craftsmen and women. Webb's distinctive fine jewelry has always looked its best on the stylishly dressed, making it perfectly suited to the world of fashion. The subliminal motto about his jewelry, always modern, is what gives him ongoing fashion currency. David Webb excelled at jewelry with an idiomatically American sensibility, having an "anything goes" optimism. It's forthright, fresh, elegant, modern, stylish, and diverse, all of it made in a workshop on the premises since the company began in 1948. This is indeed fine jewelry made in America. That's high praise and a rare achievement. David Webb is America's quintessential jeweler.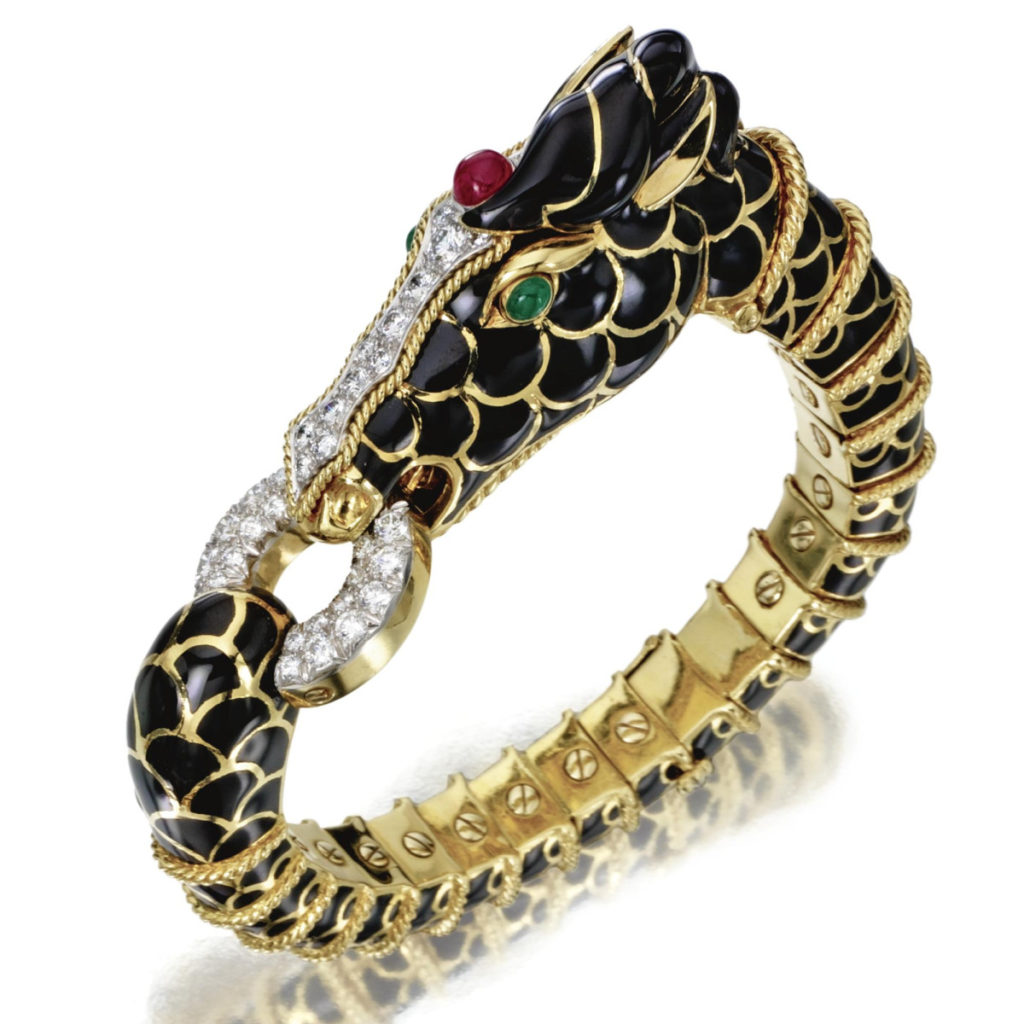 18K Gold, Platinum, Diamond, Ruby, Emerald and Enamel Horse Bangle-Bracelet, David Webb Photo courtesy of Sotheby's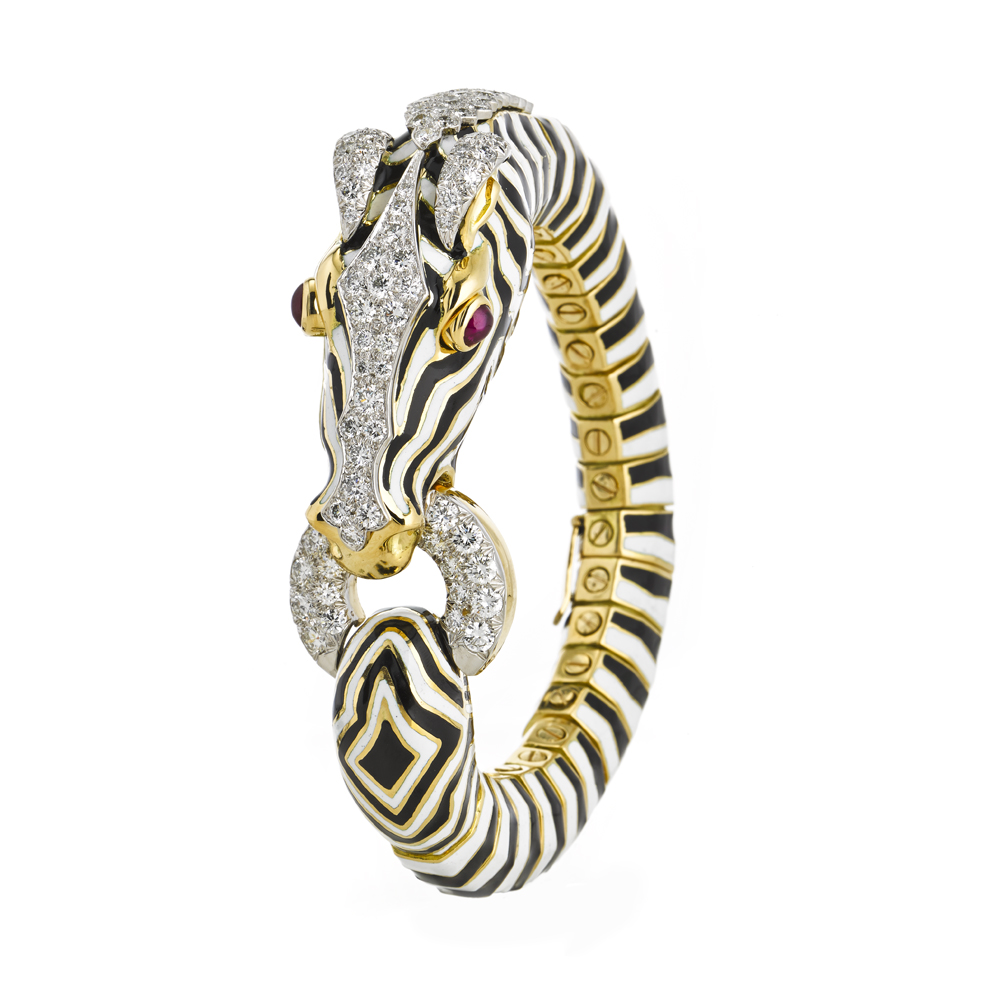 Diamond, enamel and ruby zebra bangle-bracelet, David Webb. Photo Sotheby's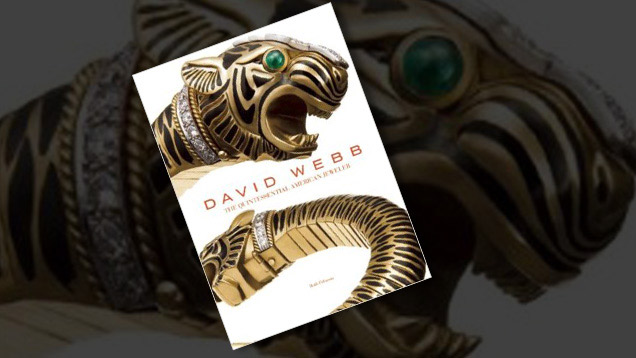 In this large-scale, impressive look at David's Webb life and work, Ruth Peltason opens a window into the artist's world.
A native of North Carolina, David Webb apprenticed as a jewelry manufacturer during his teenage years before moving to New York City. There he made his name and fortune creating unforgettable jewelry and objets d'art for the elite from the 1950s through the early '70s. The women of style and glamour who wore his jewelry included the Duchess of Windsor, Elizabeth Taylor, Barbra Streisand, Jackie Kennedy, and Estée Lauder. Webb's design style is unmistakable yet varied. His pieces are almost exclusively bold and substantial, with designs that range from geometric to naturalistic forms. Many feature bright, bold color in the form of gemstones and enamel, while many others are monochromatic. All share a fine attention to detail and amazing workmanship, serving to highlight the designer's creative vision.
As famous as his jewelry became, the designer himself was rarely seen, seldom heard from, and almost never photographed. Webb allowed his jewelry to speak for itself, as his company continues to do almost 40 years after his death. Therefore, I found the writing notable for what is revealed about David Webb himself. As he often purposefully placed himself in the background, one seldom gets to read about his personal life. And with chapters such as "Crazy for Color," "Elegance Supreme," "Solid-Gold Fun," and "Animals as Decoration & Heavenly Delight," Ms. Peltason manages to capture every mood that Webb's jewelry might convey. The large, high-definition images prove that no detail is too small to escape the fine attention of Webb's present-day jewelers, who are all accomplished craftspeople in their own right.
David Webb – The Quintessential American Jeweler is highly recommended for followers of fine jewelry and design history in general.