URI KATZENSTEIN. BACKYARD
The works of Uri Katzenstein—sculptor, performance artist, musician, builder of musical and sound instruments and film maker—express a metaphorical, imaginary world that echoes danger and menace, whose central axis is the human body and hybrid-looking objects. The exhibition focuses on sculpture, video art, robots and films in an atmosphere that links states of matter with various ways of functioning that deal with temporal disruptions and shift between past and future.
"A back yard is a place where thoughts, experiments, and failures accumulate, free of the order that typically dominates the front yard."
– Curator, Varda Steinlauf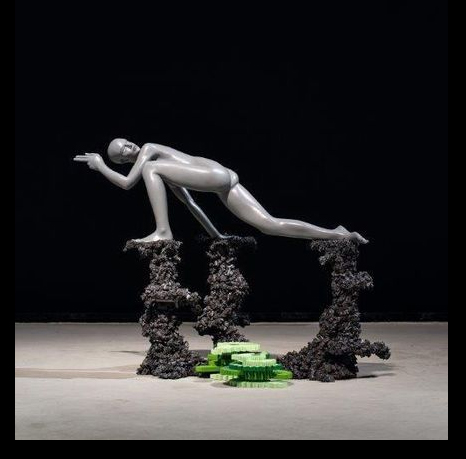 Uri Katzenstein, born 1951, studied at the San Francisco Art Institute in the late 1970s, and after receiving his MFA moved to New York City where he lived and worked throughout the eighties.
His early performance work was regularly presented at such legendary performance venues as The Kitchen, No-Se-No, 8BC and Danceteria. His work in sculpture, video and installation have been exhibited in museums such as The Russian State Museum (St. Petersburg), The Chelsea Art Museum (New York), Kunsthalle Dusseldorf, The Israel Museum, Duke University Museum of Art (North Carolina).
Katzenstein participated in the Sao Paulo Bienal (1991), the Venice Biennale (2001), the Buenos Aires Bienal (first prize, 2002), and the 9th Istanbul Biennial (2005). His performance work was shown in theatres and galleries in London, Berlin, San Francisco, Cardiff (Wales), Santiago de Compostela (Spain), New York, and Tel Aviv. Uri Katzenstein is based in Tel Aviv and teaches at the University of Haifa, Department of Fine Art.