URIEL CAZES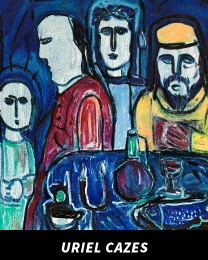 Uriel Cazes was born in 1954 in Haifa ,Israel, where he also spent some of his childhood in a Kibbuz. Supported by his father and his older brother, he started to study art at The School of Art and Fashion in Tel Aviv. After finishing military service in Israel, he moved to Germany and continued studying with the support of Professor Sotirios Michou from Stuttgart Art Academy. In Israel, he was supported by Mordehai Omer, the former curator of Museum Tel Aviv. He lives in Germany and mostly Ibiza, where he has his studio. He showed his work in several countries. In 1989 he started his cycle "Jewish Life" which he uses to paint about different aspects of the Jewish culture and religion. Besides that he was successful with landscapes displaying Israel and Ibiza, also with his "bridges" as a symbol for intercultural exchange and understanding. He was showing his art not only in galleries, also in Churches and institutions with cultural and religious backgrounds. He took part in Art Focus Holon in 1995 whilst he had several exhibitions in Israel.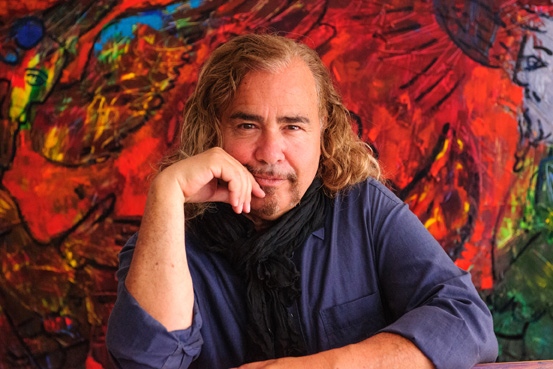 Since 2012 he is represented by the Pashmin Art Gallery, showing his work at art fairs all over the world, at Art Shanghai 2012, Scope NYC 2014, ArtCanton 2014 and Palm Beach Art Fair in January 2015. In addition, he took part in the group show at the Pashmin Art Gallery, Hamburg 2013 "Figure and Space" and in a group show at the Museum of Russian Art in Kiev / Ukraine. In 2016 Uriel took part in a group exhibition in Beijing, China at MOCA Museum of contemporary art with the title "Borders and Bridges".
Uriel Cazes paints figurative, but anti-naturalistic. His figures are indicated with a broad brush stroke and in addition highlighted by black contours. His works consist of mostly large, iridescent colored boxes interfere more or less hard against each other. The stylized people involved in largely indifferent, monochrome surface formation.
The figures in Cazes works, has a strong expression of the faces. He rarely focuses on a single figure that he is in the room. His characters share the space in the picture and immediately side by side or one above the other. The figures seem familiar and yet each figure is individually and dominant in her own room.
URIEL CAZES
Website: http://urielcazes-art.com/
email: cazes.uriel@gmail.com