Young Dealers, Share their stories and journeys to exhibit at
TEFAF
The World's Greatest Art and Antiques Fair
By Miguel Bermudez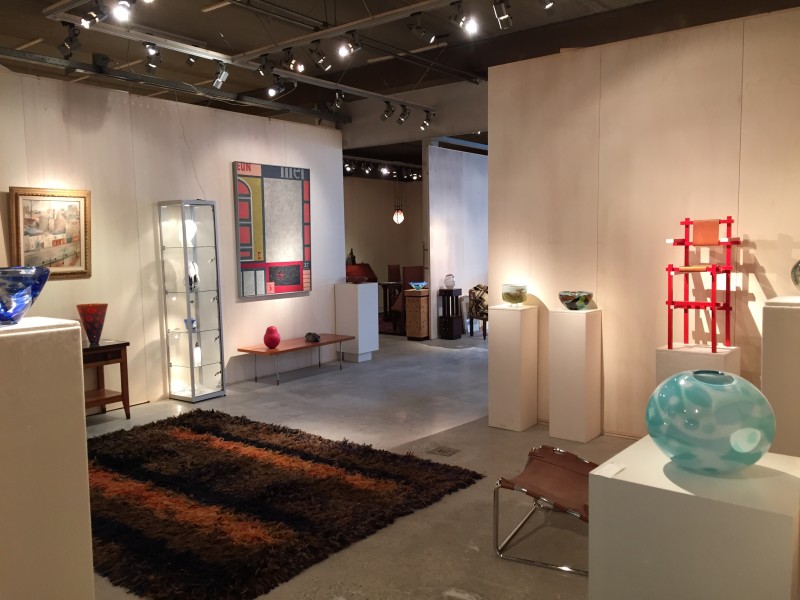 Each year The European Fine Art Fair, (TEFAF) the World's Greatest Art and Antique Fair takes place in Maastricht, The Netherlands. The organizers of this prestigious event, where 7,000 years of human creativity are displayed, choose a number of young dealers to participate in the fair.
These are exceptionally talented new dealers whose galleries have been in operation less than ten years. They are a group of people who will be introduced to the 75,000 visitors that are expected during the ten days of the fair's duration. This is considered a reward for excellence in their chosen fields and an opportunity to become long-term participants in the fair.
For 2016, five galleries have been chosen:
Kunstconsult of the Netherlands specializes in art nouveau, art Deco, modernism and 20th century design including furniture, textiles, sculpture and painting.
Onno van Seggelen Fine Arts of the Netherlands has developed an expertise in master drawings from the 16th to the 20th centuries.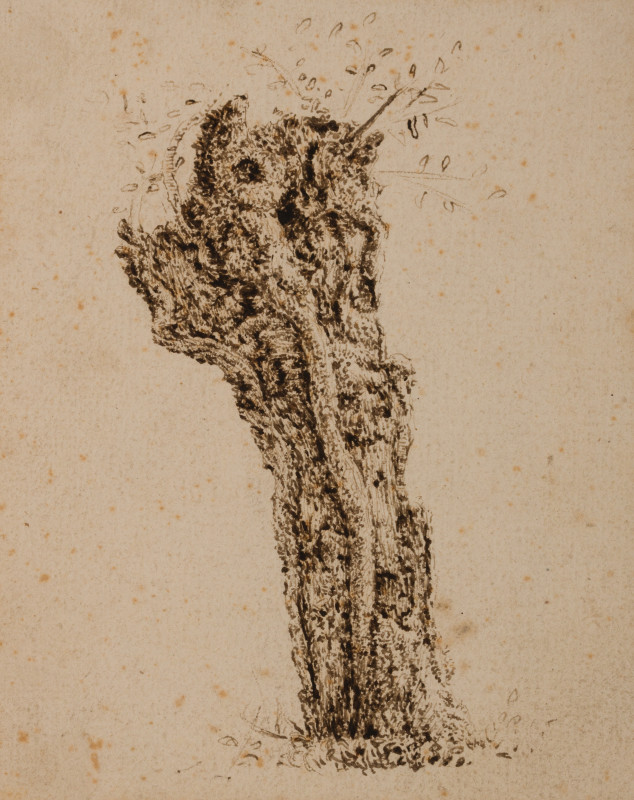 Claes van Beresteyn (Haarlem, 1629-1684)
A willow tree
Pen and brown ink
15,0 x 12,2 cm
Provenance
Private-collection, Netherlands.
Benjamin Proust Fine Art Limited of the UK exhibits sculpture from antiquity to the 20th century with an emphasis on Renaissance and baroque pieces.
Galerie Laurent Dodier of France with a focus on tribal art.
Oscar Graf Gallery of France deals with French, British and American furniture and works of art from 1870 to 1910, a period that marks the birth of modern design.
Their stories are as interesting as the works that have become their passion. By shedding light on their journeys and by sharing their insights of living, studying art and becoming dealers, we believe, can light the fire of enthusiasm of future collectors or fan the flames of those already making the pilgrimage.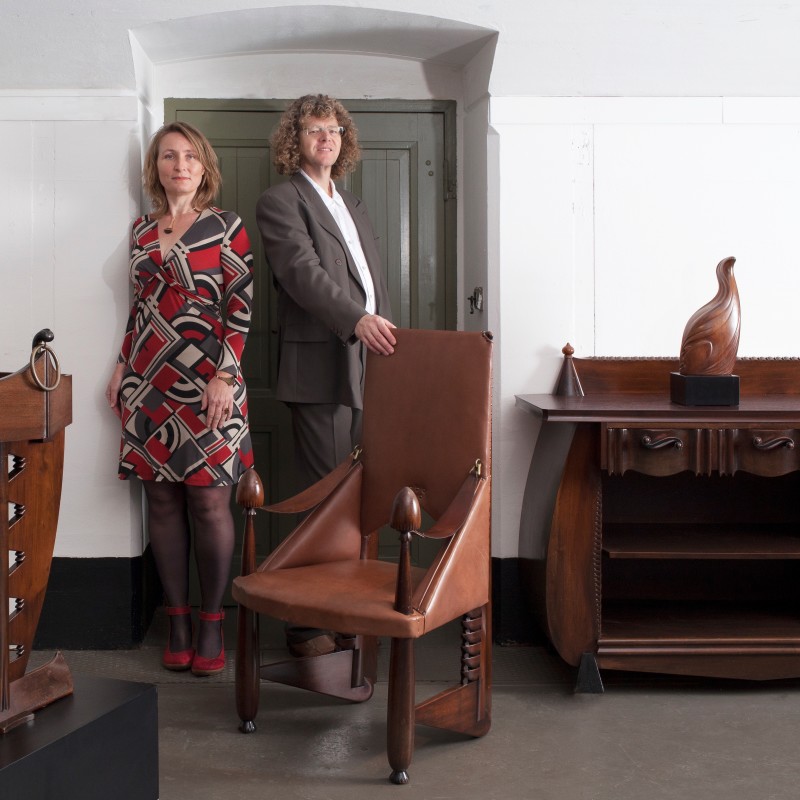 TEFAF Showcase. Kunstconsult 20th Century Art Object Portait Of Belinda Visser and Wiljan Versteeg with
Amsterdam School furniture by Michel De Klerk
Belinda Visser of Kunsconsult's interest in art goes back to her childhood. She was fortunate to grow up in a district where beautiful architecture was all around her. There was a magnetism of the organic style of this. The architecture of her prewar neighborhood was a magnetic presence and a feast for the eyes…. If one chose to notice. Curved window frames with zigzagging rods, curved brick facades with their projecting shades, stone monsters that adorned bridges and doorways were enigmatic and in the words of Einstein provided her with beautiful mysterious experiences.
Contrary to what might be expected of an art dealer, she did not come from an artistic family. Her father worked as a window cleaner for some of the best antiques shops in Amsterdam in the Spiegelstraat area. As soon as she turned eighteen, she wanted to apprentice at an Art Deco gallery. In her own words, she dreamt of an opportunity to start her apprenticeship in art. Her collecting started when she was fifteen, buying at flea markets to decorate her living spaces. The mystery that had caught her eye as a child returned through the process of spotting beautifully designed objects among hundreds of the more common ones. It did not have anything to do with knowledge of art at that moment; rather something told her that she had found a special piece. The influence of those 20th century architectural elements of her neighborhood made the selection of her specialty a natural evolution. The decorative arts of the 20th century became her specialty and passion.
She began to deal with art as a business, together with her business partner Wiljan Versteeg, and it was a gradual transition from her occupation as a journalist and consultant. Her "good eye" had already confirmed that she could identify valuable and important objects at flea markets. The breakthrough came during the successful participation at PAN Amsterdam (the most important national Art & Antiques Fair in the Netherlands). The Gallery became her full time occupation and her dream of dealing with beautiful objects on a daily basis was realized.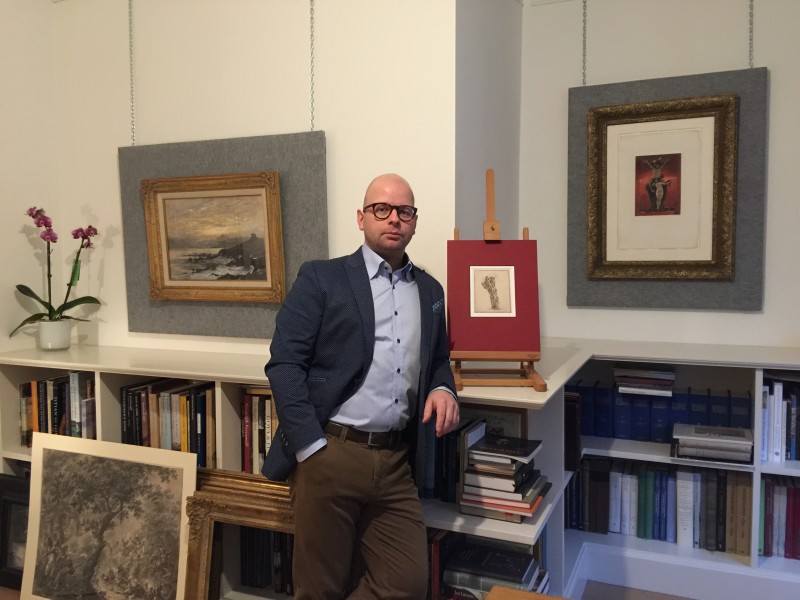 Onno van Seggelen's interest in art began with his exposure to antique medical books while studying medicine at the Erasmus University in Rotterdam. His serious focus on art began in 2003 as a result of a History of Medicine course taught by Professor Van Lieburg. What he saw represented in antique medical books had the power to start his art journey. The mystery of art appeared to him through antique printed books. He found out that the seeds planted by those observations made through antique printed material were giving him
a lot more satisfying and constant discovery than a profession as a medical doctor. His passion for art was bigger, and he had the courage to follow his heart. Then again, the elements providing for a highly surprising career are those of diversity, discovery and constant learning.
His collection is based on interesting, important and artistically powerful drawings, those that surprise the fine art market and that are fresh to the market. The fact that no two drawings are ever the same is a great source of motivation for him.
Benjamin Proust's interest in art started when he was eighteen years old while living in the beautiful Loire Valley in France. The art "bug", or what we are calling that mysterious call, came about through his visits to Sundays' small flea markets in the villages around Tours. This mysterious call became a passion strong enough to encourage him to move to Paris.
His initial inquiries into the world of art as an occupation were met with discouraging assessments of the hard realities that come with making it ones source of income. He was told,
"If one is not the son of a dealer, an auctioneer or an established collector, one should forget about any possible success in that endeavor".
Contrary to those warnings, he enrolled in an Art Market Business school in Paris, while working weekends at the Paris Flea market as well as undertaking internships with experts, dealers, auctioneers with Drout, the auction conglomerate, and at the Carre Rive Gauche. He quickly realized that his exposure to art through these dealers and experts was brought not only knowledge, but also an eye that can discover the beauty, uniqueness, difference and value. He decided that real life education was more important than the one he was getting from the art business school.
Two events on his journey made him decide on his chosen field. One internship with a dealer specializing in furniture, sculpture and works of art from the early medieval to Louis XIV years – at one point called Haute Epoque, brought him into contact with sculptures and a passion was born specializing in pieces made of bronze. Additionally, his dealings with the great variety of art found at the Paris Flea Market became an inspiration. He felt comfortable with art from all periods and all mediums, realizing that this diversity can mix and blend perfectly as long as there is excellence in quality. His gallery is a mixture of sculpture, furniture and paintings, including a stone sculpture dating back to 2600 – 2500 BC to a George Juve Lamp from 1950. The span of human creation is palpable with his beautiful eclectic collection.
Dealing in art is a way of life and not a job for Benjamin. He mentions that the thrill of the hunt and discovery, the acquisition and later sale is a passion rather than a job. Nevertheless, he is quick to point out that dealing in art involves hard work and risk taking.
Nicolas Landau, the famous dealer noted
"An art dealer is a very lazy man who works 24 hours a day, and a billionaire without a penny in his pocket".
Benjamin embraces this definition, but adds that when art is your occupation, one works all day with passionate people, art historians, restores, curators, collectors and with beautiful and rare objects. The thrill of discovery, the constant challenge of the new, the constant learning and the passion that every new piece brings is what makes it worth taking those risks.
Benjamin sees enormous potential in attracting new and younger collectors. Many of which have found that the historical element that comes from collecting old master sculptures, far exceeds that which can be found in contemporary art. Exorbitant prices have also left many potential, new and young collectors out of the hyper charged modern and contemporary art market. For the dealer, Museums and Universities are the most important places to promote art among younger generations. Likewise, fairs such as TEFAF, where the best objects and dealers congregate in one place are the cradle of new vocations of future dealers and young collectors. Benjamin believes that art needs to live, to breathe and to be enjoyed on a personal scale, and this will provide for a vibrant and lively future market for all art categories. Preserving and caring for cultural heritage is a responsibility for dealers, collectors and institutions alike. In fact, TEFAF demonstrates year after year that, to this day, we can still find new, previously wrongly catalogued and more researched and documented masterpieces.
Laurent Dodier is a third generation tribal art dealer. He was taken quite early by the mystery of art found in these objects coming from distant and fascinating cultures. His grandfather initiated the family's journey into tribal art in 1935, and later his father opened a gallery in 1961 in the city of Avranches. His Christmas and birthday gifts were small amulets from different tribal groups. Since he could not see himself being separated from these mysterious objects, he decided to live among them permanently by turning this into his profession. Laurent's explanation of his way of life, his reactions to these objects and his dealership approach are best explained in his own words:
"I cannot conceive of a day without a discussion about art, or without an emotion in reaction to an object. Tribal art objects awaken a real physical attraction in me, a need to touch them. It's not just a visual sensation – all of my senses are involved. With experience and the passage of time, I have become more demanding – more difficult! When I first see a mask or a fetish, I try to stay lucid, not to let myself get carried away. I gather together my knowledge, and I analyze. Once I have established an object's authenticity, I go on to inspect the quality of its manufacture. Is it an artwork or a craft piece? The question is important inasmuch as the answer determines the piece's value.
We dealers are only intermediaries. The objects existed before we did, and they will continue to exist long after we do not. Our task is to pull them from anonymity, and to give them a place in collections, both public and private. The dealer's role is to accompany the collector in his quest, whether on a small or larger scale. We are not the creators of the African mask or the Oceanic fetish we sell, but with the advice and counsel we offer our clients, we can create something else: collections.
Our role is also to get younger people to collect. I personally participate in a number of symposiums whose purpose is to sensitize the public to art, and I speak in schools to "initiate" young children to this world. I am convinced that I can inspire them, and that some of them will become real collectors.
One thing we have to work on nowdays is cleaning up the tribal market, identifying the abuses which take place, and putting a stop to the circulation of forgeries and fakes. That having been said, I remain very optimistic about the market's future. It's a very recent one, but it continues to blossom and grow. While during the interwar period there were very few aficionados, interest in tribal art has grown considerably since then. More is also known about it, an ever-increasing number of useful and informative publications are available, and tribal art objects definitively acquired status as legitimate works of art.
Important changes are currently taking place in the mentality of collectors, and we, as dealers need to do our utmost to help those just starting out. The best way to reassure young collectors is to ensure that the pieces they are offered are beyond reproach, like they are at TEFAF, but that is unfortunately not the case at all fairs. "