ART STAGE SINGAPORE 2018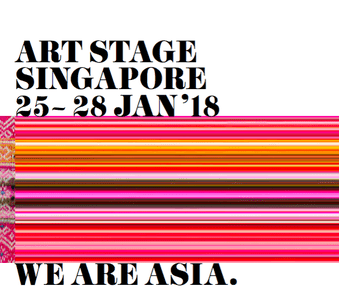 ART STAGE is the flagship show of the Southeast Asian art world and the region's key voice in representing the interests of Asian art in the global arena. Through its insights on the regional art landscape, the Fair acts as a catalyst for driving international interest in and the understanding of Southeast Asian art and igniting heightened market activity.
ART STAGE also plays a pivotal role in developing and bridging various segmented art markets in the region. At the STAGE creates a singular and unified Southeast Asian market, positioned to be more competitive with the more developed global art markets in the West and China.
In acknowledgement of the rapid changes and fluctuations in the art economy, ART STAGE Singapore pays tribute to these new realities of the art market by innovating the traditional art fair concept and going beyond the classical gallery presentations. By expanding the field to collectors, artists and other creative industries, the Fair continues to innovate and augment its position as the flagship art fair of Southeast Asia.
For the exhibition highlights of this year's edition, ART STAGE Singapore presents three special selling exhibitions: a collaboration with The Tiroche DeLeon Collection; an exclusive showcase by Honorary Invited Artist, Fernando Botero; and a special selling exhibition of the works on paper of the late American artist Alexander Calder.
The Tiroche DeLeon Collection
In the first ever unique collaboration between ART STAGE Singapore and an internationally recognised private collection and art fund, ART STAGE Singapore 2018 presents a grand selling exhibition of Asian contemporary works from the Tiroche DeLeon Collection. Conceptualised by collector and founder Serge Tiroche, several of the top works in the collection were acquired between 2011 to 2016 at previous editions of ART STAGE Singapore and are now being re-exhibited in the
context of a collection. The works are also lent to prominent museums, exhibitions, biennales, art fairs and other public venues worldwide, including a 2011 exhibition at the Singapore Art Museum featuring Rodel Tapaya's most iconic work, Cane of Kabunian, Numbered But Cannot Be Counted, which won the triennial Asia Pacific Breweries Foundation Signature Art Prize 2011 and catapulted Tapaya to international recognition.
"We are pleased to have come full circle with Lorenzo Rudolf, to present a collection he helped us build. It is wonderful when two innovative minds meet and are comfortable exploring new collaborative models. I am excited about this opportunity and look forward to being in Singapore," says Mr. Serge Tiroche. Exhibiting artists include Donna Ong (Singapore), Genevieve Chua (Singapore), Ruben Pang (Singapore), Agus Suwage (Indonesia), Eko Nugroho (Indonesia), Entang Wiharso (Indonesia), Gatot Pujiarto (Indonesia), Heri Dono (Indonesia), I Nyoman Masriadi (Indonesia), J. Ariadhitya Pramuhendra (Indonesia), Manit Sriwanichpoom (Thailand), Geraldine Javier (the Philippines), Jigger Cruz (the Philippines), Jose Santos III (the Philippines), Leslie de Chavez (the Philippines), Ronald Ventura (the Philippines), Winner Jumalon (the Philippines), Chen Fei (China), Fang Lijun (China), Wang Guangyi (China), and Zeng Fanzhi (China).
Exhibition by Honorary Invited Artist –
Fernando Botero
ART STAGE Singapore is honoured to invite Colombian figurative artist and sculptor Fernando Botero as the Fair's first Honorary Invited Artist with a dedicated exhibition of his works. Celebrated as one of the world's most prolific artists with an especially large following in Southeast Asia, Botero has achieved a universal understanding through his consistently recognisable style and distinctive exploration of volume and colour. With an illustrious career of over 50 years, Botero has expressed his art across almost all mediums and his works have been presented in numerous exhibitions worldwide.
For ART STAGE Singapore 2018, Fernando Botero Jr. will be giving a talk, providing insights into the life and art of Fernando Botero himself. A 3.57m bronze sculpture by Botero will also be on display at the Fair, in memory of the late Mr. George Wong.