ASSAF BASSON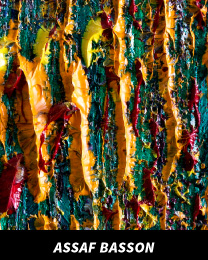 Assaf Basson was born in Israel in 1964. He is father to Yair and Zoe, and lives and works in Tel Aviv. Basson studied at Tel Aviv University, his main subjects being Cinema, Television, Arts and Philosophy. He worked for many years in the film and television industry in various channels as an author and filmmaker. For the last 15 years he was teaching Cinema, Arts and Psychology until he stopped and found himself engaged to his love of painting. He only began painting in 2014. Basson is using plastic Credit Cards instead of regular painting tools such as brushes. In materialistic world-controlled corporations in all aspects of life, personal credit cards become the person of another identity – financially and materially. Basson is using the plastic card to brush the creation of another world which is open, free and unbound.
Each work is revealing itself anew. Basson is an autodidact and does not feel any commitment to any school, although he does see Marcel Duchamp and Jackson Pollock as a major source of inspiration.
His house became a television studio with an abstract landscape which changes every day. The music dictates the frames, the scenes and shots unnamed anointed with oil colored purely on the white screen. It is the raw material from which made his cinema. The sets are created and changed every day – to tell their own story. Assaf Basson, handsome, charismatic, striving to take off and fly – literally.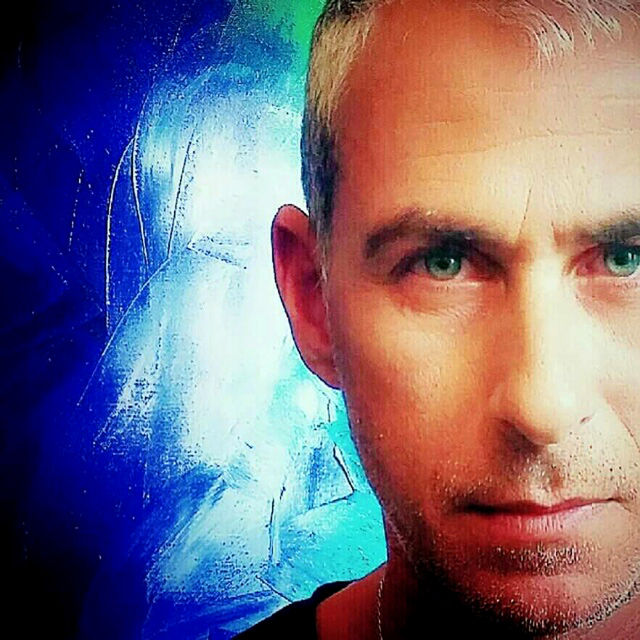 He has a strong desire to get up in the morning with good energy and is passionate to "fly" in his television studio with the smell of paint and turpentine, to dance on the canvas with music playing in the background. He claims that it is the music which "paints" colors on his canvas. In his first year as an artist he has already sold most of his work in Israel and around the world.
– Lori Pszenica.
Art Curator.
ASSAF BASSON
Website: www.facebook.com/profile.php?id=553599468
email: bassonassaf2@gmail.com