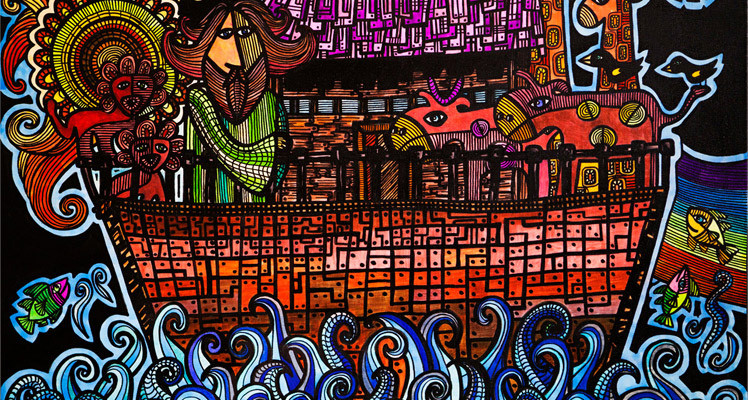 Carolina Karpati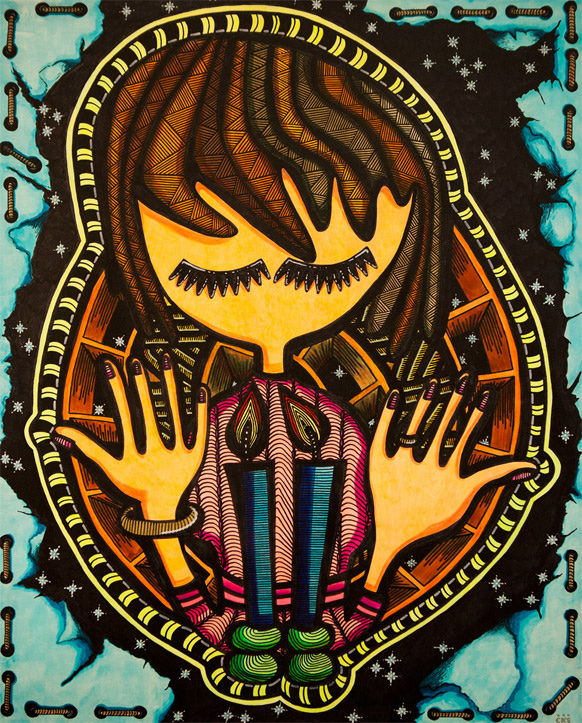 For as long as I can remember, my father loved art. I remember even at a very young age, helping him prepare a Jewish art exposition in a cultural center in Caracas.
I also remember my home full of oil paintings of diverse styles, as well as art books and encyclopedias that my father enjoyed reading and looking at. He possessed a magazine collection featuring famous artists and their works (Rembrandt, Dali, Monet, Caravaggio, Velazquez, among others that I remember).
I go back in time and I see myself observing and delighting myself with these masterpieces, as well as asking my father about them.
In a time where I was around 16 years old, my father bought two paintings from an art salesman. Suspecting that they could be from a well known venetian from the 17th century, he was investigating and observing them for a couple of years. This made him feel alive from the little enjoyment he allowed himself, besides working very hard to give his children (three including me) a quality education.
Thanks to my father, I was surrounded by art, as well as my own enthusiasm to draw and paint from a very young age. I vividly remember having drawn our home's living room, in a detailed manner only being 8 or 9 years of age. As well as painting porcelain pieces (generally plates) with Matos the artist, with my brother and other students who were older than me. Art has been my passion from a young age, and I believe it marked me in a very special way when I took pride in carrying a small painting in my hands, to its destination 500 meters away (we were moving) when I was 4 years old. I remember this in a very particular way… I felt very proud I could do it and to have it reach its new destination safely.
I come from a Jewish family, Eskenazi, whose polish branch and origins was a victim of World War I. The other Hungarian branch was a victim of both World War I and II. I was born in Venezuela, a South American that absorbed my polish maternal grandparents and 4 out of 6 of their children (my mother among them), as well as my father,
a survivor of World War II. He and his brother were the only ones who were able to escape from such a terrible time in history. According to my origins I am Venezuelan, daughter of a Jewish Hungarian survivor (Vilmos Karpati -Klein-), and of a Jewish Colombian mother (Shirly Sztajnworc). Being sons of survivors they have had a very particular life.
I would define two distinct categories in this group: the first being of those who were able to live with the pain but have also surpassed their fears, exteriorizing in some way what has martyred them for a long time, and the second, those who lived with pain and fear and carried that until the day they died. There is a marked difference between the two when we refer to the affectation of the families and their descent (couples and children). On one side those who exteriorize the pain, the fear and the frustration, are able to fortify themselves and carry on in a positive, enriching and constructive way. However those who keep their feelings to themselves drag the ones around them down with them, scaring them for life, with that number, which even though wasn't tattooed, will accompany them for the rest of their days. The second was our case. My father ( Z'L) never could express everything that ate him inside.
"The man with the sad gaze", was how one of his friends described him when he walked into me, who also related my appearance to my father's.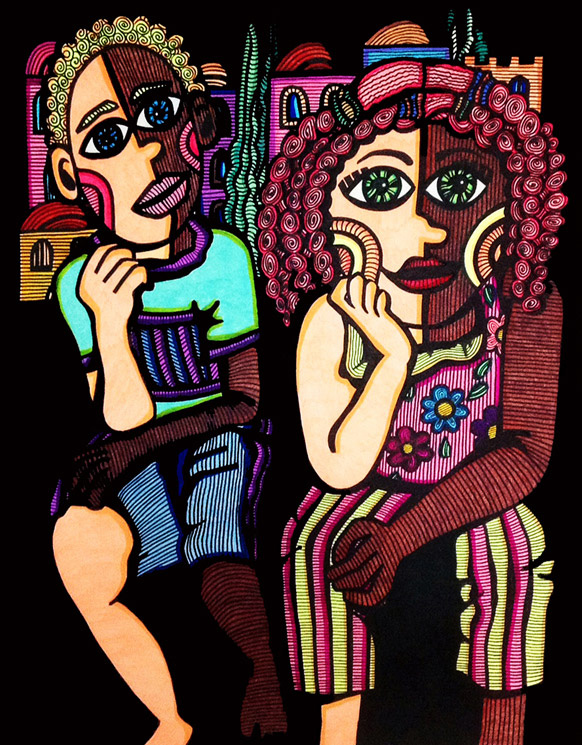 My childhood was not easy, nor was it all happiness. Perhaps because of it in my youth and adulthood I opted for my happiness, or at least to get as close to it as possible. Through art
I feel that somehow my emotions are restored, in light of the enjoyment of what is beautiful and significant to me. The act of exposing my sentiments and ideas in a completely transparent fashion, gives me the opportunity to transmit the course of my life before my eyes, showing that we are susceptible to changes and rectifications. In a definitive way, our conduct and human complexities profoundly affect those around us, with artistic expression being part of that transmission.
To define myself as a person, I would have to first explain what I consider would be a correct description of my essence. Many automatically define themselves as described by their profession (very limited in my point of view). Others do it according to the things they like (which I don't think is the condition of being). I consider that for one to define themselves
a complex conjunction of variables is needed, including the aforementioned and other determinant and relevant ones, that have define your persona as an integral being: origin, values, beliefs, passions. My personal values define me in a pronounced way. Principles such as respect to human dignity, respect to animals and nature, tolerance, responsibility, justice (considering this term to be giving each what they really need), affect my life. I believe that generosity, transparency and humility are invaluable and those who carry themselves this way, have in me a high level of respect and trust. I believe that art is capable of expressing some of these values in an implicit way, and the sensation of empathy and enjoyment could demonstrate it.
The passion I feel for artistic expression, for innovation and the unlimited human creative capacity, fills me with concerns and satisfactions. Giving life to new ideas and executing these generate cheer and hope in me. Through art I try to demonstrate that life can be a path of enjoyment if you are capable of appreciating the beauty around you. In the same manner, the marvelous colors that nature gifts us, and how throughout history humanity has experimented and benefited from for its own creations, are valuable proof of the resource at our disposal. My art is an expression of my own reality, as well as the internalization of human behavior and its interaction with nature. I feel my art is unique because it wants to transmit the fullness, happiness and color which could characterize life, occasionally even in a humorous way.
I conceive the need to pronounce myself and explore new tendencies, designs, combinations of styles, and materials that help me recreate a new vision of contemporary art. In this manner, I see it as the possible opening of emotions for the spectator in many interesting and positive ways, giving them the chance to contact the imagination of their inner child. I use materials that facilitate in a given moment, the expression of my personal ideas and feelings. I generally draw on the canvas, and other times I simply improvise and let myself be taken away, without any pattern or previously established structure. Anything could come from it..
I consider my art to be eclectic, where my inspiration flows through different movements and artists of my admiration. It allows me to recreate my own style jointly with the figurative, pop, naif, folk-combining colors, trends, styles and materials, allowing whoever presence it, personal fantasies and illusions.
My latest creation was strongly motivated by my view of Israel as a new immigrant from Latin America, as a result of four years of experiences in the country. I am currently working on a new series of works that explore the nature of life such as human contact with mother nature and the animals in their habitats. Being a lover of nature and animals, I fervently believe that the simplest things in life before our very eyes, are the biggest and most important, which we sometimes do not perceive because in a certain way we lose the capability to observe our surroundings and enjoy the small gifts we have received and ignored.