SAMANTHA FRENCH
Underwater Swimmers

Samantha French is a young American artist, born and raised in Minnesota, USA who creates large-scale oil on canvas pieces. Samantha has a beautiful impressionistic style utilizing loose brush strokes and vibrant colors in her paintings. Her current body of work explores the idea of escape, the tranquility and nostalgia for the lazy summer days of her childhood. The underwater portraits portray people both in and out of water in the midst of perfect tranquil moments captured gracefully with oil paints.
French actively exhibits her paintings and is included in many private and public collections throughout the country while her work has garnered extensive international and national press. She is a full-time painter and keeps a studio in Brooklyn, New York.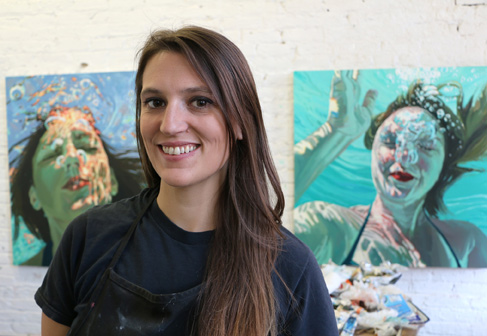 "I've always loved painting the figure, and my first water "themed" piece was a painting of an old photograph of my mother and aunt at the lake in my hometown when I was a baby, maybe 14 or 15 years ago. With this element of nostalgia and these beautiful abstracted qualities of green reflections in the water, I knew I had found something that deeply resonated with me. My early work was slightly more ethereal and less structured than it is now, but the progression to underwater swimmers was organic. I was using a lot of found imagery, vintage bathers, old family photos, imagination mixed with studio shots. Every painting lends something to the next and the more I worked, the more I learned about what I wanted from the next piece and the better my technique became. I'm still learning every time I go into the studio and try to keep pushing myself further. It was a natural progression to the pool imagery after moving to NY and needing the control of my own photography. I started taking photos of people swimming from above. I bought an underwater case for my camera not long after, really transforming the work into what you see today. I grew up in a pretty idyllic area where lakes were down basically every road.
There is something so serene, floating in the tepid water of one of quiet lakes, just you and nature.
My paintings are frequently based on pools now and reflect more of a southern California/ mid-century aesthetics, but my memories and the feelings I get thinking back about those childhood summers are still in the work, just slightly idealized and adapted to the life I lead now. Also, pool waters allow for a better reflection that now plays an important role in my painting. I consider myself a figurative painter but the reflections and refracted light add an abstract quality to the work.
Having the figure as a reference point allows me to focus on those abstractions that the reflections in the water provide. Along with the contrasts they bring to the work, discovering how he two things react with one another, such as how the light bouncing off the skin mimics the ripples in the water above is very fascinating to me. It looks chaotic, but there is a rhythm to it. The patterns are a direct reflection of the water's reflection and how it is moving. There is almost a filter over the figure, the skin tones aren't natural and going into each painting is different. They're transformed and distorted into shapes and colors and lend themselves to intricate and to be exposed to fluid mark making. Isolating these brief moments where someone is about to break the surface of the water or slowly breathing out to stay under just a little longer. Taking a static image and showing the movement that is just about to happen and freezing it for eternity.
"I keep hearing every few years that figurative painting has made a comeback, I didn't know if left. I've always preferred figurative realistic paintings so maybe I've always looked for them. I don't know the future of painting as a whole – if I could predict it, I'd say I'd probably be rich. You see a lot of trends come and go every few years and as much as I love a lot of what is going on right now it's not very influential to my work. I'm just going to keep tinkering away at what I would like to see and the rest of the art world can do whatever it likes."