Dafna Navarro
An Interview with  CEO & Editor in Chief
Art Market Magazine
To celebrate two years and twenty four issues of Art Market Magazine, Asaf Rolef Ben-Shahar spoke with CEO and Editor-in-Chief , Dafna Navarro about art, creativity, and the magazine.
Tamara de lempicka- 'Andromeda', 1929
Asaf: Hi Dafna. Could you tell us how you founded the Art Market Magazine and what was the motivation behind its creation?
Dafna: I founded the magazine exactly two years ago. The first issue was published in April 2014 and I named it Israel Art Market Magazine, after an online gallery I created as a platform to sell original contemporary Israeli art to Jewish communities abroad and those who seek Israeli art and Judaica. I wanted to increase the gallery's exposure, so the primary goal was selling and marketing. The first issue looked more like a catalogue, but the second issue already included articles about Israeli artists and Israeli art. The magazine has become increasingly successful, distributed worldwide online as well as in a printed version. With time, the magazine developed, more people subscribed to it and it no longer felt right to limit the magazine to Israeli art alone. I therefore decided to rebrand the magazine and change both its content and its form to make it internationally. I am proud of how much Art Market Magazine has developed over the last two years, and am grateful to the people who helped me reach the decision to make it international. I feel rather maternal towards it; the magazine is a dynamic and evolving creation, as if it has a life of its own- almost like a child.
Asaf: So what do you consider the fuel of the magazine? What makes it tick?
Dafna: As I see it, it is a combination of three main aspects: the accumulative energy and talent of the contributors, the editorial and graphic design team – and my own energy. Each month I spend time structuring the issue like a jigsaw puzzle, giving attention to each detail and its relevant to the specific theme. The project is a complex, but highly satisfactory, endeavor. The magazine also requires faith, and I know that Art Market and its development also stem from a force greater than my own. I have no doubt that the magazine will become globally influential, and it is heading that way. In that respect, my work is a vessel to transform that energy, and this knowledge allows me to ignore people who bring their doubt and skepticism.
But the publication also has a survival aspect. Living in Israel is not easy, and having lived through many wars and turbulent times, I also know that my survival instincts are influential in my forward planning. It seems that this is also one of the motivating forces in the IT world, and many other research fields. We understand the need to use our time fully, to create something meaningful, and to demonstrate commitment.
Asaf: Can you share the connection, as you see it, between good art and emotion?
Dafna: My home environment was imbued with classical-music. My father is a gifted musician who played at the Spanish Philharmonic and there was also great appreciation for plastic arts. I recall the first time I visited a museum as a six or seven-year-old. Our school class visited the Tel Aviv Art Museum. I was overwhelmed, standing there moved, disconnected from everything around me, as I stared at a rug depicting some religious scenes. This is what good art makes me feel. Art that touches me is one where I value the colors or movement, the sophistication or the brush strokes, I can appreciate the technical brilliance or emotional depth; this is good art for me. Today, I prefer to visit museums on my own, not to be distracted. As I watch, I listen to classical music and the combination of art and music creates an incredible experience for me.
Asaf: Speaking of creativity, what do you consider creative in how you live your life?
Dafna: Although I work with art all the time, being exposed to new art and artists, speaking about art, marketing art, listening to lectures and lecturing about visual communication all day, every day, I regret that I don't live as creatively and artfully as I would have liked to. To live creatively is to be mindful of nature every day that goes by, since nature is the source of all artistic and creative energy. Light, colors, changes, being moved by the sunset, experiencing the changing of seasons and watching the leaves change their colors. My life is very urban at the moment and I miss that a lot and hope that I can make a change in the nearby future.
Asaf: Thank you for your honesty. Given this gap, do you think that good art and suffering must go hand in hand?
Dafna: An artist I know once told me that he needed a break from creating. When I asked why he answered that he suffered a lot whenever he painted and he could not tolerate that suffering at that moment. I know that such disposition exists, I guess it comes with perfectionism, which although common with artists, it can also be highly destructive. I believe that art is created by a power greater than our own and not merely from our egos, and that each work of art is also a channel for projecting energy. So there really is no need to suffer and to seek perfection. A creation is perfect even when it is imperfect, and an artist who suffers while creating wastes his energy. For me, at its best, art is created from love and desire to express something else through us. And personally, every time I paint I take so much pleasure and satisfaction in it that I cannot understand what took me so long.
Asaf: Do you consider yourself an artist?
Dafna: The last series I painted is in the basement, it was never shown, and it will stay there for now. I do consider myself an artist – I keep creating, both artistically – in the form of gathering material for the magazine, and also in my business thinking, opening new channels, cultivating an image, finding new paths for marketing and development. These too are creative acts. For me, art can also be found in more private spaces, such as telling my daughter about an artist and her work, or an art fair. It cultivates her curiosity, and develops her thinking – so she too, reaches newer places inside her; this is art too.
Asaf: Can you share some special moments of your work with Art Market Magazine?
Dafna: I don't believe in borders and limitations. For example, in issue 15 we presented the work of the famous Iranian artist Reza Panahi, which was unusual for an Israeli art magazine. Reza is an incredible artist, sophisticated and extraordinary who was unable to express himself artistically in Iran because of the political regime. Despite having won many international awards and having presented in museums worldwide, when we published his work we were completely ostracized by Israeli newspapers and our readership dropped. It became clear to me then that the magazine ought to become international, liberating me and the magazine from local politics and limitations. There were also other surprises. I wanted to interview Cheyenne Westphal from Sotheby's who I consider a key figure in the world of art, but while we were organizing the interview she had left Sotheby's because of internal politics. Westphal is a woman responsible for major sales in the last twenty five years, and I have great respect for the knowledge she had accumulated. It's a shame that we did not conduct the interview in the end.
Asaf: What do you like about your job? Where is your passion?
Dafna: I love creating something new, which did not exist before. The satisfaction is immense, each month the magazine is comes to life as if for the first time, then thriving on its own in the world. It is moving to know that I manage to create something new each month, which tens of thousands of people enjoy. It is a privilege to present good art and provide it the exposure it deserves. My daughter was laughing, saying that every month I tell her it's the best issue yet. It's funny, but also points at the development of the magazine.
Asaf: What is it like to primarily work at the back stage?
Dafna: I don't see myself like that. Indeed I choose not to present my art, but I am presenting myself with each issue. Whatever I create later defines me as it becomes part of me, and part of who I am. Every magazine published is a collective creation of mine, in choosing the articles, their position in the magazine, the design of the article. All these details crystalise together and I feel great satisfaction with each published issue.
Asaf: Thank you. To conclude, could you pick a few artworks that particularly speak to you?
Dafna: I am very attracted to the work of Gustav Klimt, Egon Schiele, Zinaida Yavgenyevna Serebryakova, Alex Kanevsky, William Turner and many others. I have chosen three works here, which I, connect with emotionally, and my love for them remained over the years:
Ury Lesser's Holstein Switzerland (1908); Tamara de Lampika's Andromeda (1929) and Theodore Gericault's An Officer of the Imperial Horse Guard Charging (1812).
Ury Lesser's artwork is kept in the Tel Aviv Museum's collection and until recently was exhibited there. During my high school years I went there almost every afternoon and this painting touched me every time. It is a magnificent work, full of air and serenity, the quiet colors of a sunrise or at dusk; and such gentle motion that you can almost feel the gentle breeze.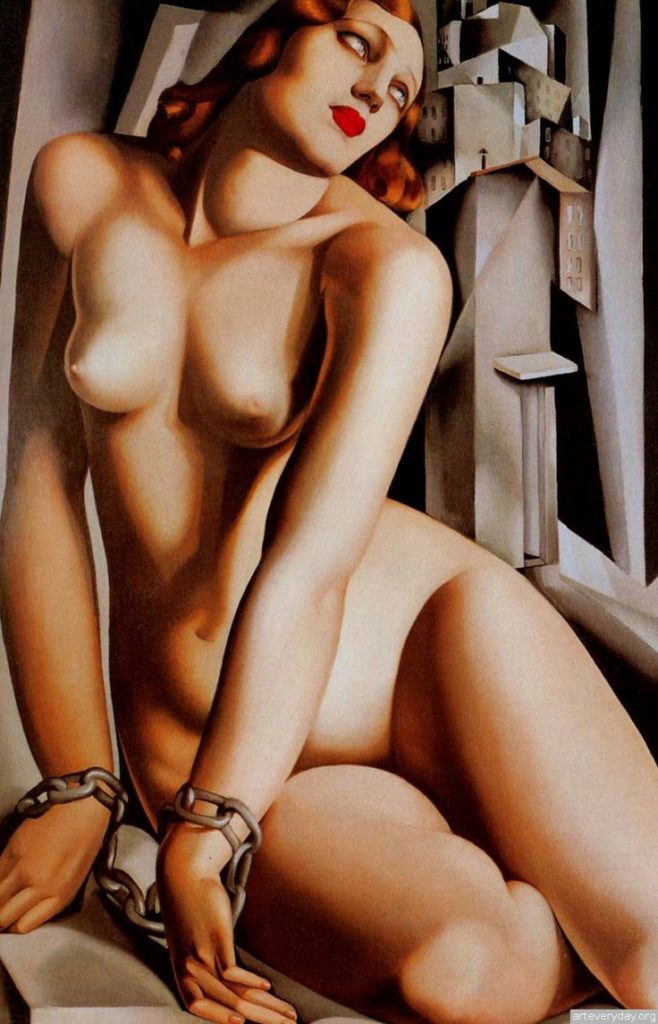 Tamara de Lampika's painting is one of the most sensual artworks. I love the femininity depicted in her work.
Lastly, the French painter Gericault, one of the pioneers in the Romantic movement, created an extraordinary piece. This painting is perfect in so many ways, creating such strong identification. It powerfully conveys both the moments of terror and fear, and the indifference or strength of the character. The attention to detail is superb, the colors and opposite movement result in such a heroic piece or work, one of the most impressive paintings I have seen. I don't remember when I first saw this painting, I think I was a girl, but the painting has made a strong impact on me throughout the years.
Asaf: Thank you Dafna for sharing your professional and personal experiences.
Dafna: Thank you Asaf and I would like to thank all the participating and involved people who helped create this magazine.
I deeply appreciate it. Much love to all.