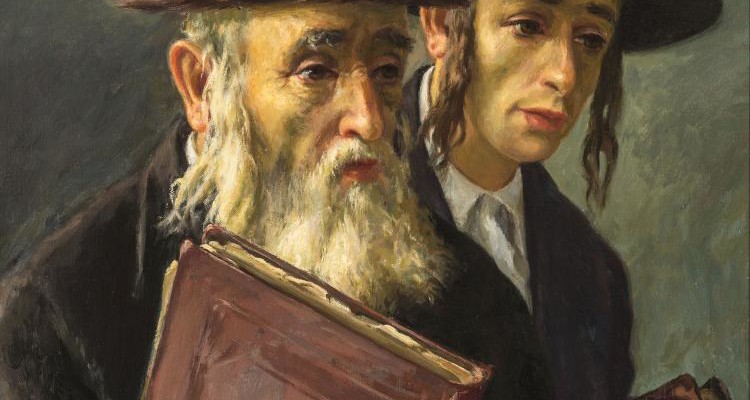 THE 'QUIET MARKET' of  JUDAICA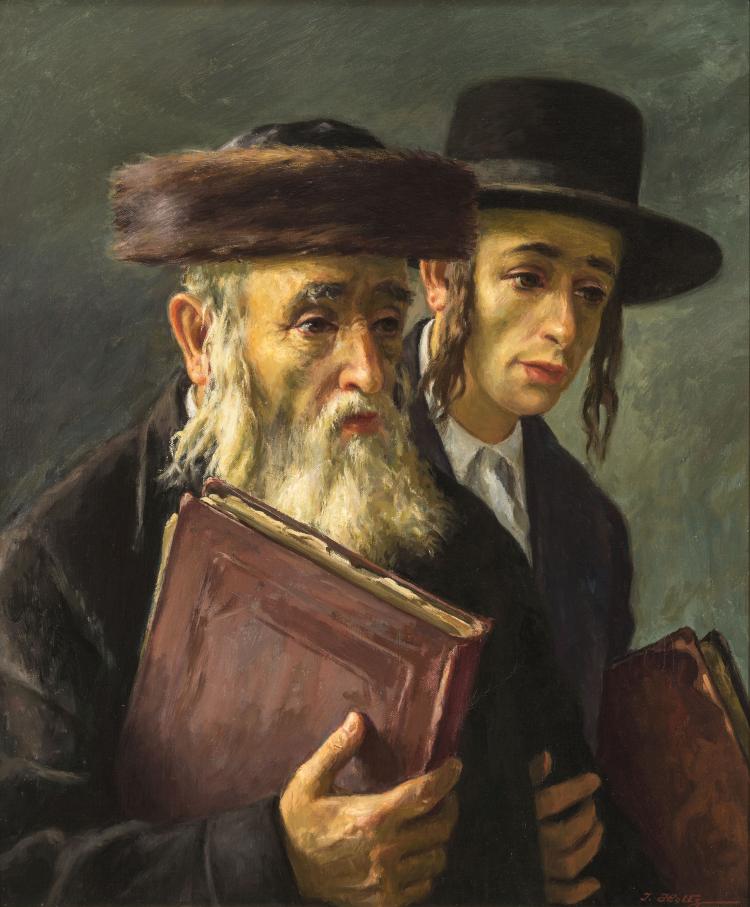 With Rosh Hashana atmosphere and special Jewish holidays ahead of us, we decided to discover more deeply the Judaica Art Market's beautiful field in Israel and abroad, which is mostly known as the
"Quiet market"….Shhh
…We made some special interviews with top auction houses, and got to know better the field 'outside flood lights'.
We asked almost the same questions, and got surprising answers.
Itshak Holtz "Tradition"  Depicting an elderly Rabbi with a young Hassid, 1966 – 61×51 cm Oil on Canvas was estimated $20,000-$25,000 and sold at auction for $32,000
An Interview with Matsart
Name: Matsart Auctioneers & Appraisers
Location: Jerusalem and Tel Aviv
Owner, CEO: Mr. Lucien Krief
Established: 2006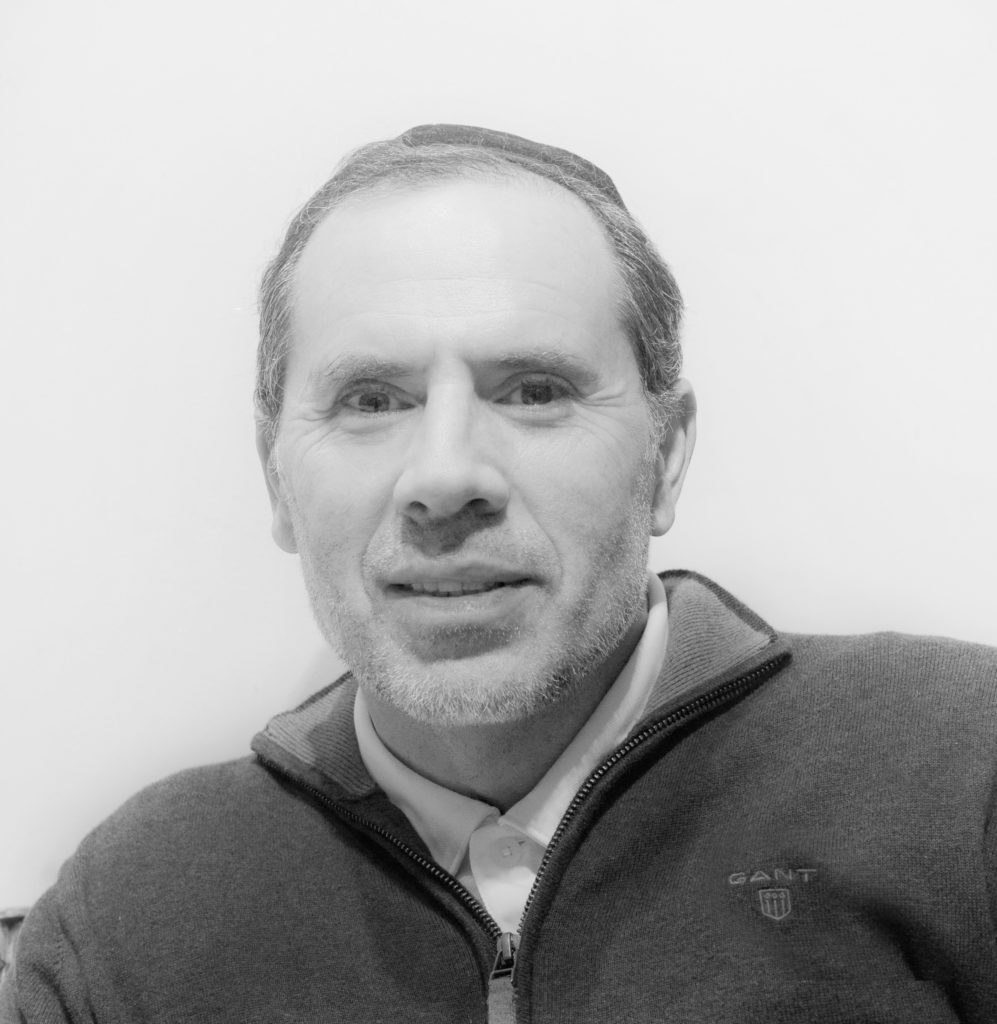 We have an interview with the presentor of the Judaica Art in the gallery, who answerd some questions about the Judaica Market in Matsart Auction House.
Please Introduce the Matsart auction house to our readers
Matsart Auctioneers & Appraisers is the biggest Israeli Auction house, with two branches in Israel (Jerusalem and Tel Aviv), and one in New York. It has several partner auction houses in Europe including Millon, the second most important auction house in France. It is the only Israeli located auction house holding International auctions, holding 3-4 International Fine Art Auctions every year, 2 Israeli Fine Auctions, Interiors Auction almost each month as we well as several Internet auctions during the year. Due to a strong public interest we also hold Judaica auctions and selling exhibitions each year.
Matsart has a young and dynamic team with experts in different fields – Modern and Contemporary, School of Paris, Israeli and Judaica. Our specialists provide expertise in specific areas such as logistics and art shipping worldwide. We also offer a full line of Estate services including free in-house consultations, appraisals and estate liquidation. We also offer restoration and framing solutions.
Our annual revenue approaches 50,000,000 shekels.
What is Mr.Lucien Krief's , background in the Art field?
Matsart Auctioneers & Appraisers, owned by the renowned artist Lucien Krief, was founded in 2006 merging the established firms Matsa for Public Auction (founded in 1970's, formerly of Ramat Gan) and Lucien Krief Fine Art Gallery (founded in Jerusalem).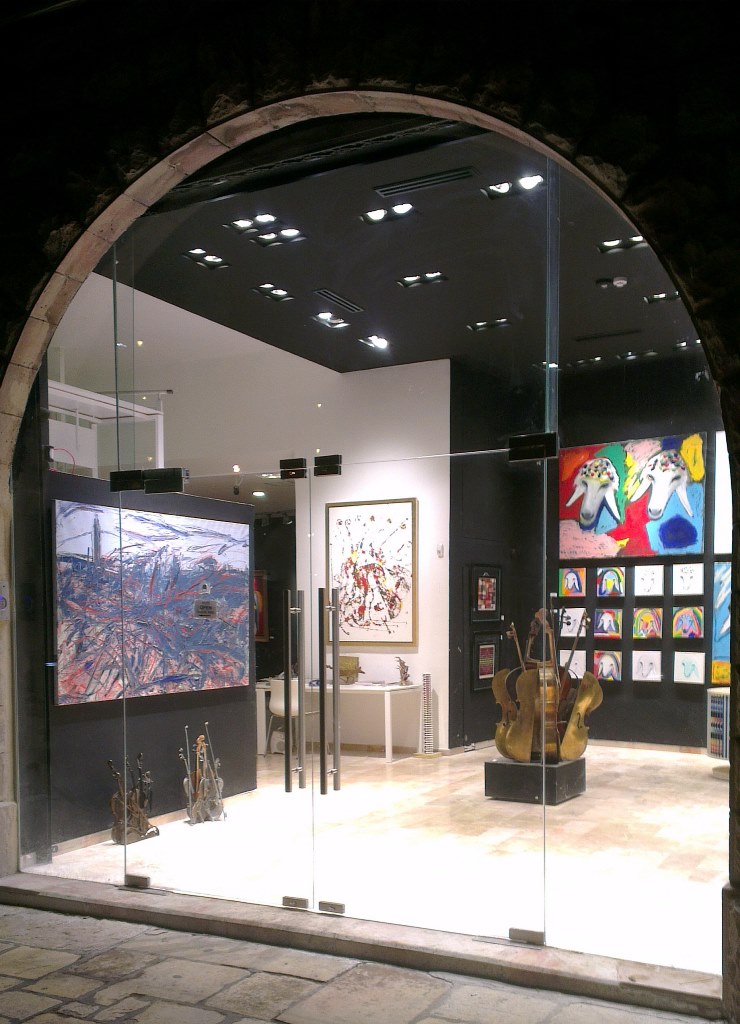 Mr.Krief is expert of School of Paris. His field of knowledge includes Impressionist, Modern and Contemporary Fine Art as well as works of the well-known Jewish artist Mane Katz. As an Orthodox Jew with a deep knowledge of the Jewish scriptures. Being also an artist he seeks to find works of special meaning and form that would explain the roots of belief and varied avenues of Judaism.
What does your auction house specialize in?
We specialize in Impressionist, Modern and Contemporary fine art, mainly European, as well as in Israeli Fine Art. Judaica Fine Art is our exclusive specialty. Our auction house has a selective but wide clientele ranging from Major Jewish Anglo-Saxon and French collectors to Important Israeli collectors and International collectors from Russia as well from Asia. We offer a wide range of works of the highest quality.
What is the type of Judaica doing you sell mostly?
We sell mainly Judaica 19th and early 20th century paintings of important and major artists (Isidor Kaufman, Josef Israels and Mane Katz amongst others), Views of the Holy-Land and Early Judaica religious scenes. We also deal with old books and silverware.
What are the factors that determine the prices of the Judaica items you offer for sale?
There are several factors that influence the price of a work of fine art – artist's name, quality of the work and state of conservation, its importance in the artist's life and work as well the painter and paintings importance in art history. When coming to assess the importance and value of a Judaica work of great importance is its subject matter. Themes and subjects matter such as Wailing Wall, Jerusalem Old city scenes and the life of the Jewish Shtetl in Eastern Europe are more requested. The dating of the work is important as well as its condition as most of Judaica works were made in 19th century or early 20th century in dire conditions . Of relevance is also the provenance of the work.
As an Art Dealer, What do you need to be a good Art dealer?
A good dealer is one whom has a good eye and has the ability to find rare and good quality art works more than one who knows how to sell it. Nowadays a good art dealer has to understand modern trends as well as what are the most beneficial investment areas. This means that every purchase, and fine art more than anything else has to be good investment. A good art dealer has to foresee the financial growth or value of an artworks by certain artists and to be updated regarding the latest developments and trends in the art world, the leaders being today mainly the auction houses.
What are your strategies to attract more Judaica buyers worldwide?
We hold annual Judaica auctions and selling exhibitions, normally close to Jewish holiday seasons in Autumn and Spring which are advertised worldwide. We offer to organize exhibitions in Jewish communities, galleries and museums. We are in contact with Jewish Museums and consign works for Judaica and Jewish themed exhibitions in Israel and abroad.
We are currently working on several Judaica Exhibitions: Yossi Rosenstein will be exhibiting his works from the Rachel series starting this Sukkoth – September 20th – November 11th. We have in program exhibition of Raphael Abecassis (French, Israeli) – a Contemporary Judaica artist- and of Albert Benaroya (Israeli) well known for his hyper-realistic Judaica and flower still lives.
Read the full Article On Israeli Lens Magazine Issue #17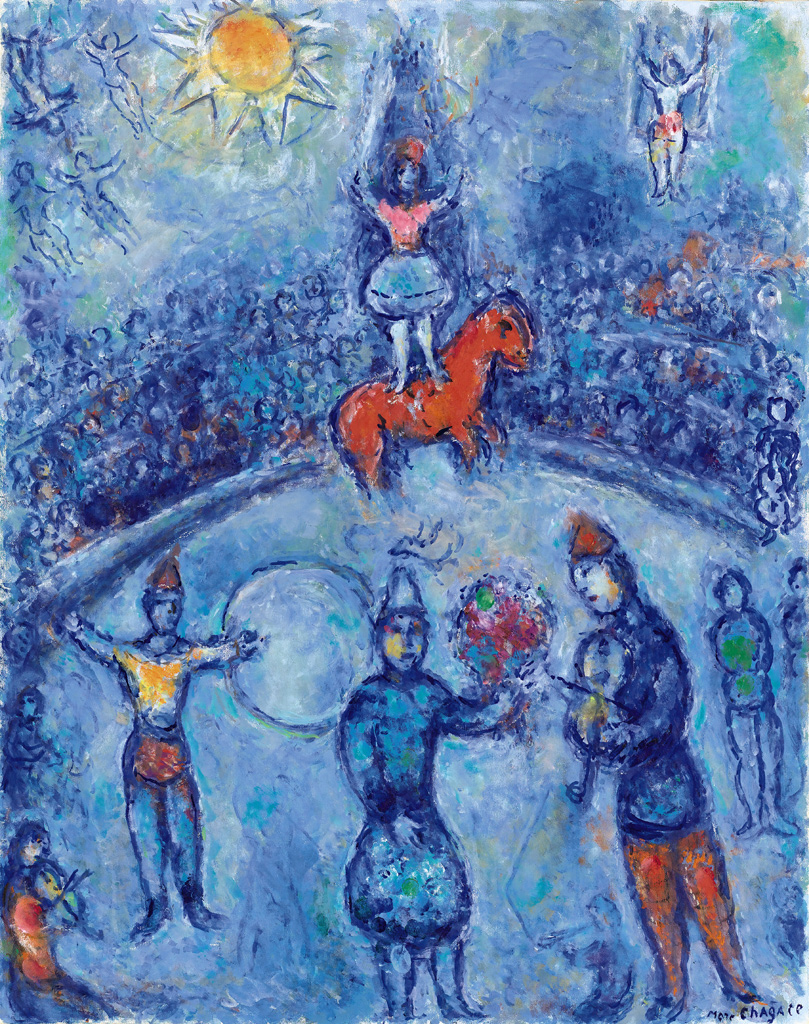 Marc Chagall 1887-1985 Le cirque, 1979-81