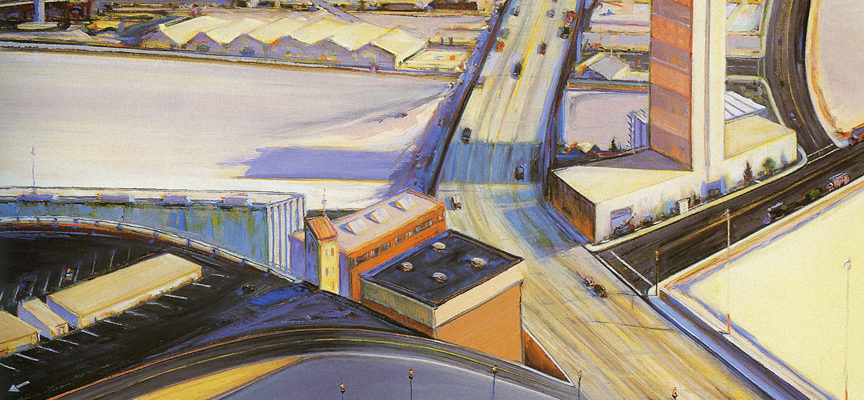 Wayne Thiebaud
Cityscapes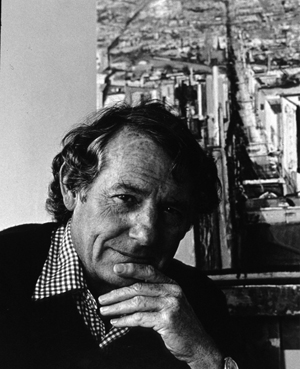 Bright, thick, and severe, Wayne Thiebaud's landscapes veer far from his well-known paintings of common objects and sweets. These works feature steep inclines and long shadows, providing a dramatic new perspective to seemingly banal landscapes and cityscapes.
Wayne Thiebaud (American, b.1920), a painter best known for his still lifes and food displays, was born in Arizona, and made his career on the West Coast. Though Thiebaud is famous for his calm depictions of everyday objects, he also painted Californian land and cityscapes.
Thiebaud studied Commercial Art in school, and, after graduating college, was accepted as a professional cartoonist at Walt Disney Studios. His years as a cartoonist influenced his mature technique, a stylized realism depicting everyday objects and scenes. Although Thiebaud is often associated with the Pop Art movement, his work does not critique the iconic imagery of American society and consumer culture, but embraces it instead. Thiebaud also taught at the Sacramento Junior College and the University of California at Davis for many years. He currently lives and works in California.
° ° ° ° ° ° ° ° ° ° ° ° ° ° ° ° ° ° ° ° ° ° ° ° ° ° ° ° ° ° °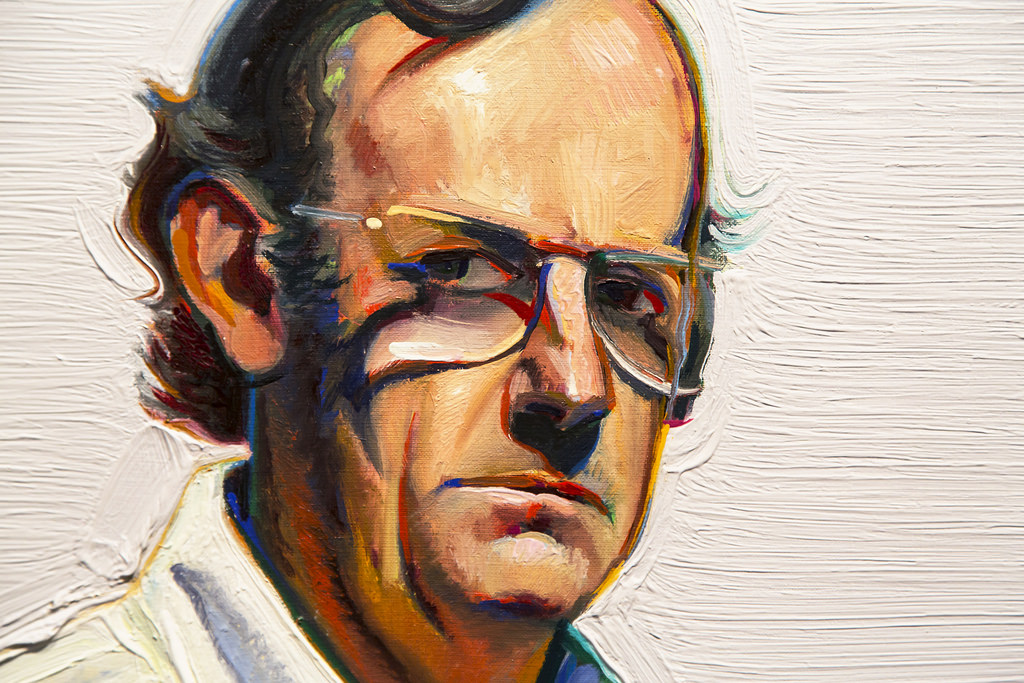 Born in Mesa, Arizona, Wayne Thiebaud became one of the most well-known Pop artists in America. His iconic images of food may have stemmed from his beginnings as a freelance cartoonist in 1939. From 1940 to 1941, he wrote showcards for Sears, Roebuck in Long Beach, California. While serving in the army from 1942 to 1945, Thiebaud worked as a cartoonist, creating a character, Aleck, for the comic strip "Wingtips." He also painted murals for the officers' club and the post theater before being assigned to the first Motion Picture Unit in Culver City, California. In 1946, while employed as a cartoonist, he became an advertising artist in Hollywood for Universal Studios. In 1949 Thiebaud enrolled at California State University at San Jose and subsequently transferred to the university at Sacramento, where he received a B.A. in 1951 and an M.A. in 1952. From 1950 to 1956, he worked on commissions for the California State Fair and Exposition, serving as a design and art consultant. Thiebaud taught studio art and art history at Sacramento City College from 1951 to 1959, becoming chairman of the department in 1954.
From 1959 to 1972, Thiebaud taught at the University of California at Davis. In 1968 he represented the United States in the Sao Paulo Biennal in Brazil. In 1981 the College Art Association named Thiebaud the most distinguished studio teacher of the year. He was elected to the American Academy of Arts and Letters in 1985.
Joann Moser Singular Impressions: The Monotype in America (Washington, D.C. and London: Smithsonian Institution Press for the National Museum of American Art, 1997)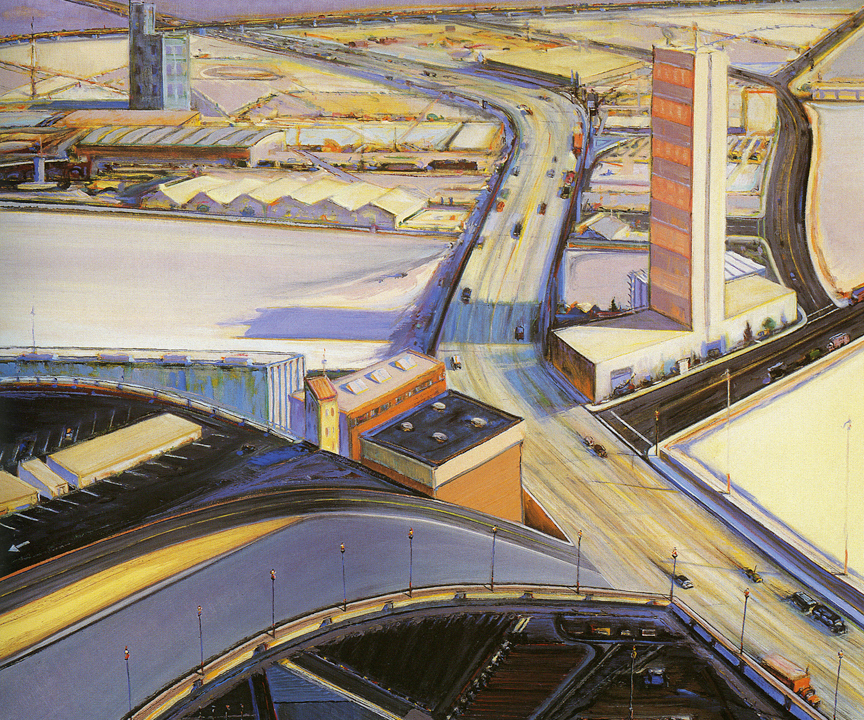 Wayne Thiebaud
"Freeway 289"
1977, oil on canvas,
20 x 24 inches