Welcome to the International Art Market Magazine
Bringing you inside the global art world with more access and insight to the people, places and events that shape our industry. With deeper focus on auctions, art fairs and exhibitions from all over the world, interviews with most known and emerging artists and coverage of the most updated and neat Auctions, Exhibitions and Art Fairs around the globe.  New style, New content, New International Art Magazine.
Enjoy!
Digital subscriptions are available across all devices, on all platforms.
Full Distribution in Print & Digital Worldwide 

---
Just Published!
Issue #36 – October 2017
We are most delighted to publish this month's issue, with a special coverage of Florence Biennale, 11th Edition, including the presentation of the GOLD LIST Special Edition of the International Art Market Magazine, TEFAF, New York Fall, 2017, Fine And Decorative Art From Antiquity To 1920, ARTBO, International Art Fair of BOGOTÁ, You will also find in this month's issue an Exclusive Interview with MARTIN PARR, President Of Magnum Photos International, Coverage of exhibitions from all over the world, Art Auction Results, and many more!
Enjoy!
Subscribe now on Magzter

---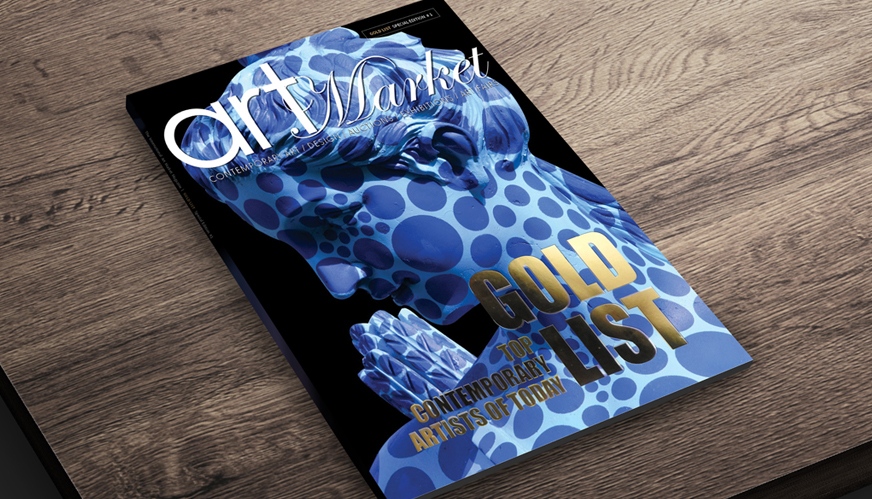 PUBLISHED! GOLD LIST – Top Contemporary Artists of Today
Now available in Digital & Print
Order your Hard Copy Now
---
---
Art Blogs
Chinese Art Market Correction by Miguel Bermudez China is approaching a very important stage in its economic and geopolitical development. A number of disputes with its neighbors, including Japan,

MARC SIJAN World Leader for Realism in SCULPTURE  by  Jack Pearson. This is the story of a Milwaukee man, an extremely talented sculptor whose works are found all over
Interviews
Most Influential
Special Interview With JACOPO CELONA Executive Director , Florence Biennale DR. MELANIE ZEFFERINO Chief Curator, Florence Biennale by Asaf Rolef Ben-Shahar, PhD Jacopo Celona is the Florence Biennale's Executive

– AN ART OF A RIDE – Exclusive Interview with  ERIC SMITH, President, Redwood Media Group by Dr. Asaf Rolef Ben-Shahar.  Eric Smith, one of the strongest figures in

Exclusive Interview with Jacob Pabst, Artnet CEO THE SON BECOMES THE FATHER: Vision, art and business innovation Jacob Pabst, Artnet CEO speaks to Dr.Asaf Rolef Ben-Shahar about curiosity, vision and father-son
GET YOUR  INTERNATIONAL MAGAZINE NOW
CONTEMPORARY ART / DESIGN / AUCTIONS / EXHIBITIONS / ART FAIRS